Transforming the Energy Economy
Two Rice professors recognized for developing light-powered catalysts that reduce energy waste.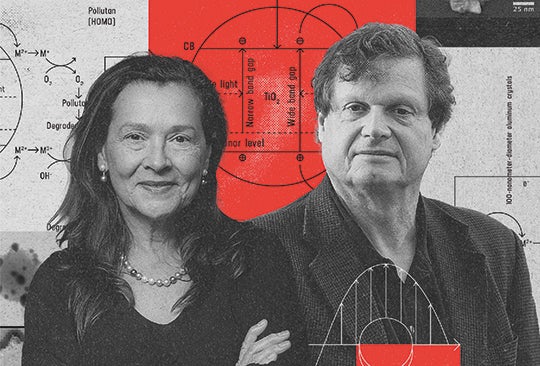 In October, Rice professors Naomi Halas and Peter Nordlander were honored with the 2022 Eni Energy Transition Award in a ceremony hosted by Italian President Sergio Mattarella in Rome. Halas — a chemist, physicist and engineer — and Nordlander — a theoretical and computational physicist — were recognized for leading the development of an entirely new type of commercially viable photocatalyst that only needs the power of light to make the hydrogen economy a reality.
Chemical reactions require energy. Throughout its history, the chemical industry has supplied energy to chemical reactions in the form of heat and pressure. For this reason, the modern chemical industry is one of the major consumers of fossil fuels. Catalysts — materials that speed up chemical reactions without themselves reacting — are universally used to reduce the amount of energy needed in industrial chemical reactions. However, even with the best thermally driven catalysts, the high temperatures required for industrial processes consume a vast amount of energy.
The researchers and their teams have worked to develop innovative photocatalysts that can drive the same reactions without a heat source. Instead, they draw the necessary energy from solid-state light sources and illuminate the chemical reaction directly. This results in record-high efficiencies for chemical reactions. The potential benefits of this process, Halas has noted, include remediating carbon dioxide in the environment by eliminating the use of fossil fuels to drive reactions and making inexpensive hydrogen fuel for the transportation sector. "If we could really control chemistry, we'd have a more sustainable planet," she said in a 2018 Rice Magazine story. Their invention has been licensed by Syzygy Plasmonics, a Houston-based startup company with more than 70 employees, which is using Halas' and Nordlander's antenna-reactor photocatalysts with LED illumination to make sustainable green hydrogen and other chemicals.
Sponsored by Eni, a global multibillion-dollar energy company headquartered in Rome, the awards are premier honors for scientific research in energy and the environment. The Energy Transition Award, one of three main Eni Award prizes, recognizes the best innovations for decarbonizing the world's energy system. The researchers received a 200,000-euro prize and gold medallions commemorating the award.
— Jade Boyd
Halas is the Stanley C. Moore Professor of Electrical and Computer Engineering, director of the Smalley-Curl Institute, and a professor of chemistry, bioengineering, physics and astronomy, and of materials science and nanoengineering. Nordlander is the Wiess Chair in Physics and Astronomy and professor of electrical and computer engineering and of materials science and nanoengineering.