A Room of Mom's Own
MBA grad Abbey Donnell founded a business to support nursing mothers in the workplace.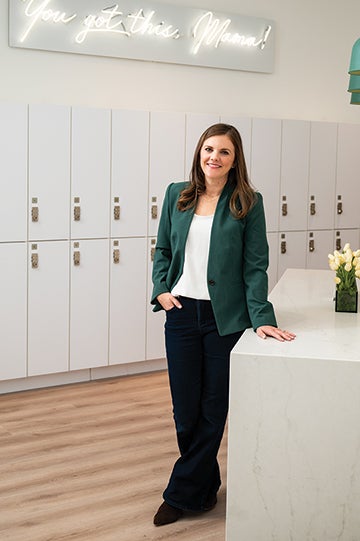 In the years leading up to her MBA at Rice, Abbey Donnell '17, founder of the company Work & Mother, watched as many classmates, co-workers and clients struggled with returning to an office after having children. "I wasn't a mom yet, but I knew I wanted to be, so I just sat back and listened and thought, 'This sounds terrible,'" Donnell said. These observations led to the creation of a company that designs and operates lactation suites for commercial clients.
How did your MBA studies impact the founding of Work & Mother?
I actively worked on the idea for Work & Mother during my classes. Every time I was learning more about starting companies and growing companies, I was thinking about it through this lens. In 2019, when I was 39 weeks pregnant and launching the first location, I pitched the concept at one of the Lilie Lab events — the H. Albert Napier Rice Launch Challenge — and won in the alumni category. I remember they told me that if I was going to participate, to have someone on standby who could deliver the pitch on my behalf, if need be.
How did the concept develop?
I used the idea for Work & Mother as a case study for one of my entrepreneurship classes. At the time, this shared-space, outsourced, fully managed approach was reflective of what was happening in the real estate industry, with the rise of coworking spaces and shared amenities. The advantage of this model is that it serves an entire building.
Did COVID-19 impact your business plans?
When the pandemic first hit, we had to close our doors, but with the return to the office, after the initial days of the pandemic, there was and is a heightened focus on health, wellness and sanitation in the workplace. With flex work schedules, if the mom is only coming in once or twice a week, it makes less sense to have a fully dedicated, robust offering in every single office, but legally they still have to provide something.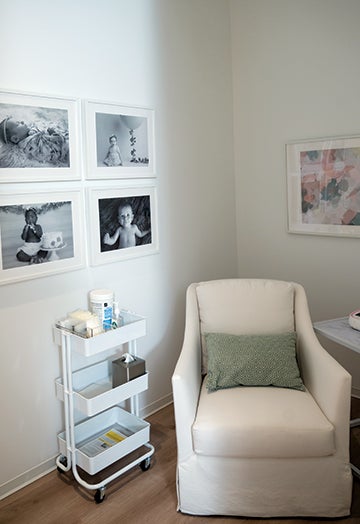 What do these lactation suites look like?
We like to describe these rooms as spa-like, but professional. Every private room has everything a mom needs, including a hospital-grade pump, cleaning and sanitizing supplies, fridge, lockers and milk storage bags. This means that when moms leave for work in the morning, they can truly just leave for work. They don't have to worry about packing these big bags with all the parts and making sure they have everything. They can just show up.
— Rachel Fairbank