Remembering Larry Rachleff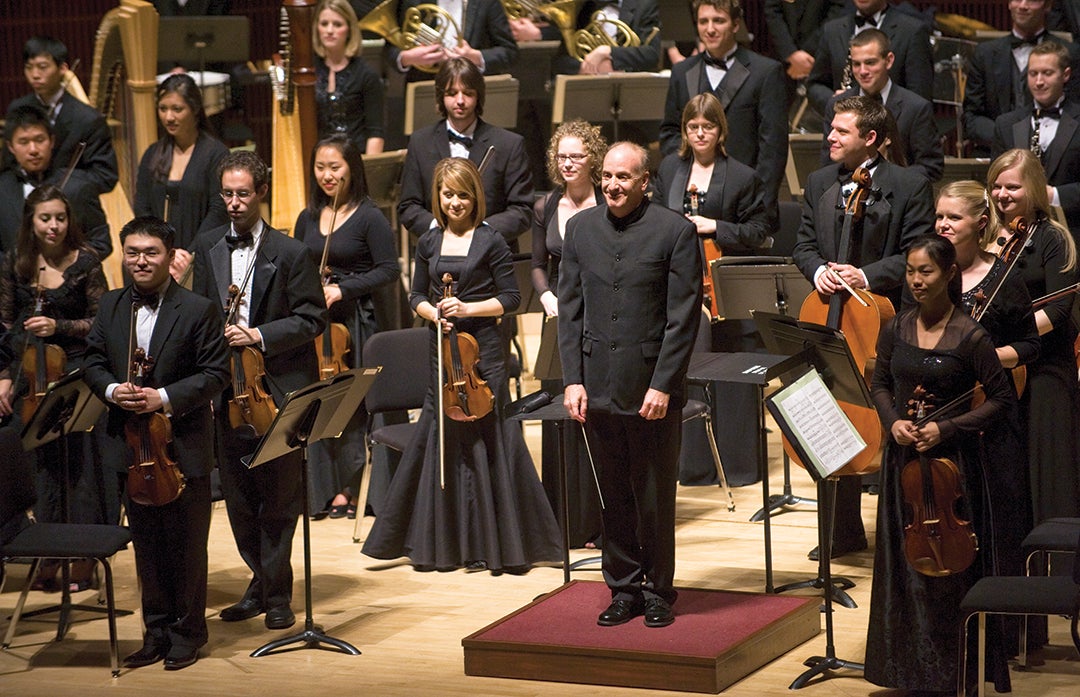 Larry Rachleff, the longtime conductor of the Rice Shepherd School of Music symphony and chamber orchestras, died Aug. 8 after a long battle with non-Hodgkin's lymphoma. He was 67.
"Those of us lucky enough to have followed his baton from the stage will remember Larry as a once-in-a-generation musician and educator of the highest caliber," said Matthew Loden, the Lynette S. Autrey Dean of Music.
A ubiquitous presence at the Shepherd School, Rachleff, the Walter Kris Hubert Professor of Orchestral Conducting, had an immeasurable impact on the lives and careers of countless musicians. At Rice since 1991, Rachleff was revered as a dynamic, exacting maestro who expected — and elicited — the very best performance standards from his students and helped bring the Shepherd School to world-class standing.
"Larry's musical genius was obvious to anyone that saw him conduct or met him off the podium," said Grammy Award-winning conductor Cristi Macelaru, a former student of Rachleff who received master's degrees from the Shepherd School in 2006 and 2008 and is currently music director of the Orchestre National de France in Paris.
"He was passionate, funny, knowledgeable, sensitive, caring and supportive, but most of all he had a unique gift of bringing people together and making them feel valued and appreciated. He had the ability to build an atmosphere for success where everyone was able to contribute their personal best. The impact of his passionate mentoring continues to be an inspiration for all those choosing to leave behind a better world."
Rachleff is also remembered by faculty and staff as an elegant and gracious colleague who was not only an exceptionally encouraging teacher but also a steadfastly supportive mentor to his peers.
"Larry was unique, unlike any colleague I've ever known," said longtime colleague Leone Buyse, professor of flute at the Shepherd School "His influence on students and fellow professionals alike was enormous, life-changing and utterly incalculable. He was a superb musician, an extraordinary conductor and an educator who cared deeply for all of the young talents whom he mentored at the Shepherd School, at top music festivals across the country and in masterclasses abroad. For all of us at the Shepherd School this loss is indescribable, but we're comforted to know that his spirit will always remain with us and his legacy will live on through generations."
Rachleff was a familiar face at a number of prestigious music festivals and was highly sought after as a masterclass instructor. An enthusiastic advocate of public school music education, Rachleff conducted all-state orchestras and festivals in virtually every state in the U.S. and throughout Europe and Canada.
The Shepherd School honored Rachleff at the Shepherd School Symphony Orchestra opening performance for the 2022–2023 season in October.
Watch this moving tribute to our colleague, teacher, mentor and friend.
— Amy McCaig