The Kids Are All Right
Residential college life is rebuilding after the pandemic, but not without a bit of reinvention.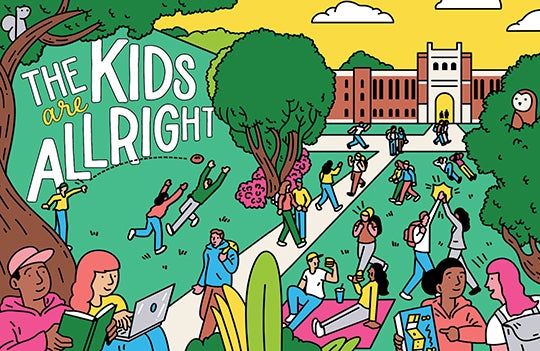 By Laura Furr Mericas
Illustration by Sam Island
Photos by Gustavo Raskosky
In fall 2021, as Rice University was preparing to welcome students back to campus under strict COVID-19 guidelines, Luis Duno-Gottberg was busy stringing a 50-foot metal wire across the Baker College's outer commons
"I didn't know how to do that," he admits today. "I was on the ladder trying to tighten this very long wire. Eventually I was able to tense the wire and was able to hang all these photos."
Duno-Gottberg, professor of modern and classical literatures and cultures and co-magister of Baker College (along with his wife, Angela Duno), was creating an open-air art exhibit. He'd tasked his Baker students to depict their pandemic experiences in a photo. What he received back were a dozen or so frames of open landscapes, hands making bread and crafts, and views taken from behind a window looking at the outside world.
It didn't take long for the photos to gain attention. Rice students and faculty were spotted congregating around the exhibit from a distance. Even Houstonians from outside the Rice bubble — a colloquialism that had never carried as much meaning as it did then — gravitated toward the hanging art. "This is the kind of thing that you can do in the [residential] college: transform a crisis into a teaching moment, a good opportunity for reflection," Duno-Gottberg says. "There wasn't any grade about it to be earned."
Throughout the pandemic, Rice's magisters and residential college systems found creative ways like this to keep their culture and connections alive, albeit under tight restraints.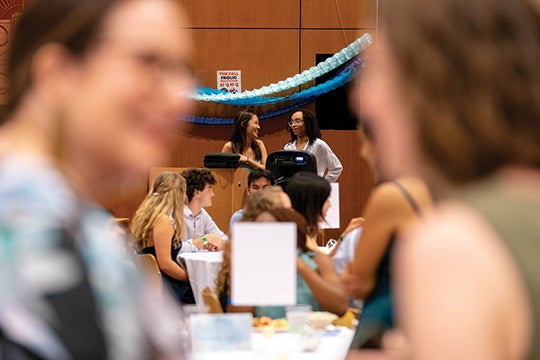 Eden King '01, the Lynette S. Autrey Professor of Psychological Sciences and magister at Duncan College, instituted outdoor Taco Tuesday dinners with groups of six to eight students. Brown College magister B.J. Fregly, a professor of mechanical engineering and bioengineering and Cancer Prevention and Research Institute of Texas scholar in cancer research, adopted Jun Jun the Labrador with his wife and co-magister, Shirley, helping the couple connect with students on their evening walks around campus.
Masked up, outdoor and alcohol-free karaoke, complete with microphone sanitizing, replaced Martel's annual holiday party. And more intimate film screenings and trivia nights took hold. Talk to students and many will tell you it was their residential colleges, even under restraints, that bolstered them through the longest and most isolating days of the pandemic.
"The residential college system meant that we were all in it together. And I think that that's what allowed us to get through it," says Kirsty Leech, a senior studying political science and sociology who's currently serving as Wiess College's student president.
Still, many at Rice will also tell you that the pandemic left the residential colleges fundamentally changed. In some cases, the changes have been for the better, opening faculty and students' eyes to issues on campus that once floated under the radar and also driving more students to get involved. In other cases, the changes at times threatened "the essence of college life as we understand it," Duno-Gottberg says.
This academic year, as life on campus is starting to look more like it once did for most Rice alumni, students and the university's magisters are grappling with those changes and considering not only how to restore the culture at the residential colleges, but also reinvent it for a post-pandemic student body.
"My wife and I as magisters are the only two people here at Brown who have ever seen an actual Bacchanalia [public party] in person. We have all the cultural historical knowledge at this point, and I'm sure other colleges have similar situations," Fregly explains. "If there are things about a college that students want to change culturewise, this is the time to do it."
 
Personal Pride
Fast forward to August 2022 for Rice's cherished O-Week, and there was a reinvigorated energy on campus.
"I've been going to matriculation for a long time. And I could tell as soon as I walked into Tudor Fieldhouse, it was different," Bridget Gorman, dean of undergraduates and a professor of sociology, recalls. Students were high-fiving with Rice faculty and one another, marching to their places with pride and cheering on each of the event's speakers with ardor. "Everyone across the board felt like it was a very joyous class," she says.
We're just amazed at our freshman class. They're extremely engaged and very involved in the college and want to interact with each other and with us. 
King, who met her husband and co-magister Winston Liaw '01 during their O-Week in 1998, agrees there's a level of joy and gratitude on campus. On move-in day this August, she was able to engage with students and their families face-to-face for the first time in her magister tenure — much in the same way she remembered being welcomed to Will Rice College in the late nineties as a student.
"It was really fun to be able to just meet everybody," she says. "And we didn't even wear masks. We got to have this conversation with parents of the students when they dropped them off in a way we really hadn't [during the pandemic]."
Fregly says that sentiment has continued to show throughout the semester. In his fifth year as a magister, he says it's a "wonderful" class to be going out on.
"We're just amazed at our freshman class. They're extremely engaged and very involved in the college and want to interact with each other and with us," he says. "Students seem to have a lot of optimism about us coming out of the pandemic. I taught in-person for the first time [in a long time] last spring ... it was the funnest class I've ever taught."
Dining in the commons has resumed in full force as well, as has in-person teaching and public parties. Broadly speaking, the rhythms of residential life have resumed — in many cases with even more vigor.
Casley Matthews, a senior studying social policy analysis and health sciences who's serving as the president of Martel College, says she's seen a heightened interest in student government. "It's easy to get complacent when you're used to what you have," she says. "Pre-COVID, there were always a few people doing a lot for the college, and we certainly always saw that. But now there are just more people getting engaged in different areas of college life than ever before."
For the first time during Matthews' college experience, she says Martel was able to fill all 125 positions in its student government committees, and the college saw more applications than ever before.
"There's a real interest in being able to partake in what makes life at Rice so unique," she continues. "And then [there's an] understanding that it does take a collective effort and quite a few people with a lot of different perspectives to make college life as fulfilling as possible."
Culture of Care
Today on campus those different perspectives are playing a key role in rebuilding the residential colleges' culture.
Socially speaking, the pandemic sparked an interest and showed the members of student government the need for more inclusive events. While public parties are back, trivia competitions that blossomed during the pandemic are still going strong, as are board game nights, s'mores events and the like for those less interested in the party scene. The more intimate dinners and gatherings with magisters have continued as well.    
"The more people we can have that feel like they belong and feel like they have a place at the college means a better college and a stronger college for the rest of us," Matthews says. More profoundly, the pandemic opened magisters' eyes to deeper socioeconomic and mental health challenges in their student populations.
"The prior needs of the students were of young people growing and confronting academic challenges. All of that continues, but new needs emerged when the pandemic affected households," Duno-Gottberg explains. "Some families lost jobs, some families experienced loss as in death. So those things generated needs for psychological and economic support."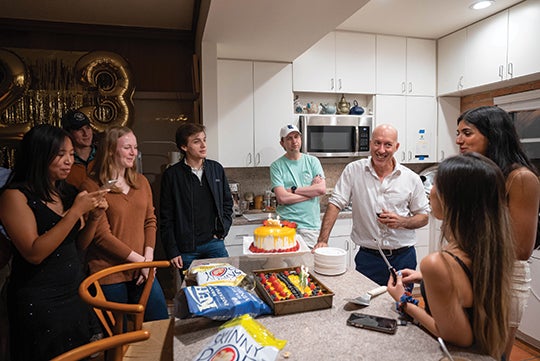 Amid the pandemic, magisters were tasked with helping more and more students access funds for books and supplies and even gaining access to the internet. Of course, once students returned to campus, they were also tasked with implementing ever-changing COVID-19 policies and supporting students during what Fregly describes as a "fragile" time.
The pandemic was really tough, and we all learned the importance of checking in with one another and being there for each other.
The silver lining from that difficult period is that now those types of issues are factored into decisions made on campus more often, students and faculty say.
"The conversations surrounding financial insecurity have definitely come to the forefront and have not left, which is something that I am very proud of," Leech says. "Rice is at least trying to take active steps to make sure that our communities and our residential colleges are a financially inclusive space." Leech notes that her student government at Wiess has focused on promoting the college's accessibility portal, which continues to help subsidize items like supplies and clothes and even fees for campus events. The university also supports a campuswide portal for similar needs.
"There are a lot of conversations about how we can continue to expand those portals and the resources available to support students on campus," she adds.
There's also a new openness to supporting those struggling with mental health issues. "Students have had, as has everyone, some real mental health challenges as a result of the stressors of the last two years," King says. "And I think there has been very little stigma around seeking help."
Students agree. "The pandemic was really tough, and we all learned the importance of checking in with one another and being there for each other," Matthews says. "Emerging from that, we're offering others a lot more grace and a lot more patience."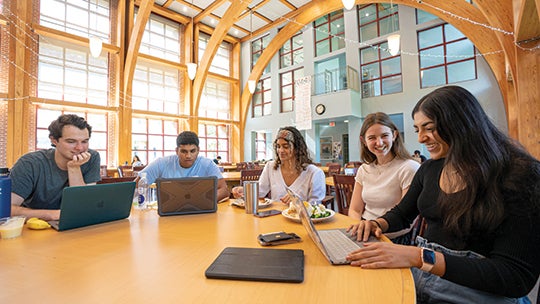 In Flux
Looking ahead, some at Rice wonder if the changing needs of the students coupled with the increased enrollment at Rice will continue to further change the residential college system.
"The pandemic as a public health experience, and also social experience, is totally contrary to the essence of the colleges. So, what we experienced was something that could destroy the college life because we couldn't be present," Duno-Gottberg says.
For the better part of three years, magisters were constantly in what Dean Gorman describes as "crisis management" — isolating students from one another, managing infections and constantly being concerned with logistical issues.
"Now I think the concern is are we going to get to the place where … we're actually having proactive input into the direction of the college," Fregly explains. "Part of our role is supposed to be overseeing the academic intellectual life for the college. Well, we haven't been able to do hardly any of that for the last three years." At the same time, Rice continues to increase its undergraduate population, making some worry that the unique connection between students, magisters and faculty at Rice will weaken.
"I think we're kind of past the influence of COVID, but now we're seeing the possibility of one or two new colleges, and those are bigger shifts I think that are waiting for us," King says. The university announced last year that it intended to increase its undergraduate enrollment by 20% by 2025, which adds to a growth of 80% in undergraduate enrollment over the last two decades.
We're very consciously thinking about what traditions and what things from the past we want to recuperate and what things we want to reinvent.
A new residential college is slated to open by fall 2025. In the meantime, the existing 11 residential colleges have taken on the current influx of students. King, who remembers being drawn to Rice because of how everyone seemed to know each other's name on campus, believes that if the colleges continue to include more and more students that the culture at Rice will feel less tightknit.
"There's a sense of connectedness that may be risked with growth, but there are also good reasons for the growth," she says.
There's also the issue of magisters having enough bandwidth to make connections and care for colleges of 400-plus students. And with housing levels at the colleges remaining the same, some students have been pushed off campus, which Fregly says "is all affecting our ability to rebuild our culture."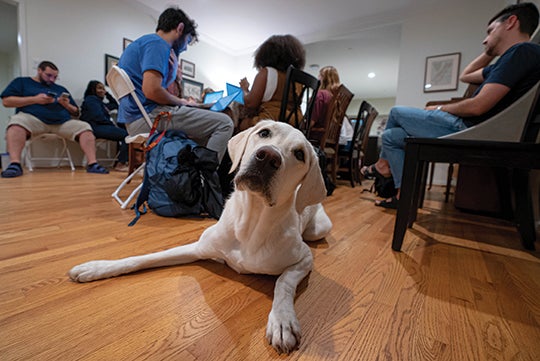 "For the residential colleges to continue to thrive, some additional investments are probably going to need to be made, like somehow increasing the number of core team members to keep up with the increasing population of students," he adds. Still, Fregly and others believe that with a continued, thoughtful commitment, the residential college system will still thrive.
"We're very consciously thinking about what traditions and what things from the past we want to recuperate and what things we want to reinvent. And we're in that process of rebuilding community with one principle that says, 'We love the college system, we see value in it, and that the value of this system depends on participation of students,'" Duno-Gottberg says. "So where are we going? We're rebuilding community with those principles, but are also open to new possibilities."
And though it may be more difficult for King to learn all 460 of her undergraduates' names than it was for her magister at Will Rice to learn 300 names two decades ago, she still maintains an optimistic view.
While looking out the window of her office onto an inflatable dragon for Duncan's Harry Potter-themed college night — which her students set up at 7:30 that morning, mimosas and waffles in hand — she had a message for her fellow alumni.
"Don't worry," she says. "The kids are doing all right."