Engineering a Dream
Continuing a legacy, Rice alums open Bellaire brewpub.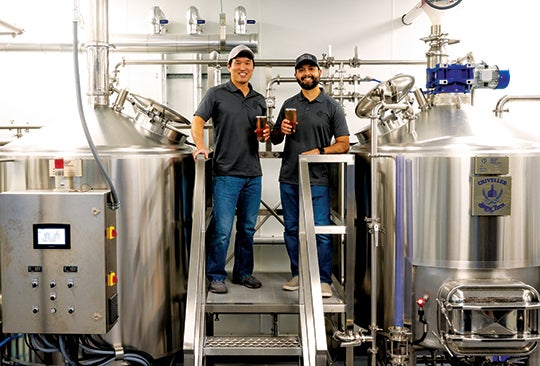 In 2005, Dennis Rhee '07 and Jaime Robles '06 were just a couple of Rice Owls coordinating Brown College's O-Week and working toward engineering degrees. It might surprise some to learn the two former engineers are now the proprietors of a buzzy new brewpub in Bellaire, Texas. But to hear it from them, their experiences at Rice were the perfect prep for opening CounterCommon Beerworks & Kitchen.
Coordinating O-Week "was definitely one of those things that puts you in a leadership role," Robles said. "You're running an entire operation, and you're responsible for the 70 to 100 new students coming in. You're setting the tone and the culture."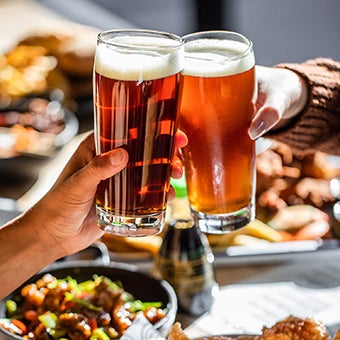 CounterCommon's doors opened to the public in summer 2022, but the idea had been percolating in the back of the two friends' minds for over a decade, inspired by their desire to create a comfy neighborhood hangout modeled after the brewpubs they'd grown to love on visits to cities like Portland, Oregon; Denver; San Diego; and Munich.
"This has always been a dream of ours," Rhee said. "We joked about this in college — 'Maybe we'll open a brewery one day ...'"
Inspired to become homebrewers by fellow Brown denizen Dan Erchick '07 — namesake of CounterCommon's "Thanks A Lot, Erchick" pale ale — Rhee and Robles started making craft brews together with him and other friends after graduation. At the time, both Robles and Rhee were working oil and gas jobs in Houston. Robles moved up the corporate ranks for 15 years, homebrewing in his spare time.
This has always been a dream of ours. We joked about this in college — 'Maybe we'll open a brewery one day ...'
Rhee had grown disillusioned with his industry job, so when he met Saint Arnold Brewing Company owner and founder Brock Wagner '87 on a pub crawl, he asked Wagner if the brewery was hiring any engineers. (They weren't.) Undeterred, Rhee decided to hone his brewing bona fides at the Siebel Institute of Technology in Chicago and later in Munich at the Doemens Academy. In 2010, Rhee did land a job brewing at Saint Arnold, before leaving to focus on making CounterCommon a reality. Robles helped out on a part-time basis until 2020. Their other partners include Minh Nguyen from famed Cafe TH and Tanushri Tarafder Nguyen '17.
The brews at CounterCommon harken back to the German-style lagers Rhee grew to love during his time at brewing school in Germany, with a couple of well-balanced IPAs on offer as well. Their recipes were designed to create sessionable beers, aka relatively low-alcohol beverages that leave you eager for a refill or two — "the beers we like to drink ourselves," Rhe e said. The food menu is a Houston-friendly mix of Asian and Latin American-inspired fare, taking notes from both Rhee's Korean heritage and Robles' Mexican roots. For example, a take on Tex-Mex queso, called "K-So," is a Korean twist with gochujang glaze; "Common fries" are loaded with chopped kimchi and a lime-tinged Sriracha mayo.   
Robles and Rhee are proud that their brewpub is the latest outgrowth from the Saint Arnold family tree, a behemoth from whose branches have sprung beloved Houston area watering holes Eureka Heights Brewing Company, Southern Star Brewing Company, Brash Brewing and more.
"We stuck with our passion," Robles said. "Sometimes those far-fetched dreams and college quips are the ones that keep you motivated and wanting more."
— Schaefer Edwards '13