C'est Magnifique!
A semester in Paris inspires an experience of a lifetime.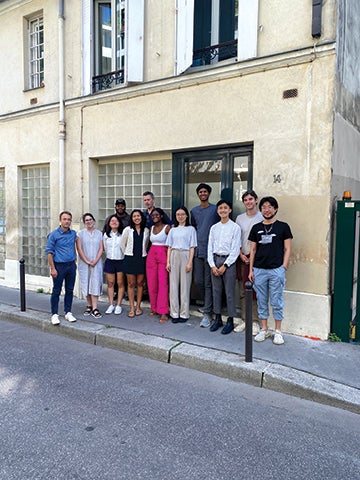 Rice's first international campus, Rice School of Architecture Paris (RSAP), has plenty to celebrate this year. Over two decades, the campus has hosted more than 400 students, giving them comprehensive insight and opportunity for exposure to the built environment of the City of Lights. 
"Successful study abroad programs don't happen in a vacuum; they require sharp vision and deep knowledge of language and culture to create a successful student experience," said Igor Marjanović, the William Ward Watkin Dean of Rice Architecture.
That RSAP came to be in one of the world's most vibrant cities is due to good planning and some dogged legwork. It could have been RSA-somewhere else. In the beginning, it was. 
"This grew out of some of our earlier attempts at having a foreign study program," said John Casbarian, the founding director of RSAP and Rice's Harry K. and Albert K. Smith Professor of Architecture. "In the mid-'90s I would take students to Nice, France, Houston's sister city, for 10 days to explore urban issues there, but students really wanted a semesterlong experience." Strategizing with then-dean Lars Lerup led to a several-yearslong collaborative program with another institution that brought students to Vico Morcote, a village outside Lugano, Switzerland. 
"It was difficult to recruit students because even though it's one of the most idyllic places in the world, [Vico Morcote] is very isolated and didn't offer any kind of urban experience," Casbarian recalled. "I told Lars, 'We need to start our own.'"
We're not just flying in Rice students to study in a bubble. We're connecting them to architects, historians and engineers to create a hub of conversations and collaborations.
In early 2002, Casbarian got to work. "The moment we got approval in March 2002, I wrote to the students and said, 'Look, I don't have any details yet, but we're starting this program in the fall. I can't tell you where exactly in Paris, but who of you wants to go?' I got 10 pioneering students who jumped at the opportunity." After a year in a converted ceramic factory on the outskirts of Paris, Casbarian found RSAP's current location in the 12th arrondissement, an authentic Parisian neighborhood near the Viaduc des Arts and rich in its artisanal history. Today, up to 10 graduate or fifth-year undergraduate architecture students from Rice and occasionally other institutions attend RSAP for a semester. Next year, they'll be joined by students studying at the Rice Global Paris Center.
While a semester at RSAP encompasses studio work, history, theory, technology, and French culture and language, both coursework and downtime adventures reinforce the Paris experience, according to alumni.
Anna Fritz '20, now an associate at Karamuk Kuo, the Swiss firm that designed Rice Architecture's upcoming William T. Cannady Hall, arrived in Paris in 2021 as the pandemic wound down. "Paris and the preceptorship program were definitely two elements that attracted me to Rice," she said. "As an architect, we primarily deal with space, and what really matters is being able to visit buildings and be in the spaces you learn and talk about. That had a stronger impact on me than I thought it would. The density of historically significant buildings along with trends that started in Paris, like its early modernist buildings, make it stand out."
"What's unique about the program is that while faculty from Houston visit, we also have local faculty from Paris and other parts of Europe," Marjanović said. "We're not just flying in Rice students to study in a bubble. We're connecting them to architects, historians and engineers to create a hub of conversations and collaborations."
— Mike Williams