Images of Community
Artist-educator Peter Brown is honored with the 2021 Callanan Excellence in Teaching Award.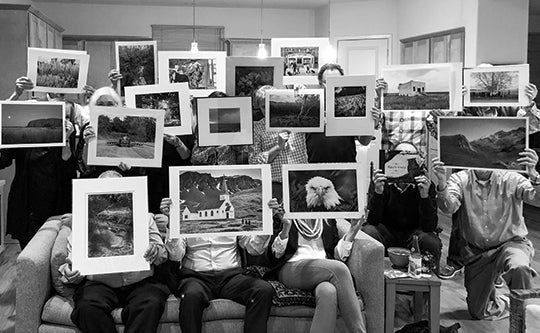 For more than 43 years, Peter Brown has been teaching photography classes at the Susanne M. Glasscock School of Continuing Studies, where many of his former students — who number in the thousands — have gone on to become professional photographers, arts advocates and accomplished practitioners.
In October, Brown was recognized for his contributions to the field of photography with the 2021 Callanan Excellence in Teaching Award from CENTER. In nominating Brown for the award, one student commented: "His excitement about photography is contagious and has led most of his students to publish books of their work, participate in group and solo exhibitions around the world and have their work acquired by museums."
A founding member of the Houston Center for Photography, Brown is a member of the Glasscock School's advisory board and the recipient of numerous awards, including an Individual Artist's Fellowship from the National Endowment for the Arts. Brown received the first Glasscock School Teaching Award in 2008. To further recognize his legacy, the Peter T. Brown Gallery, funded by donations from his former students, was dedicated in 2014.
In accepting the award last fall, Brown described the Advanced Photography Workshop he continues to teach today at the Glasscock School; the challenges and opportunities of online teaching; the intelligence, experience and wide-ranging interests of his students; as well as his own award-winning work as a chronicler of the High Plains of the American West.     
"I was asked by Dean Mary McIntire in 1978 to teach my first class, and the school has been supportive of my work ever since," Brown said. "Our current dean, Rob Bruce, has told me that the community we've established in this workshop has become a model of sorts for the entire school. … I'm so proud to have been a part of all this and so happy to have been friends and colleagues with all these people for all these years."
— Tracey Rhoades