A Warning from Iceland
Rice anthropologists draw attention to the fate of Okjökull glacier — and the worsening impacts of climate change.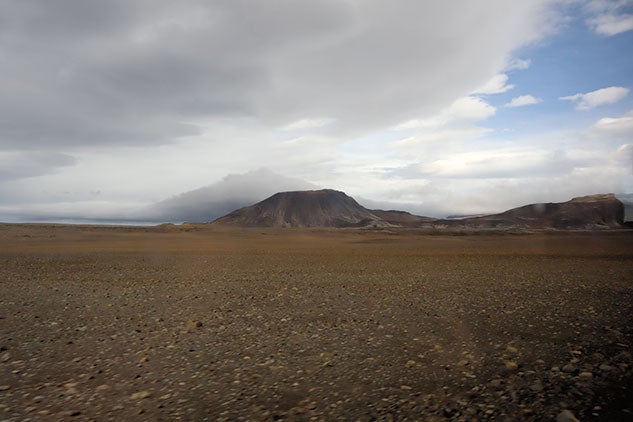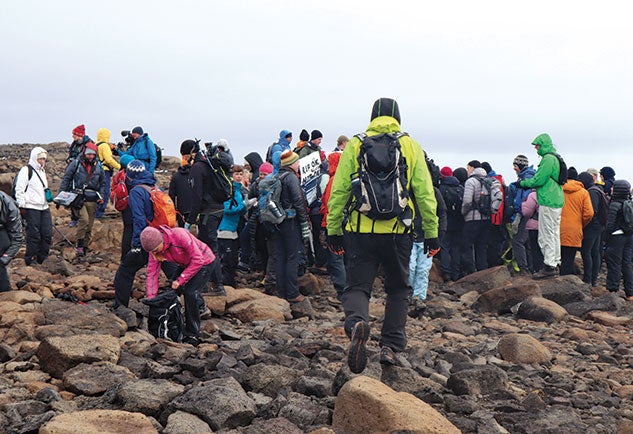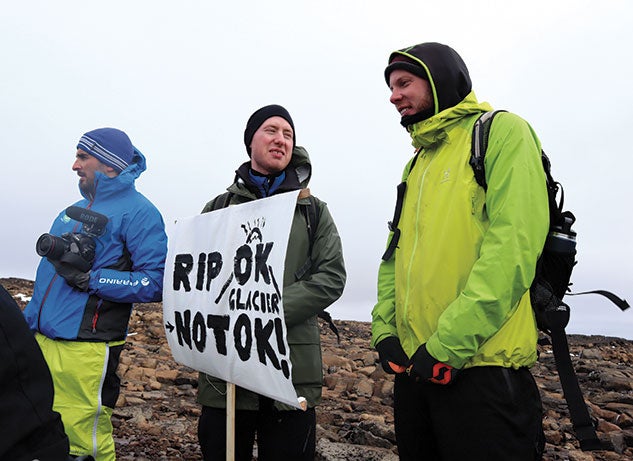 Story and photos by Amy McCaig
Last August, after a chilly two-hour hike up rocky terrain on an Icelandic shield volcano, Associate Professor Cymene Howe and Professor Dominic Boyer joined nearly 100 others, including children, to memorialize Okjökull, Iceland's first named glacier lost to climate change.
The unveiling of a monument on the site of the former glacier was a symbolic gesture, but it attracted political and media attention from around the world. At the gathering, Icelandic Prime Minister Katrín Jakobsdóttir and Mary Robinson, former president of Ireland and United Nations High Commissioner for Human Rights, offered solemn remarks and ominous warnings. "We see the consequences of the climate crisis," Jakobsdóttir said. "We have no time to lose."
The two anthropologists traveled to Iceland for the Aug. 18 ceremony because they were responsible for the work that led to the memorial. Howe is the principal investigator for the project "Melt: The Social Life of Ice at the Top of the World," which she conducted with Boyer, examining the cultural impacts of climate change. Howe and Boyer also produced the 2018 documentary "Not Ok," which warned that scientists fear all of Iceland's 400-plus glaciers will be gone by the turn of the next century.
"When we're talking about global warming and climate change, it's often abstract," Howe said. "A memorial, however, is an emotional act and a physical symbol of the losses we are seeing. Everywhere in the world people recognize the power of memorials. This one is to show how dramatically our natural world is changing." Among the speakers at the memorial was glaciologist Oddur Sigurðsson, who determined in 2014 that Okjökull ("Ok glacier" in Icelandic) no longer met the criteria to be classified as a glacier. Howe and Boyer hope the international interest drawn by the memorial ceremony will raise awareness about the decline of Iceland's glaciers and the impact of climate change. "It is a call to action, not more empty promises," Howe said.
Boyer said an obsession with expansion and growth is the core problem that has to be addressed. "What we really need now is more than just post-oil energy," he said. "What we learned from our previous research project on wind power in Mexico is that it is possible to implement renewable energy projects with very colonial and extractivist values. We need a civilization oriented instead by cultural values of humility and sustainability."