Unconventional Wisdom
Fabiola López-Durán in her own words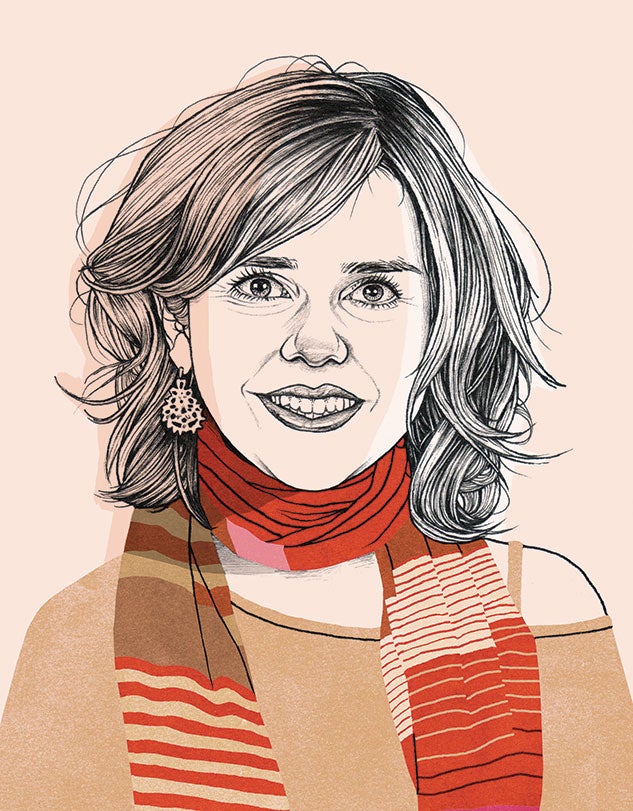 As an architect, art and architectural historian, and interdisciplinary scholar, Fabiola López-Durán has guided many students to a deeper understanding of the overlapping influences of art, architecture, politics and the body. In 2015, she was awarded the Sophia Meyer Farb Prize for Teaching by the Phi Beta Kappa Society thanks to her outstanding student evaluations, and in 2018 she received Rice's Faculty Teaching and Mentoring Award. Her book, "Eugenics in the Garden: Transatlantic Architecture and the Crafting of Modernity," recently won the Robert Motherwell Book Award for its innovative approach to modernism. Last fall, López-Durán, an associate professor of art history, started her term as the first female magister of Hanszen College.
Intellectual Inquietude
Originally, I was trained as an architect, and then I studied architecture, preservation of monuments and museum studies in Europe. I knew that I wanted to do a Ph.D. that combined art and architecture and was extremely lucky to be accepted at MIT for the History, Theory, and Criticism of Architecture and Art program. I learned what interdisciplinary work really looks like and came to see art and architecture not as hermetically sealed entities that we all see and admire or the products of celebrated creators, but as porous inquiries that help us better understand the world.
Owls and Opportunities
When I applied to work here, all I knew was that Rice was this great university with an amazing school of architecture. When I came for my interview, it was my very first time in Houston. But I didn't expect all the great surprises Rice would offer. Rice had just started the doctoral program in art history — and both the small size of the university and its connection to cultural institutions in the city offered a variety of amazing opportunities. For eight years now, I have loved being able to continue working between art and architecture and between the academy and the museums as I also help shape a new Ph.D. program. All of these spaces are a sort of playground and laboratory for my own research and that of my students. This is my dream job, and I really could not be happier.
Science and Art
Ever since I started teaching, many of my students have been in STEM-centric fields, so I learned early on how to introduce scientific discourses into my teaching. Bringing science and art together created an expansive territory for intellectual inquiry and public engagement. Today I work to make the humanities more central to education in general, because art and the humanities are absolutely crucial to innovation and to the solution of the most pressing problems of the world — from racism to poverty to climate change.
A Teaching Philosophy
Everything I do is all part of the same philosophy of teaching. Classes for me are always a sort of collective trip with the students into areas of knowledge that I'm investigating. I am committed to the promotion of new forms of exploration that close the distance between academic life and society at large. All my life I've been convinced that "outside of the classroom" activities are key for the education of our students. That's why I always organize field trips and travels and museum visits. Such activities are really important for demonstrating the inherent link between knowledge and action that fosters theory and critical thinking. This is also why I thought that being a magister would offer a platform for doing this in a larger scale than I do in the classroom.
Getting Involved
From the moment I learned about the residential college system at Rice, I knew that I wanted to be part of it. Even before I got tenure, I applied to be a magister. For me, my research and my teaching are extremely important, but equally important is helping build the institution that I work for, the institution that serves our students. So I thought that being a magister was maybe the most significant way to do that. It's really important to me to have a close relationship with undergraduate students like I do with Ph.D. students. I'm super happy to be in this role right now.
Empathy and Empowerment
During my doctoral studies, I realized all the bias I had as somebody who grew up in a middle-class family in Latin America — to learn to see the world from a less Eurocentric perspective and in a more human way. Since then, I have been particularly invested in helping young women to realize their potential and in helping people of color and minority groups to realize that they belong in any space they want to enter. I am a Latina and I am a woman, so these things are part of my identity that I never thought about. I am extremely lucky to live in the most diverse city in the U.S. — the perfect setting for raising awareness of the vital role diversity plays in the construction of equality. When diversity is threatened, we lose the very core of our humanity. I think these are important things in today's world.
Rice and Beyond
You know, I live and teach on the Rice campus, but I never feel like this is too much. I will say that my collaboration with the museums, art galleries and other cultural institutions in town are a permanent excuse to get out of my responsibilities here. These activities are really like a "divertimento" — moments of resting, enjoying and playing that very often I share with my students. I'm lucky that my passions and the things that I enjoy doing — from art to food to travels to incursions into areas of the city that I don't know — are also the source of exploration for my own work.