President's Note
Building and Rebuilding Rice
By David W. Leebron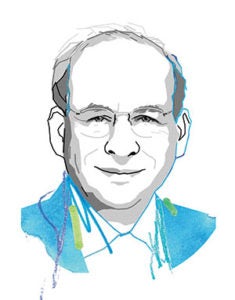 Just after the holiday break, faculty and staff moved into the new Patricia Lipoma Kraft '87 and Jonathan A. Kraft Hall for Social Sciences, and in a few weeks we'll formally celebrate both the opening and the 40th anniversary of Rice's School of Social Sciences. There has been a lot of building on our campus in recent years, but it's never about the building. It's about the possibilities for excellence, opportunity and impact these projects engender.
Kraft Hall reflects the increasing importance of the social sciences at Rice. Today, 30% of majors are in the social sciences, and 22% of overall undergraduate credit hours are in social science courses. The school has nearly 100 faculty members, and six of its undergraduate programs have been ranked among the top 15 best colleges for those majors: sport management, psychological sciences, anthropology and sociology (combined), political science and economics. Economics and psychological sciences are among the five most popular majors at Rice. Six of the seven departments have doctoral programs. The school has launched four professional master's programs — in energy economics, human factors and human-computer interactions, global affairs and social policy evaluation. The Master of Global Affairs is a joint endeavor of the School of Social Sciences and the Baker Institute for Public Policy.
Kraft Hall will also house other extraordinary endeavors focused on impact. These include the Kinder Institute for Urban Research and, under the aegis of the Kinder Institute, the Houston Education Research Consortium, a pathbreaking research collaboration with every school district in the metropolitan area to build research-based policies that fuel educational success. Kraft Hall will also house the Boniuk Institute for the Study and Advancement of Religious Tolerance and the Texas Policy Lab, which will provide data-driven research to help evaluate and guide policies for the state and local governments.
The campus impact is even broader. The location was chosen in part to create a new "policy corridor" on campus, composed of the Jones Graduate School of Business, the Baker Institute for Public Policy and Kraft Hall for Social Sciences. This will enable closer collaboration in both education and research to address a wide range of critical policy issues.
Kraft Hall, the first building at Rice designed for and devoted exclusively to social sciences, is a reflection both of our accomplishment and our ambition. And that is true of every building project at Rice.
Kraft Hall reflects the evolution of the university from its founding. At that time, Edgar Odell Lovett remarked that although a broad university with a liberal arts orientation was envisioned, we would begin with science and engineering, because that's what the small but growing city of Houston needed. But the ambition was to build a great university of breadth and excellence with "no upper limit." The growth of social sciences from the first economics graduates in 1931 is a reflection of that vision. And it's not only about Houston: Our nation and world need the insights of social sciences to address changes and challenges in education, equity and equality, work and political systems.
In short, the construction of Kraft Hall, the first building at Rice designed for and devoted exclusively to social sciences, is a reflection both of our accomplishment and our ambition. And that is true of every building project at Rice.
In December, for example, we opened the Bill and Stephanie Sick Suite in the Jones School's McNair Hall to house the Rice Alliance for Technology and Entrepreneurship. The Doerr Institute for New Leaders is also housed in custom-built offices in McNair Hall. These new spaces have allowed these critical endeavors, supporting our strategic priorities in leadership and entrepreneurship education, to flourish.
This summer, we will complete the largest current project on campus: the new opera hall that will become the anchor of the Rice University Music and Performing Arts Center. Rice has already achieved preeminence in music education, especially in orchestral performance, and the opera hall will fully enable the success of our opera program. It will also anchor a new arts sector of the campus, which will include the Moody Center for the Arts and a new facility we're planning for our Department of Visual and Dramatic Arts. With the possibilities created by all these new facilities, we are realizing more fully the words on the university's seal: "Letters, Science, Art."
We have come a long way since those first four buildings on our campus in 1912. We are incredibly indebted to those who have supported the building projects critical to excellence across every university endeavor. These projects are driven in every case by our ambitions to educate, research and serve in new areas and in new ways. So come and visit, and see the physical manifestations of a university growing to meet the needs of our students and our world.