Full Theater
Juan Sebastian Cruz treads the boards.
By Sarah Brenner Jones
Juan Sebastian Cruz '16 literally bounced onto the stage in this season's production of "The Winter's Tale" at the Alley Theatre. Portraying a 7-year-old Prince Mamillius, he skipped, jumped and rolled on the floor, always returning to his toy chest, which was set just to the right of the main action.
In this production of Shakespeare's tragicomedy, Rob Melrose, the Alley's artistic director, chose to originate the narrative within the boy's imagination and recount it through the maneuverings of his dolls. The toys dance and fight and fall in love as the talented cast follows in lockstep, acting alongside the playing child. What the audience comes to understand is that it is the young prince of Sicily who spins the fantastic tale of jealousy, banishment, hope and, ultimately, redemption.
Cruz is among only a handful of Rice alumni to perform on the main stage at the Alley and the first graduate from the Department of Visual and Dramatic Arts (VADA) to achieve this honor. He came to Rice set on studying computational and applied mathematics. By the end of his sophomore year, however, he'd switched to a VADA major with a theater concentration. "I was all in," Cruz remembered. "I decided to go full theater."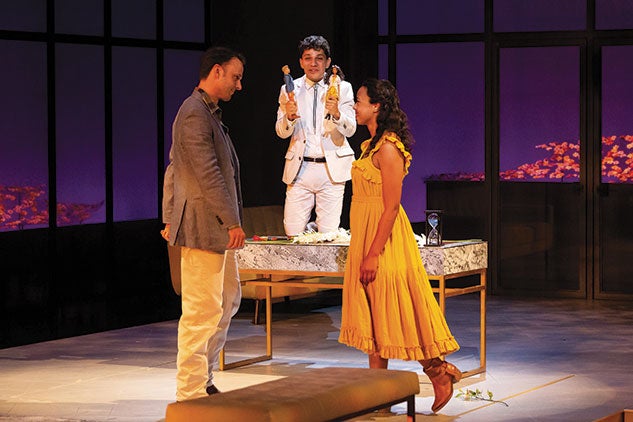 Full theater for Cruz meant learning as much as he could about the performing arts world and taking advantage of the diverse opportunities that a small theater department affords. Mark Krouskop, theater production manager and a lecturer at Rice, helped to guide Cruz's perspective: "Mark instilled in me the necessity of developing a range of skills," Cruz said. "And he was absolutely right. Now, in addition to acting, I also teach. I stage manage. I run the sound board."
In early 2019, he acted for the Alley All New Festival, a small event that helps playwrights try out new material. It was there that Melrose first saw Cruz act. "The Alley is the biggest contract I've ever had, and some of this work is about the stars aligning," Cruz admitted. "But it's also about always putting your best work forward because you never know who's going to be watching."
His time at Rice gave him community connections, a solid foundation in the humanities and problem-solving skills that help him to navigate the uncertainties of an acting career. When asked about his career path, he is introspective. "There is something to be said about following your passions and pursuing your dreams, but I think the other half of that is to have a plan and to be realistic. I set goals and deadlines. I regularly ask myself if I feel like I can keep progressing in this field. So far, the answer is yes."