Electric Dream
6100Main finds creative ways to express themselves.
By Kendall Hebert | Photos by Tommy LaVergne
A group of Rice students who share passions for expressing personal style and dreaming up creative concepts, 6100Main is nonhierarchical and open to anyone. Members rely on virtual and in-person channels to pursue their passion projects on top of their busy schedules. From social media threads about art and face-to-face style brainstorming to photoshoots, graphic design and clothing swaps, members seize ways to stoke their creative flames, including this shoot for our winter issue.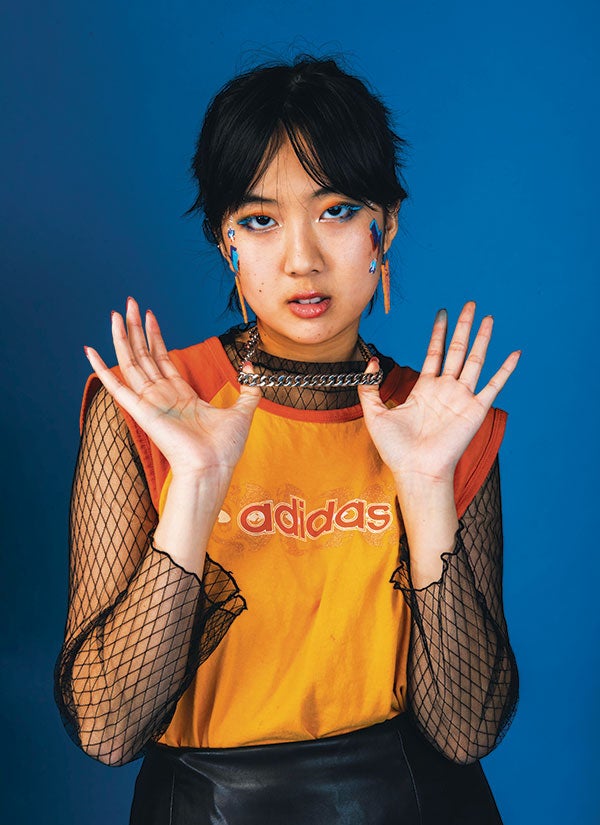 Inspiration for the shoot, which the group coined "electric dream," plays with the contrast of orange and blue hues. "We picked those colors because they are complementary and striking, and we used them to inspire our outfits," said Mai Ton, a Baker College senior majoring in Asian studies and visual and dramatic arts.
Members raided their own closets for the looks, which is an important pillar of 6100Main's mission statement and activities — to find opportunities and pursue ideas that allow people to express themselves creatively. Founded by a trio of Brown College students in 2013, 6100Main originally centered around a style blog and fashion shows to profile the unique style of Rice students.
Throughout the fall semester, 6100Main focused on the theme of self-care. "Fashion is a form of self-care," said Varun Kataria, a Lovett College senior majoring in computer science. "We've strived to find ways to have fun and be creative while managing our workloads and school responsibilities. 6100Main is a place where I can stay grounded and be myself."