Birds of a Feather
Tight-knit Owls turn chemistry and hard work into program's first NCAA Tournament victory.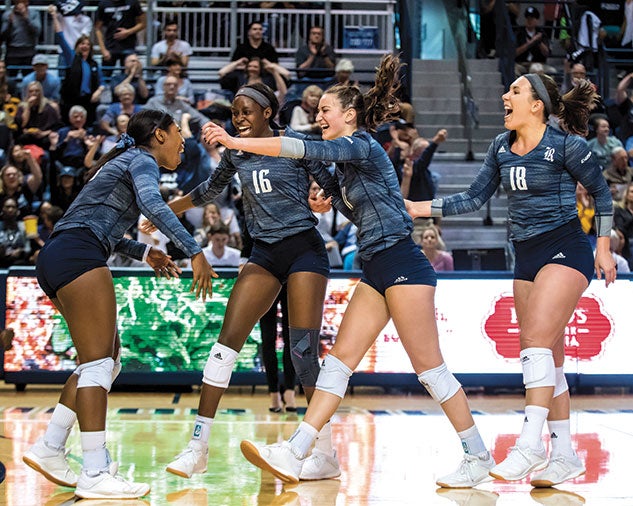 By James Costanzo
The first thing you notice when approaching the practice gym at the rear of Tudor Fieldhouse is the "smack" of serve after serve reverberating off the walls and into the hallway. Then, it's the squeaking and squawking of sneakers on the hardwood floor as the Rice volleyball team holds its final practice.
In the rafters above their heads hang banners honoring the greats of the past — American Volleyball Coaches Association (AVCA) All-Americans and program leaders in kills, blocks, digs and assists.
Although the Owls' 2019 season would come to an end on a foreign court against No. 25 Texas A&M in early December, it began in earnest by hitting and setting and sweating on these floors and under these banners.
"We were preparing for those fifth-set moments where it might come down to the winner being in better condition and more experienced," said senior Lee Ann Cunningham. "That's what we were thinking about when we were running in the Houston heat at 6 a.m. in June."
The Owls put together another season for the rafters. They achieved their second consecutive NCAA Championship berth, as well as the program's first-ever tournament victory (a first-round sweep of Oklahoma), their first top 25 ranking (finishing at No. 21) and the second-most wins in program history (27). In September, Rice also stunned No. 3 Texas in front of a record-breaking crowd of 3,012 at Tudor Fieldhouse.
Four players — Cunningham, Anota Adekunle, Nicole Lennon and Grace Morgan — earned spots on the AVCA Southwest All-Regional Team. Lennon, a junior outside hitter, was also a finalist for the 2020 Houston Sports Awards' College Athlete of the Year and was named to the Conference USA First Team.
Genny Volpe has coached the Owls for the last 16 seasons, leading the program to all of its five NCAA Tournament appearances and six consecutive 20-win seasons. "This group has a team-first attitude, genuinely. Of all the teams I've coached, I think that stands out the most," she said.
The Owls' talent is obvious, but it's their chemistry and commitment to building a culture based on sacrifice and hard work that put them over the top in 2019. It's the type of thing that, even after the lights go out in the gym at the end of the night, gets you a place in the rafters.