The Art of the Enigmatic
The collages of Kathryn Dunlevie narrate a fractured world.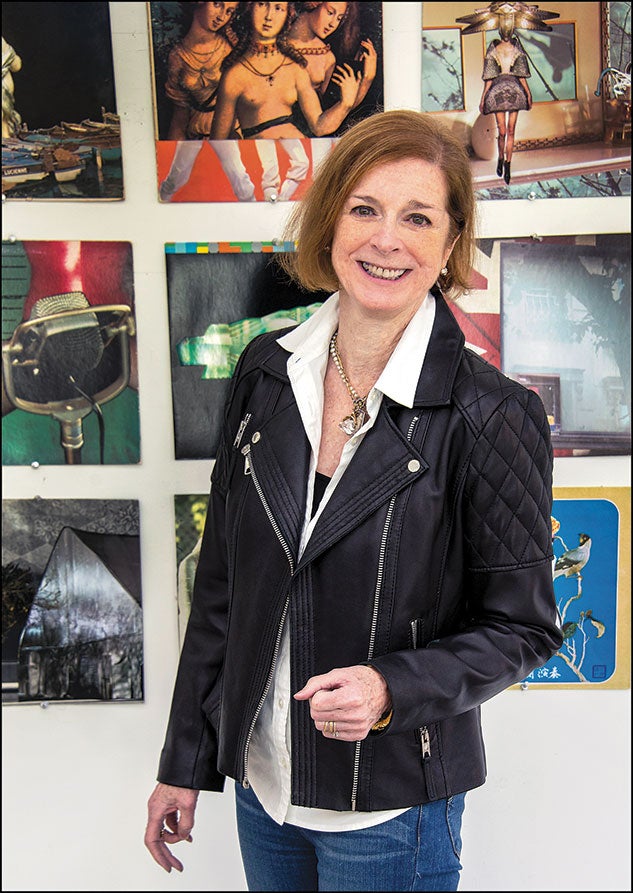 Anchoring the center of artist Kathryn Dunlevie's '74 studio is a mammoth wooden table covered in piles of clipped images, with some neatly arranged into miniature collages. One is a profile of a woman framed in verdant palm leaves, a triangle of green foliage shading her face. Nearby are images of a woman dressed in a black-and-white checkered skirt and top who floats above a harbor, her face and hair masked by a rose. Both collages — miniature versions of what will be much larger final works — leave the viewer with a sense of the surreal, a term often used to describe Dunlevie's richly layered and complex collages. 
"My studio is a place where I can think in as many directions as I like, where I can amass images and allow them to call to each other from across the table or across the room, and where I can leave projects in process and know that no one will disturb them or even see them," says Dunlevie, who works out of a backyard studio at her home in Palo Alto, California. She calls her creations "mixed-media narrative collages" — with narratives that are often elusive and intriguing to the viewer.  
Though her family moved frequently due to her father's work, Dunlevie spent childhood summers with her grandparents in Savannah, Georgia. "Savannah's history, lore and architecture intrigued me," recalls Dunlevie. By age 16, she opted to study Spanish as a high school exchange student in Paraguay. At Rice, she studied art history. 
"Rice had everything to do with me becoming an artist," Dunlevie says. "The art department had just doubled in size, and Houston was on the precipice of becoming the third-largest art center in the country." Her adviser was James Chillman, professor of fine arts and the first director of The Museum of Fine Arts, Houston. After taking Chillman's art history survey course, Dunlevie decided to study abroad her junior year at the University of Paris. When she returned to campus, Dunlevie dropped all her art history courses and doubled the courses in studio art. Soon, she was working at Sewall Gallery, the forerunner of Rice Gallery, on campus. After graduation, she continued her studies in printmaking, painting and photography; and she and her husband, Robert Hayes '74, settled in California. 
Eventually, all her artistic endeavors would find a home in collage.
"I found that the camera enabled me to capture images and to pick and choose the visual stimuli rather than be overwhelmed by it. Spatially, collage helped me organize the structure," Dunlevie says. She paints and layers the images and "fractures" the photographic elements "to weave a coherent composition that makes sense to me." Joining a critique group of talented women artists furthered her artistic development, and in 1992, she had her first one-person show at a gallery in Los Angeles. "It was wildly exciting and left me feeling like I was really part of the art world."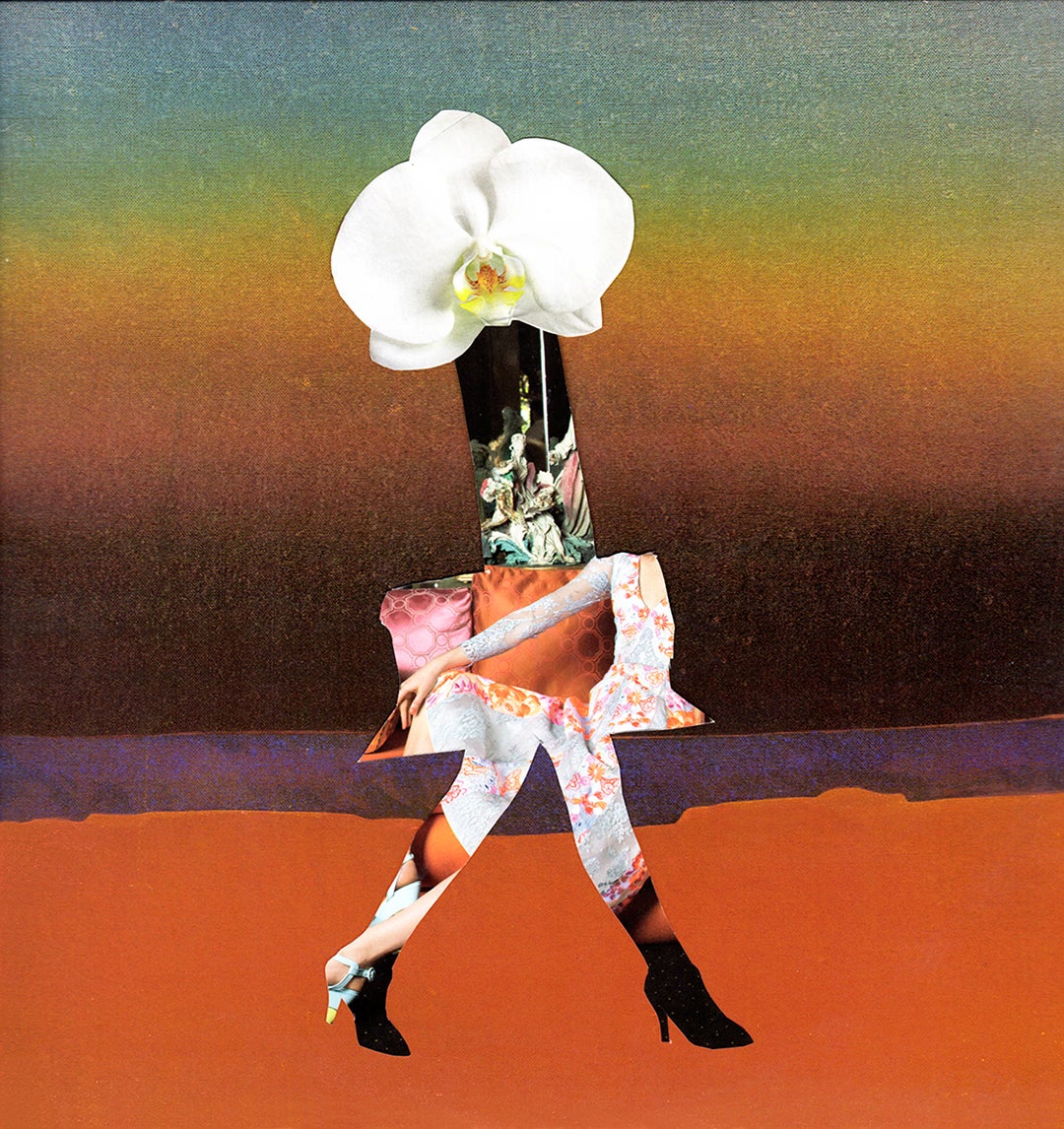 Continuing to experiment and refine her mixed-media techniques, Dunlevie's wildly imaginative pieces soon began drawing more interest in the Bay Area and beyond. "The genesis for each new series is either a tangential offshoot of the previous one or a completely muse-driven surprise to me," she says. 
Dunlevie's work has been collected and exhibited in galleries, museums and artistic spaces around the world. Houstonians can view "Women of Wonder" from April 4 to May 9 at the Hooks-Epstein Galleries during FotoFest 2020. It will be her ninth FotoFest appearance — her first FotoFest exhibition was in 2002 at Rice Gallery.