And You're Done!
Rice hosts inaugural December convocation ceremony for graduates.
By Kyndall Krist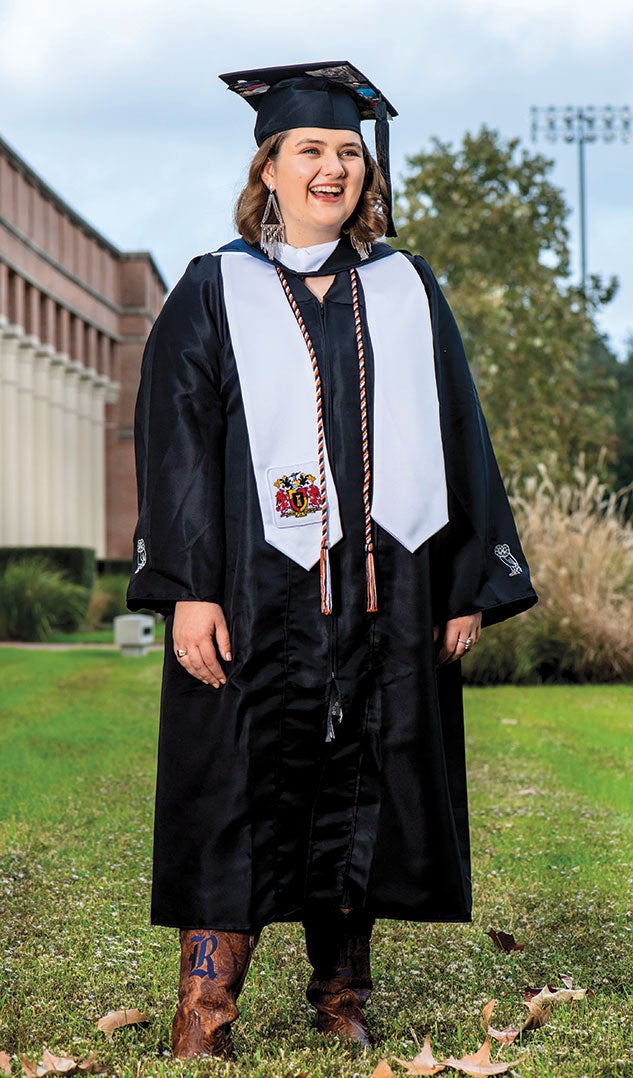 On Dec. 9, 2019, Rice held its first-ever December convocation ceremony to honor graduates who completed their degrees after the summer or fall semester. The event took place in Stude Concert Hall in the Shepherd School of Music, where Rice's newest alumni crossed the stage. The ceremony celebrated those who completed a doctorate, a master's or bachelor's degree, or a university certificate.
Historically, commencement has been most commonly held in May or June, starting with the first ceremony in 1916. During World War II, Rice held commencement in February, October and April, but this is the first ceremony to take place in December, according to Rice Centennial Historian Melissa Kean '00.
Samantha Cain, a Hanszen College kinesiology major and neuroscience minor, participated in the December convocation because she was able to earn enough credits to graduate a semester early. "Since graduating early isn't really a common thing at Rice, I didn't think about it myself until a friend of mine graduated early in December last year," Cain said. "She inspired me to look into my own degree progress to see if it would be a possibility, and it definitely was!" This year, Cain will begin graduate school for physical therapy. "Graduating early gives me a semester to work full time and save up money before graduate school," she added.
Christen Smajstrla, a Sid Richardson College economics major and environmental studies minor, has already started working toward her Master of Arts in Teaching at Rice and will be student teaching at Heights High School this semester. "This ceremony allows me to officially be done with undergrad so I can focus on transitioning to a grad student full time," Smajstrla said. She will also have the opportunity to experience May commencement in 2021 when she completes her master's degree. "I really like the idea of participating in both ceremonies," Smajstrla explained. "The December ceremony allowed for a more personal experience, and the one in May will allow me to be with many of my friends."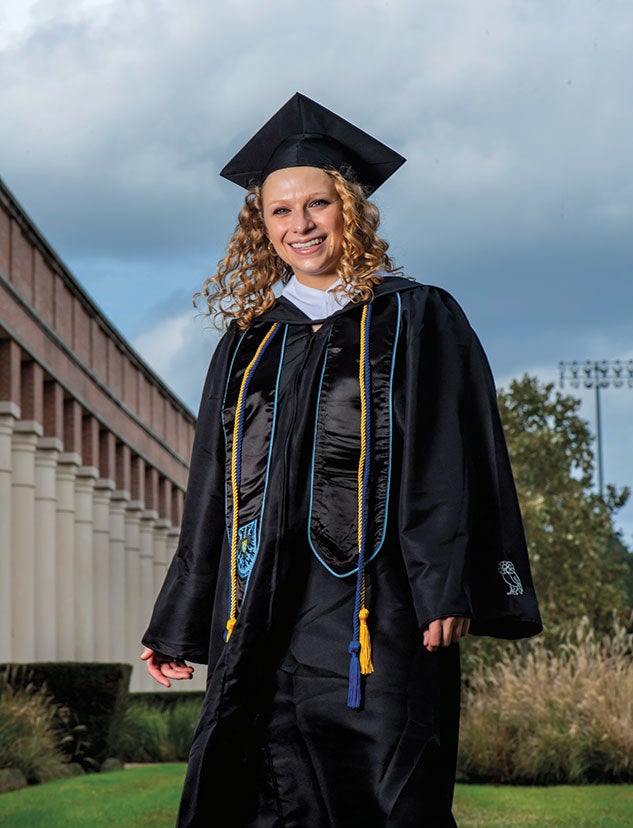 Students who complete a degree after the summer or fall semester do so for various reasons. "There are people who graduate a semester early at the undergrad level, or, for a wide variety of circumstances, might be taking a little longer than four years," said Dean of Undergraduates Bridget Gorman. "Plus, for master's and doctoral students, their timelines can differ quite a bit."
While the majority of Rice graduates participate in May commencement, the number of students who complete a degree outside of the spring semester time frame has noticeably increased over time. "It seemed like we reached the right moment when it was appropriate to offer [another ceremony]," said Gorman. "It's just giving those people that moment when they get the ceremonial 'and you're done!'"