On the Mat
Night Owl: Tim Faust '09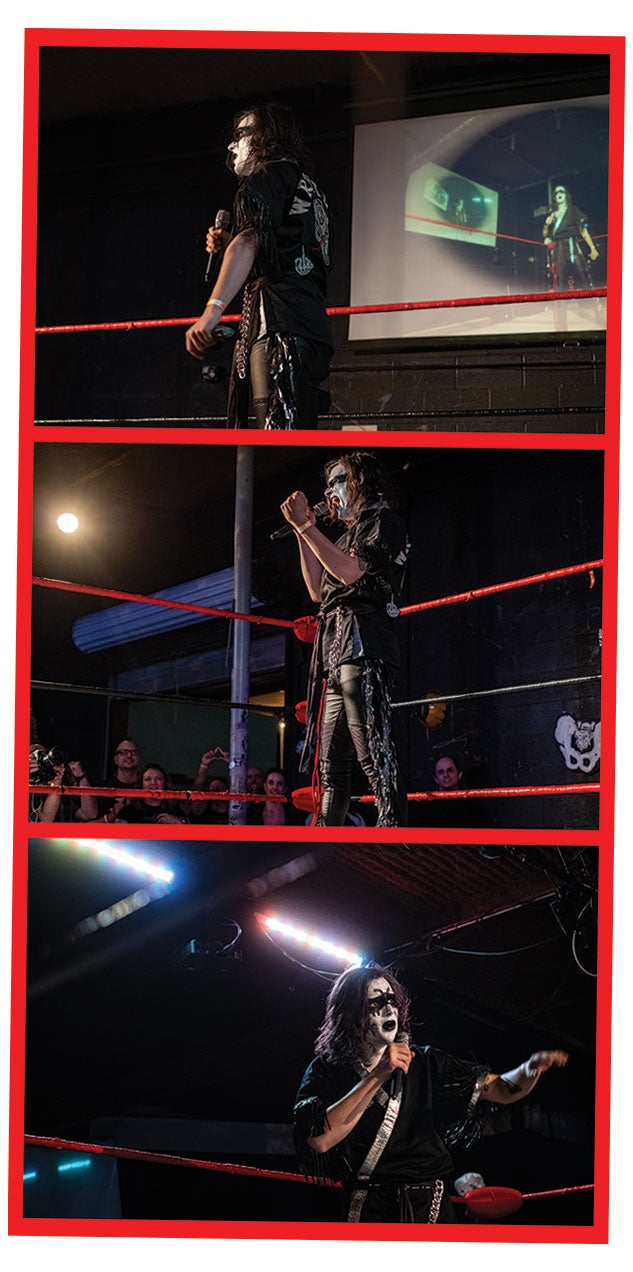 Timmy Quivers is dead. Party World Rasslin' (PWR) commissioner Chris Monica is sorry to inform attendees of this fact during the Austin-based wrestling promotion's first Houston show. "He was really looking forward to [being here], but we left him in a hot car," he explains. "They shipped him as he was over here." His mortal remains are carried to the ring, and with a little dark wrestling magic, Quivers is revived and ready to announce the matches of the night. This is not the first time Quivers has expired. He's been slammed to death, and once even asphyxiated on an enchilada verde.
Quivers is the invention of Tim Faust '09, the general manager of PWR, which is a cross between amateur wrestling, performance art and, yeah, a traveling party. Before joining PWR, Faust was no stranger to performing. At Rice, he studied history as well as theater, winning roles or directing such plays as "Into the Woods," "Rhinoceros" and "Jesus Christ Superstar." But wrestling entered Faust's life even earlier. "When I was a kid, when my dad was mad at me, he'd do a Crusher impression," the Menasha, Wis., native says of the famed Wisconsin wrestler, née Reginald Lisowski.
As an adult, the squared circle has a different appeal. "First and foremost, it's extraordinarily dumb," Faust jokes. "I like the idea that you've got these big moral battles with the dumbest things happening." These things include the conjuring of a shiny syrup monster — actually a chunky man in a Lycra suit — from beneath Houston. Or perhaps a battle between the villainous Dan Ziglar and a puppet named Pugginhead, whom Faust unfailingly refers to as "a real live 8-year-old boy."
Faust was first introduced to PWR at the backyard birthday party of Jared Blondeau, who, along with Monica, are the event's co-founders. "I took the mic and began announcing the show," Faust recalls. In time, buckets and ropes became a real ring. Faust, who lived in Austin for a time, moved to New York, where he studied at New York University's Robert F. Wagner Graduate School of Public Service. He's continued to make the trip from the Northeast for every PWR show, even now that he's relocated to Boston. "Our shows got bigger and bigger and dumber and dumber. We traveled forward in time to war against the robots, then the next year we did the same show but it was [set in] modern times," says Faust.
PWR has ballooned to include a crew of about 120 volunteers and staff. Though "no one gets paid real well," everyone gets a small stipend. This is particularly impressive considering that, with the exception of the Houston debut in October, all shows are free. "We all push ourselves to do very difficult, exhausting things for questionable return," he says.
The reason there are funds available to pay members of the crew is the merch table. "You could argue that we are a shirt-selling company with a performance art aspect," Faust says. Shirts, koozies and even frisbees are designed by Austin artists. In the market for fashion depicting the Grim Reaper riding Cerberus over a pile of skeletons? Skull specialist Nat Bradford has drafted just the thing for you, created for a PWR show known as NecroSlam.
The dream for PWR, according to Faust, is for it to cover somebody's rent. It's an unlikely proposition, though. Austin shows take place at 4th Tap Brewing Co-op, which has room for an audience "in the low thousands." After that, venues in Austin climb to more like 10,000, says Faust, which PWR could never hope to fill. More frequent shows aren't an option, either. It takes three months to book matches, write material and allow performers to rehearse as much as they need to. (Yes, we hate to break it to you, but they do rehearse.) "Three months is just enough time to do that, have a brief refractory period and get back at it," Faust explains.
Faust does have a serious side. As he puts it, "My other hobby is [being a] national health care speaker." In the past year, he's been to 37 states talking about the inequities in American health care and how to fix them. This year, he'll even release a book, titled "Health Justice Now: Single Payer and What Comes Next."
But Faust admits that his greatest rewards come from PWR. "It's fun to watch people put together ideas that are ludicrous, incredibly complicated, and watch them f***ing nail it in the ring."
— Alice Levitt