The Education of Ben Rhodes
The memoir of this Rice grad recounts his singular experience in a historic presidency.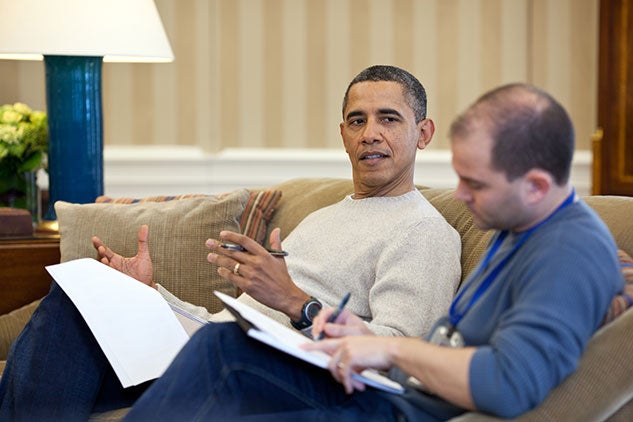 Despite double majoring in English and political science, and then earning an MFA in creative writing from NYU prior to working in politics, Rhodes never cared much for the political memoir genre and had no immediate plans to write his own. It was not until after the presidential transition did Rhodes think to work on his memoir.
"I realized that I had a unique entry point for a political memoir, because I was a relatively anonymous 29-year-old when I went to work for Obama. I felt like if I could focus on my personal experience and transformation in the job, I could give a reader a sense of what it's like to work in the White House," he said. Rhodes served in speechwriting, communications and national security adviser roles during Obama's eight years in office. "And I felt like offering an honest and open portrayal of how the presidency used to work would be of value in a world where the presidency — under Trump — operates so differently."
Rhodes' book is an intimate look inside the Obama White House. He chronicles his favorite part of the job, including international trips to Cuba, Germany and Austria; walks the reader through the intelligence conversations that occurred before the Osama bin Laden raid; and shares anecdotes about falling asleep on Air Force One only to be woken up by his boss, the president of the United States. But the book is as much about Rhodes' professional and personal growth as it is about the Obama administration.
He shares his trajectory as a new-to-Washington, D.C., young adult blossoming into a seasoned political adviser. Along the way, we see just how quickly his career took off. After several promotions, the White House installed a communications system in his two-bedroom apartment. When he mentioned to colleagues how noisy the system was and how it took up a large chunk of his living room, he realized that his peers were not having the same noise issues because they had the space to store the devices much farther from their bedrooms. Meanwhile, he was still living in "a young person's home."
Obama became known for his oratory skills, eloquence and famous speeches, while Rhodes quickly became one of the individuals working fervently behind the scenes to perfect each speech. To prepare, he read and reread Obama's books, "Dreams from My Father: A Story of Race and Inheritance" and "The Audacity of Hope: Thoughts on Reclaiming the American Dream." According to Rhodes, the experience of writing the words Obama would deliver was both thrilling and intimidating.
"Thrilling, because you get to work for someone who takes speeches seriously, and who commands an audience when he speaks," he said. "Intimidating, because people have very high expectations for an Obama speech. For that reason, I felt a great sense of responsibility. When he would give a speech in a foreign country, for instance, even if it wasn't going to be a big deal in the United States, it meant an enormous amount to the people in that country — both because he was an American president, but also because of who he was. So even though I wrote probably a thousand speeches for Obama, I still felt a great sense of responsibility — and stress — for the last speech I wrote for him," said Rhodes.
"The World as It Is" takes readers from Chicago to D.C. and countless countries over a nine-year period. Now that Rhodes' term in the White House has ended, he is working on more writing, helping his friends at Crooked Media with their podcasts, serving as an NBC contributor and doing his part to support Democrats.
Both Rice and the Baker Institute, as well as Rhodes' brother David Rhodes '96, make cameos in the memoir. Of his decision to attend Rice, Rhodes said, "Coming from New York City to Houston helped broaden my sense of the country in ways that were useful." Rhodes' advice for current Rice students is, "The best plan for your career is to have no plan — that's what allowed me to make some pretty dramatic shifts in my 20s, and ultimately led me to the Obama campaign and the White House."
Read Chapter 1 of Rhodes' memoir here.
— Courtney Stefancyk