The Strategist
Ramamoorthy Ramesh in his own words.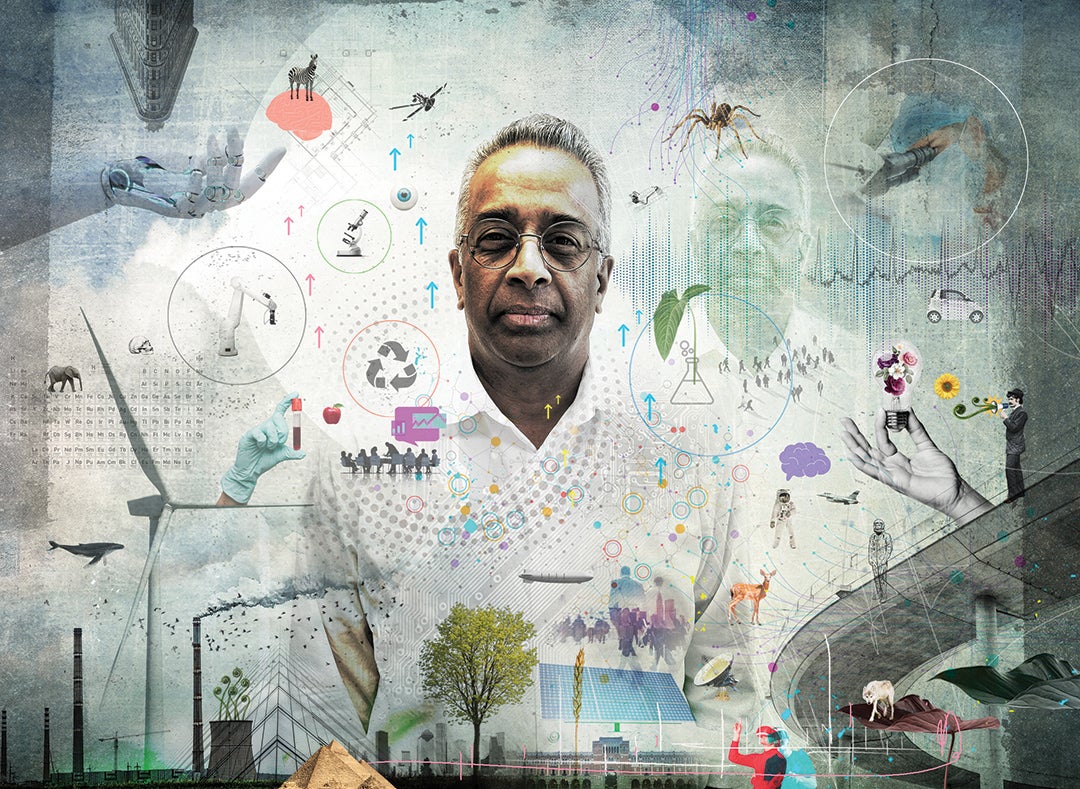 Summer 2023
Interview by Mike Williams
Ramamoorthy Ramesh is a bottom-up thinker, but his job demands a top-down sensibility. As Rice's vice president for research, his days incorporate a lot of both. A materials scientist and physicist, Ramesh's inclination is to build things from atoms on up to gain the ultimate level of control over structures and their properties. His new gig requires a different kind of thinking. "Top-down thinking gives you a clear perspective on how to solve big problems, but many top-down people do not see the bottom-up," he said. "You somehow have to make those two pieces meet each other. You have to open your mind and trust people and their strengths."
Ramesh joined Rice in 2022 amid a storied career at the University of California, Berkeley, with stops along the way at the Department of Energy, at the Lawrence Berkeley and Oak Ridge national laboratories, and as the founding director of the Obama administration's SunShot solar energy initiative. He's a fellow of the National Academy of Engineering, the American Academy of Arts and Sciences, and The Royal Society of London. Ramesh will build upon that work at a shared lab at the Ralph S. O'Connor Science and Engineering Building, home to the new Rice Advanced Materials Institute. At the same time, he's responsible for making the Rice research community a global player. And he has a plan.
Rice on the radar
My introduction to Rice was as part of a committee to evaluate materials science in 2018, when I got to know Reggie [DesRoches]. I was very impressed by his demeanor and positivity. Fast forward to August 2021, when Reggie told me he was a candidate for president and asked if we could brainstorm about what research at Rice should look like. I made some slides to show him what I thought made sense: five areas set up like Olympic rings as a prompt that I knew could also be a focal point. When he offered me the VP position, I was sold; there was no protracted negotiation. I think it took all of 20 minutes.
Five rings to rule it all
The first ring is for energy, environment and climate change. This has relevance to a broad spectrum of research — social sciences, humanities, public policy, natural sciences, business, architecture and engineering. The second is health care sciences — we are literally a hundred meters from the biggest, most comprehensive and sophisticated health care complex in the world. At Rice, we have the fundamental science and engineering to attack problems in cancer, neuroscience and mental health.
Third is information sciences, including artificial intelligence and machine learning. We're already strong in these areas, but we need to extend them all the way down to quantum computing and computer engineering, the hardware part. Fourth is policy, and the Baker Institute is a jewel of a think tank that does a lot of techno-economic analysis. And fifth is helping turn our spectacular research into transformational technologies.
We need to expect to win the Nobel Prize; that means we consistently compete for global recognition by solving the biggest problems of
our lifetime: climate, energy, health care and information science, which is also intimately tied to food security.
Great expectations and big achievements
We need to have an environment of scholarly work and great expectations. We need to expect to win the Nobel Prize; that means we consistently compete for global recognition by solving the biggest problems of our lifetime: climate, energy, health care and information science, which is also intimately tied to food security.
Managing the big picture
When I took on SunShot in 2011, I had not done any solar work. I'm a condensed matter physics person. I asked [then Secretary of Energy] Steve Chu why he brought me in. He said, "You're in the National Academy; we hope you're a smart fellow. We expect you to do smart things." I learned you don't have to be an expert in every field, but you do have to know who the experts are and give them the license to innovate. You create a platform and put a huge value on cutting-edge science, creative work and technology.
The power of institutes
One thing I've learned is that if the operations part is good, everything else becomes easier. The Office of Research has fantastic people, and we're bringing on new [leadership] for tech transfer, research compliance and research security. And the institutes at Rice are an important part of this game plan, because they are the research engines within which people can come together and carry out cutting-edge interdisciplinary research.
For example, we're already very strong in artificial intelligence and machine learning through the Ken Kennedy Institute, nanotechnology through the Smalley-Curl Institute, and global health through the Rice360 Institute, which we'd like to strengthen. Climate, advanced materials and synthetic biology are all evolving into new institutes. Rice is the founding home of NASA astronauts — 16 so far — and we are keen to build up our space research as the nation gears up for the trip to Mars and the Artemis program.
Creating shared advanced labs
In the fall, we will have a lab in the O'Connor Building for advanced, atomic-scale synthesis of materials to probe their properties and measure their physical phenomena. We'll have laser-based deposition systems where you can deposit materials atom by atom and have very high-precision, high-resolution magnetic measurement capability. Most importantly, it will be a shared lab. I want it to be an open lab where all faculty — especially young faculty — can come in and take advantage of its capabilities and carry out research in a safe, collaborative manner.
Houston as a hub for innovation
Typically, the drivers for energy, climate, health care and information science are academic institutions, and the East and West coasts have prominent academic ecosystems. We have something very similar, except maybe it's not as well publicized. Our undergraduate program is clearly one of the best in the country — and around the world — which we will emulate in our graduate research. There will be an aspiration for persistent excellence, and my impression is that Rice embodies all the necessary qualities for it.