Inventive Minds
Five innovative engineering design projects that aim to improve lives
Summer 2023
By Silvia Cernea Clark
Illustrations by Chris Gash
These inventions are a select few of the 69 projects that were shown in April's annual engineering design showcase and competition coordinated by Rice's Oshman Engineering Design Kitchen (OEDK). According to OEDK director Maria Oden, the facility this year supported the work of 900-plus students from more than 25 courses taught in departments all across Rice, including all nine departments of the Brown School of Engineering. The event, which was held April 13 at the Ion innovation hub in Houston's Midtown, has been newly renamed from the George R. Brown Engineering Design Showcase to the Huff OEDK Engineering Design Showcase in honor of Harrell and Carolyn Huff, who have supported dozens of teams in the competition over the years. Industry and medical professionals, many of whom are Rice alumni, judged the projects and awarded a total of over $19,000 in cash prizes.
Jump to the stories below:
Pectus Reparatum! | Team ALIVE | Team OR Lights | Team Three Seasons | Team StimuSock | All Winners

---

PECTUS REPARATUM!
A high-tech, lightweight brace may provide a remedy for rib flaring.
Body image can have a significant impact on a person's life, especially in their youth.
For those suffering from rib flaring associated with congenital deformations of the chest wall, a team of Rice engineering students calling themselves "Pectus Reparatum" has come up with a potential solution.
Pectus carinatum and pectus excavatum are conditions in which a person is born with their breastbone protruding outward or sunken inward, respectively. For many patients — who are mostly teenagers — they also cause rib flaring, a condition in which the lower ribs at the front of the rib cage protrude outward.
"Because these conditions occur mainly in patients with ages between 12–20, this affects their body image, social life, etc., at a crucial time in their development," says Jaden Roberts, a member of the team along with fellow seniors Jose Castillo, Shelby DesRoches and Brandon Zimmer.
For some patients with pectus carinatum, wearing a brace helps reshape the breastbone over time, but the standard design as it is currently used doesn't treat rib flaring. The Rice team learned that pediatric surgeon Dr. Mark Mazziotti at Texas Children's Hospital had hoped to expand the use of the standard brace for this purpose. However, the device is bulky and adds to the discomfort and insecurity associated with the condition, discouraging many patients from wearing it.
"This helped us set a goal," DesRoches says. "We were thinking about this bracing mechanism they were already using, and we drew inspiration from that brace design to create one that patients would be more compliant using that would effectively treat rib flaring."
As its capstone design project, the team designed a low-profile, cost-conscious brace called the "Cartilage Corrector."
"The main feature we wanted to improve upon with our design is providing self-adjustability for the user," Roberts says. "With the current brace, you can't adjust the pressure being applied yourself. Instead, you have to go in to your doctor's office and have them adjust it for you, and then you're stuck with that fit until the next visit, which can be months or even one or two years later."
The team also wants to make it possible for doctors to track the pressure being applied over time in order to assess treatment effectiveness and optimize plans based on individual needs.
"The electronic system for our device will provide accurate data, such as time tracking in conjunction with pressure measurements," Castillo says. "Measurement values will be saved to an SD card and can then be transferred to a computer and read on a graph."
---
A CARGO-CARRYING CATAMARAN
An autonomous sailboat could resupply Marines in conflict zones.
A self-navigating "seabot" that can carry more than 60 pounds of cargo could be a sustaining link for Marines on shore during dangerous missions.
A team of engineering seniors designed, built and tested a low-cost, energy-efficient vessel which won one of the two Excellence in Capstone Engineering awards. Team ALIVE — which stands for "Autonomous Low-Impact VEssel" — is comprised of seniors Freddy Angarita-Cuesta, Anna Frey, Jessica Kies, Alan Lopez, Oli MacGregor, Wyeth McKinley and Scarlett Spindler, advised by mechanical engineering lecturer David Trevas and electrical and computer engineering professor Gary Woods.
"Most of the existing autonomous sailboat designs out there are targeted toward ocean research or racing," Frey says. "That means they're super lightweight, not meant for carrying cargo."
"This is the first autonomous catamaran sail design that we know of that's intended to bear load," MacGregor adds. The vessel was inspired by the team's sponsor, Marine Corps Lt. Col. Thomas Kline. "The central idea is to make an adversary choose whether or not to use expensive weapons on cheap targets," Kline says. "If they do not, Marines get resupplied. If they do, but some sailboats get through, Marines get resupplied. Win-win."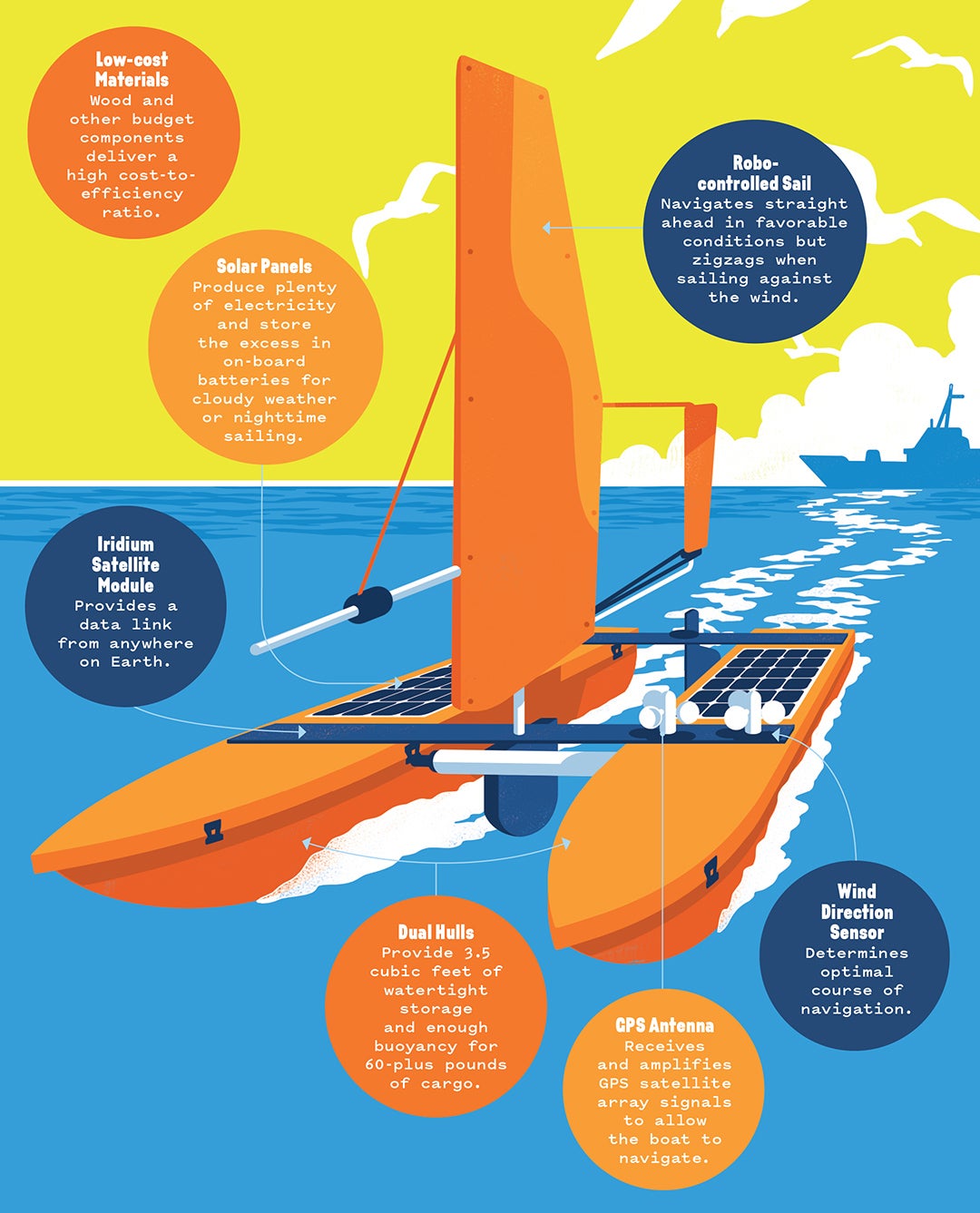 In favorable wind conditions, the boat adjusts its course to a trajectory based on the coordinates of its current location and those of its target destination. However, things get more complicated if the boat is sailing against the wind, in a so-called "no-go zone."
"Whenever the destination is in the no-go zone, the boat cannot approach it via a direct route," Angarita-Cuesta says. "So the main idea to get around this is to create a series of artificial or temporal waypoint targets alternating along either side of the no-go zone perimeter in a zigzag pattern."
The students' choice of materials and component parts sought to optimize the cost-to-efficiency ratio of the design. Moreover, autonomy was a guiding principle, not only in terms of navigation but also with respect to energy consumption.
"It's all solar powered," MacGregor says. "It produces enough electricity through its solar panels to power the systems several times over. It also collects excess energy in batteries that live on the boat. So, in cloudy weather or at nighttime, it can still power itself."
---
AT A TOUCH
An award-winning automated system sheds better light in operating rooms.
Team OR Lights took this year's top spot — the Woods-Leazar Innovation Award for Excellence in Engineering and its accompanying $5,000 cash prize — with its automated touch-screen-operated lighting system.
The team was inspired by Dr. Munish Gupta, an orthopedic spine surgeon at Washington University in St. Louis. He noted that up to 25% of operating time was spent physically adjusting lighting equipment on overhead booms, and he tasked Rice engineering students — sophomore Hemish Thakkar and seniors Ellice Gao, Bryn Gerwin, Justin Guilak, Rosemary Lach and Renly Liu — with building a solution.
"With current lighting, they have to adjust it manually," Guilak says, "and often it's hard to light up an exact spot at the right intensity and without shadows."
Headlamps were thought to help, but they require surgeons to keep their heads perfectly still as they work, which can cause neck strain. And headlamps can get in the way when multiple surgeons are working together in close proximity.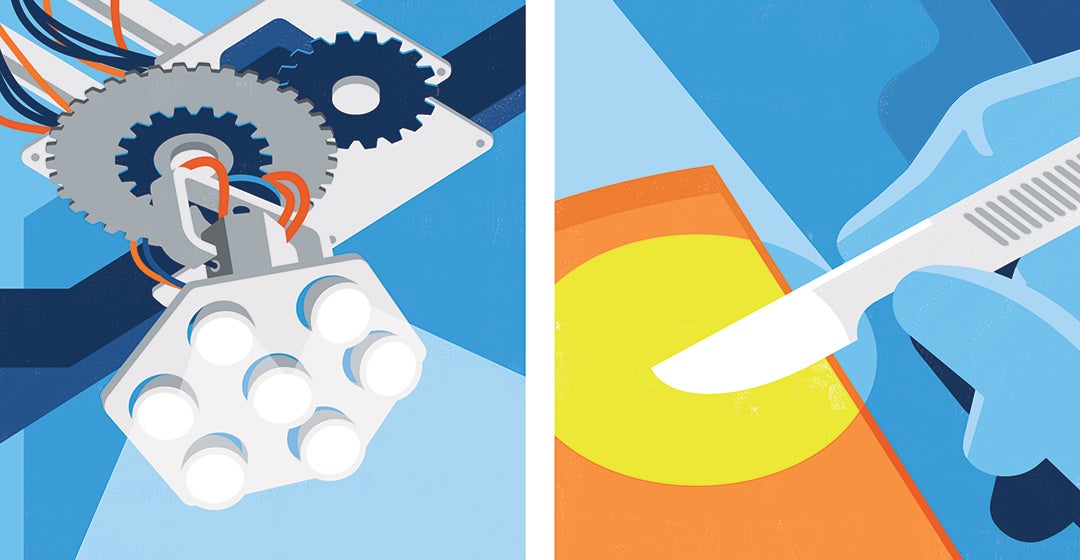 The app allows surgeons to adjust the position, size and intensity of the spotlight with minimal effort.
"Our system has four separate light clusters mounted on an overhead frame," Guilak says. Each light cluster is mounted onto a 3D-printed circular base that can adjust its position and the angle of the lightbulbs. "This allows us to aim our spotlight anywhere on a 2D plane and adjust the size of the spotlight we're creating," Gerwin says.
In addition to the lights, a lightweight camera is mounted on the frame to supply a live video feed of the operating table.
"The surgeon can [tap on a touch screen] and drag a circle on top of the video feed, and that's the spot the lights focus on," says Gerwin. The app allows surgeons to adjust the position, size and intensity of the spotlight with minimal effort.
"There already are touch screens being used in the operating room, so covers, etc., for sterilization already exist," adds Gao.
Operating room lighting requirements are very specific. Brightness, color, power source, sterilization protocols and even the noise levels emitted by lighting devices are all geared to maximize focus and reduce distraction. The team weighed all these factors carefully in its design.
"The most memorable thing was the moment when we first turned on the lights," says Guilak. "We had this vision of it working all semester and then when the lights actually turned on and lined up where we told them to, it almost didn't feel real."
---
A REMEDY FOR FALL RISK
A new movement-monitoring system offers safer movement for older adults.
Falls are the leading cause of injury — and death caused by injury — for adults 65 and older, according to the Centers for Disease Control and Prevention. The population of older adults is expected to pass 85 million by 2050, and a quarter of them fall each year, with 1 in 5 incidents resulting in serious injury.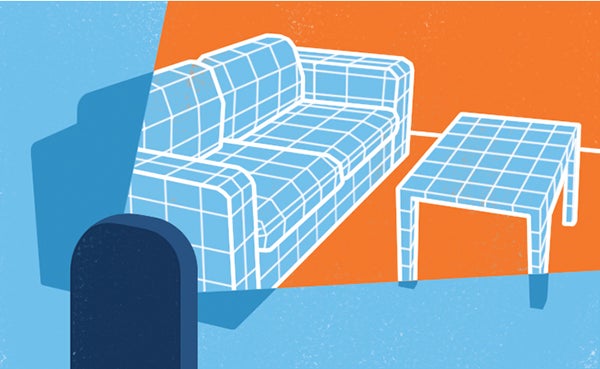 The OEDK team calling itself "Three Seasons" (because "with us, there is no fall") designed an assessment system that enables doctors to create personalized risk-management strategies for patients based on their movement patterns at home. Teammates Charlie Gorton, Vanessa Garlepp, Chris Heuser, Fadeel Khan and Ahalya Lettenberger, all seniors, worked on the collaborative capstone project.
The system includes a wearable device, a home-mapping and movement-monitoring component, and an artificial intelligence-mediated data-processing element. "Our wearable device tracks location with an ultrawideband sensor, movement with an accelerometer, and time, and it has a user-input button that they can press," Vanessa Garlepp says. "Everything is written to a micro SD card, and the data is post-processed."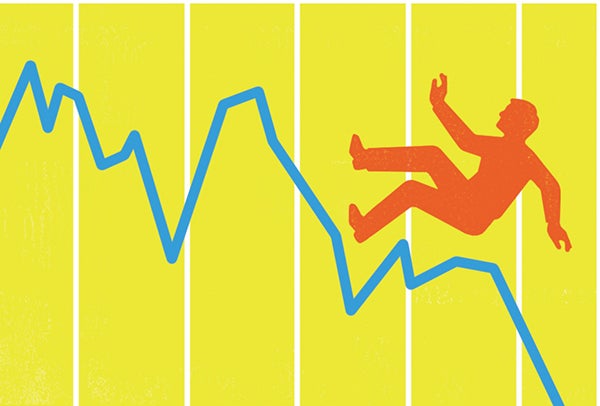 The system includes a lidar scanner mounted on a tripod that maps a room's layout, including the furniture, at different heights. "Our device not only detects falls in the home but also what patients were doing before the fall, where they were when they fell, etc.," Lettenberger adds.
"A lot of times when older people fall, they can't remember why," says Gorton. "This device gives physicians details about the fall that patients might forget."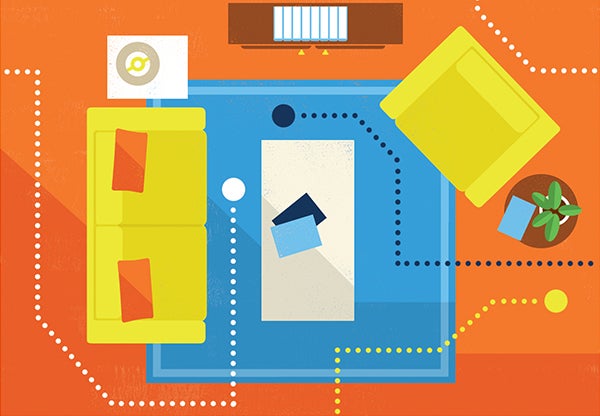 The project is personal for Garlepp, whose grandfather passed away due to injury from a fall. "I was also drawn to the project for that reason, as well as to just help prevent the same thing from happening to other families." This could help older adults reduce health care bills and live in their homes longer.
---

TWO STEPS AHEAD
A wearable device mitigates foot pain and balance issues for diabetic patients.
Need a little spring — or buzz — in your step? A wearable electrical-stimulation and vibration-therapy system designed by Rice engineering students might be just what the doctor ordered for people experiencing foot pain and balance loss due to diabetic complications.
Team StimuSock — composed of seniors Abby Dowse, Yannie Guo, Andrei Mitrofan, Sarah Park and Kelly Xu — designed a sock with a smart insole that can deliver transcutaneous electrical nerve stimulation (TENS) to block pain signals to the brain and vibration therapy that provides haptic feedback to help with balance issues. Mentored by Sabia Abidi, bioengineering assistant teaching professor, the project won one of the two Excellence in Capstone Engineering awards in this year's showcase, along with a $1,000 cash prize.
According to the Centers for Disease Control and Prevention's 2022 estimates, over 37 million people in the U.S. suffer from diabetes. About half of them will develop some form of diabetic neuropathy, a type of nerve damage that occurs most often in the legs and feet.
The StimuSock team sought to combine the best aspects of existing therapies into a single, user-centered design.
"Existing products or devices used to treat the symptoms of diabetic neuropathy are either pharmaceuticals or large at-home vibration devices users stand on," Dowse says. "But none of them can both treat pain and improve balance, which our device aims to do by combining the TENS and the vibrational therapy in one wearable, portable, user-controllable and easy-to-use device."
"The intent is for the patient to be able to wear the device for the whole day," Guo adds. "Even when everything's off and they don't want the electrostimulation or haptics effect, they can still wear their device. You don't want it to look like you're wearing an ankle monitor."
Patients use a smartphone app to control the type, intensity and duration of the desired therapeutic stimulus. The system also allows users to target a specific area of the foot.
"We have three regions: one in the front of the insole, one in the middle and one at the back," Park says. "Our aim is to allow patients to be able to control both the amplitude of the vibration and the location where it's delivered. Some patients might only want vibration at the front of their feet and some only at the back."
Mitrofan says the team anticipates that the device's final form will have sufficient battery life to provide the recommended maximum of four 30-minute sessions of TENS therapy per day and operate on standby the rest of the day.
---
Winners of the 2023 Huff OEDK Engineering Design Showcase
Top-level awards:
Excellence in Freshman Engineering Award ($1,000): ReadyLegsGo
Excellence in Underclassman, Multi-year or Club Engineering Award ($1,000): Club Suas
Excellence in Graduate Engineering Design Award ($500): Under Pressure
Excellence in Capstone Engineering Award ($1,000): Alive
Excellence in Capstone Engineering Award ($1,000): StimuSock

Category awards:
Best Aerospace or Transportation Technology Award ($500): G.N.C. (Garbage Neutralization Crew)
Best Conceptual or Computational Engineering Design Award ($500): VAQWM
Best Energy-Related Engineering Design Award ($500): Jet fuel made EASZly
Best Environment and Sustainability Engineering Design Award ($500): Drain Brain
Best Gaming, Creative or Innovative Technology Award ($500) A Low-Power AR Device
Best Medical Device Technology Award ($500): Humidifeye
Best Medical Device Technology Award ($500): Preslicely
Best Technology for Low-Resource Settings Award ($500): Colosto-ME
Best Interdisciplinary Engineering Design Award ($750): Test TSH
People's Choice Award ($500): YoungWoods

Willy Revolution Awards for Outstanding Innovation:
1st place ($3,500): YoungWoods
2nd place ($1,500): Automotive Electronics Retrofit Team