The Explainer: Houston ISD
What is the impact of the state of Texas' take over of the Houston Independent School District?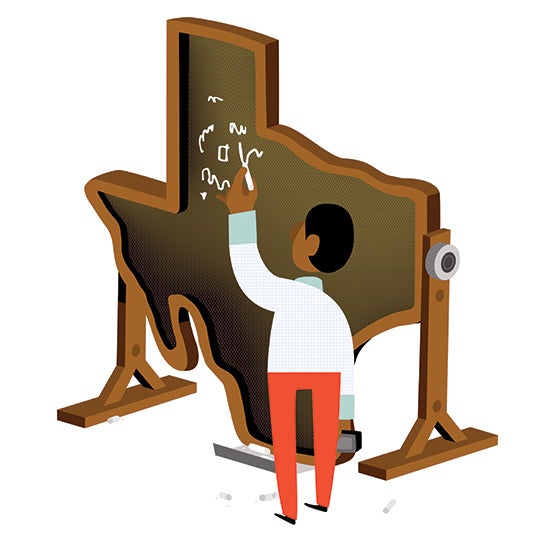 Summer 2023
Interview by Lynn Gosnell
When Texas leaders announced the plan to take over Houston ISD in March, we asked Ruth N. López Turley and Erin Baumgartner to share their expertise with us. Turley is the director of Rice's Kinder Institute for Urban Research, and Baumgartner is the director of the Houston Education Research Consortium — a partnership between the Kinder Institute and 11 Houston-area school districts that was created to guide policy and improve educational equity. Together, Baumgartner and Turley have supported Houston ISD through research to help guide decision-making for more than a decade. They talked to us about what the takeover means to students, faculty and parents and the best way to improve academic performance in public schools.
In brief, what events triggered the takeover of HISD in March 2023?
While the takeover was announced in March 2023, it was really sparked by Texas Education Agency efforts to take over the district, which began in November 2019 and have been in legal battles since. The primary reasons stated for the takeover were having a campus rated as "unacceptable" in accountability ratings for five consecutive years and having a conservator/monitor appointed to the district for more than two consecutive years.
What does research tell us about the likely impacts on student performance?
In the years immediately following a takeover, what researchers have seen in districts across the country is that student test scores often decline, taking about five years for students to recover to pre-takeover levels.
What alternatives to a takeover could address concerns about school performance?   

Alternatives to a takeover typically focus on the specific schools that are underperforming and include actions such as closing schools, merging schools or partnering with a charter school. All of these actions, including a takeover, assume that the problems stem from governance issues. Governance definitely matters, but research shows that the strongest predictor of performance gaps — like those seen in HISD and throughout the country — is the concentration of poverty in schools. This means that one effective way to reduce and even eliminate performance gaps is by integrating schools and school districts. Controlled choice is one way to do this — giving parents school choice, which already exists in HISD — while also aiming to ensure that poverty rates are more evenly distributed across schools.
Alternatives to a takeover typically focus on the specific schools that are underperforming and include actions such as closing schools, merging schools or partnering with a charter school.
Controlled choice has had success in other parts of the country, but it would need to be altered to accommodate a much larger district like HISD, and it's extremely important to point out that controlled choice must be accompanied by adequate funding from the state. Although Texas has increased school funding over the past few years, it is still well below the national average, coupled with a high proportion of students in poverty with many needs.
So what comes next for the district?
The takeover will last for a minimum of five years. After two years, if the district meets certain requirements, there is the possibility of starting to phase a third of the elected board members back on to the board each year. The appointed superintendent and an appointed board of managers will serve as the primary leadership.

How is the Houston Education Research Consortium staying involved with the district?
Our aim is to continue providing support to HISD through our partnership, identifying areas in which research could help guide decision-making and efforts to provide equitable educational experiences for students in the district. We have a few studies in progress with departments across the district — such as student support needs and postsecondary preparation. And when the new district leadership is announced, we will make every effort to connect with those folks to ensure they know about the ways in which [the consortium] and the Kinder Institute are committed to partnering to support students.