Hands for Houston
The Community Bridges program pairs Rice students with local nonprofits to benefit the greater good.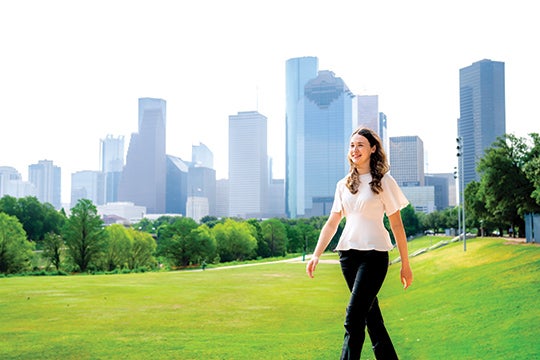 Summer 2023
By Andrew Bell
Rice sophomore Sarah Davidson was interested in urban planning and public spaces before her fellowship with Community Bridges, an experiential learning program within the Kinder Institute for Urban Research. After working with Buffalo Bayou Partnership last semester, she gained an entirely new perspective on just how much public parks can mean to a city.
"I've never thought this much about parks in my life," she says, chuckling. "But you really start to understand what it means to be a resident of a city when you talk to people about their public parks. This has opened my eyes to what it actually is like to be a Houston resident."
Through a fellowship with Buffalo Bayou Partnership, a nonprofit focused on revitalizing the 10-square-mile stretch of bayou that flows from Shepherd Drive to the Port of Houston Turning Basin, Davidson has explored ways to redevelop Houston's public spaces and parks. The goal of her research project was to examine how Buffalo Bayou Partnership's 10-year, $310 million expansion plan into its east sector can be improved to make these spaces more user friendly and accessible.
The partnership's plan envisions integrating new and redeveloped parks, trails and recreational destinations into surrounding neighborhoods from Highway 59 to the Turning Basin. At the heart of the east sector is Tony Marron Park, a 19-acre space that will double in size by the end of the expansion.
You really start to understand what it means to be a resident of a city when you talk to people about their public parks.
Davidson visited public spaces along the bayou — Buffalo Bayou Park, Tony Marron Park and Eleanor Tinsley Park — to survey community members, finding out what they like about, and would like to see added to, existing parks.
"One of the questions was to describe their ideal park in three words. This garnered great answers regarding what people liked and disliked most about the three different parks," Davidson says. Through interviews, she learned that while some users of Tony Marron Park expressed dissatisfaction with a lack of maintenance and shade on playground areas, many were fond of the park's peacefulness and tranquility. In addition, many favored the openness and diversity that Buffalo Bayou and Eleanor Tinsley parks provide.
These types of findings will play a key factor in future development, says Karen Farber, vice president of external affairs at Buffalo Bayou Partnership.
"It's so important for us to be in direct dialogue with community members, whether it's users of Buffalo Bayou Park or Tony Marron Park in Buffalo Bayou East. But it's time-consuming, and we are a small nonprofit," Farber says. "So when [a Community Bridges fellow] comes to us and says their mission is to do this kind of work — to talk to people, survey them, and collect and organize that data — we're eager to have those kinds of partners."
Expanding nonprofit capacity
Since Community Bridges' inception in 2011, more than 230 students have partnered with local nonprofit organizations like Buffalo Bayou Partnership to explore ways to evaluate and improve their efforts in serving Houston residents — whether it be through community development, public health or education programs. The aim of the student projects is to build the capacity of Community Bridges' partner organizations to make evidence-based decisions in pursuit of their missions, says Imarogbe "Rogbe" Stokes, who oversees the program.
"Rice has the advantage of having access to the newest technology, data and personnel. The students of the Community Bridges program serve as a conduit of those resources, combining them with their personal talents," Stokes says. "They actively help nonprofits who are occasionally under-resourced and who welcome any mission-complementary assistance."
Stokes contributes a unique perspective of the community outreach effort, as he's seen it from both sides of the fence. Stokes was formerly the health equity program manager at Avenue CDC, one of the 16 external organizations partnering with Community Bridges.
"As a past partner of Community Bridges, there are some parts of the program that I was already familiar with," he says. "In my current role, I find myself occasionally thinking like a member of a nonprofit. This helps me empathize with the different obstacles that nonprofits face and overcome on a regular basis — namely staff turnover, potential issues with funding, staff capacity, etc.
"This empathy often lends itself to conversations with the students about the importance of these partners and how nonprofits in underserved communities are often heavily relied upon by residents."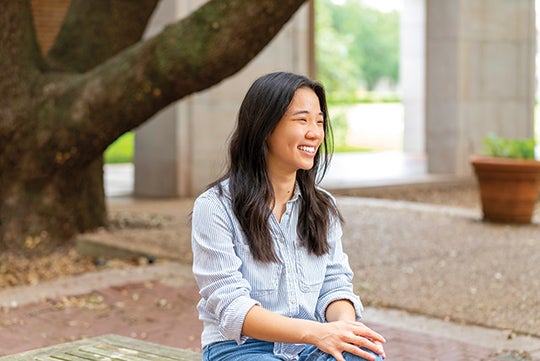 Theory meets practice
During the 2023 spring semester, there was no shortage of student projects that displayed the intersection of curiosity, engagement, ingenuity and empathy.
For example, sophomore Rachel Toole is a fellow for partner organization LISC Houston, which is a local office of the Local Initiatives Support Corporation, the nation's largest community development support organization. With programs addressing real estate, leadership capacity, and economic, community and neighborhood development, the organization's goal is to provide funds as loans or grants to partner nonprofits.
"The project really deals with trying to identify service delivery gaps in the Houston market and looking for ways for them to collaborate more or leverage the resources that are being deployed in the community to maximize their effect," Toole says.
Toole's fresh perspective, open-mindedness and creativity while meeting and interviewing with partner companies has resulted in improved candidness and problem-solving, LISC Houston program officer Ellary Makuch says.
By providing student fellowship opportunities, Kinder is planting seeds of interest and passion in essential community outreach functions among Rice's talented student population.
"It's been so valuable to have an outside perspective," Makuch says. "A lot of times when you're an employee of a company, you're concentrated on if you have any deadlines coming up. 'Who do I have to nag today? What do they owe me?' And having somebody coming in with not only that fresh perspective to ask questions to elicit information but also a neutral party who's not connected to the day-to-day operations, it really helps illuminate some of the challenges companies might not otherwise willingly share."
Community Bridges fellows have also aided in the outreach efforts of Rice's own School Literacy and Culture program. Through her project, junior Vanessa Chuang mapped the areas of Houston currently being served so the organization can develop strategies to reach communities that could benefit from having high-quality early childhood education centers.
"Vanessa's data analysis will serve as a blueprint that our organization will be able to use as we continue to expand our support of children, teachers and families across the Greater Houston community," says Karen Capo, the director of the School Literacy and Culture program.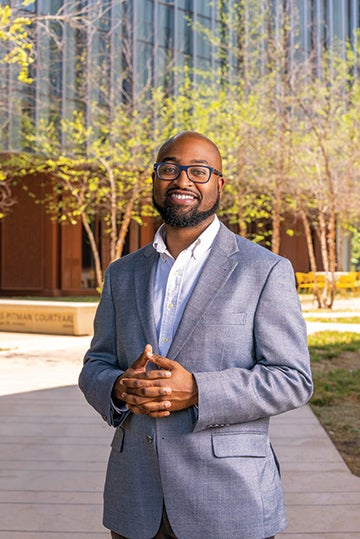 "The value of Community Bridges is that it combines the theoretical side of urban sociology with a way to apply it in a very practical and meaningful way," says Chuang. "I've learned a lot about educational inequality in the classroom, which has helped shape my understanding of the educational landscape. It has been an even more profound experience to be partnered with a nonprofit that is actively working to improve early childhood education in the Houston community."
Changing the future, today
The Community Bridges program is one of many efforts the Kinder Institute deploys to address urban inequality and poverty issues in Houston. By providing student fellowship opportunities, Kinder is planting seeds of interest and passion in essential community outreach functions among Rice's talented student population.
"We have some of the brightest minds who are going to go forward and do amazing things in their field of choice," says Julia Szabo '20, '24, Community Bridges course instructor. "For [these students] to be able to gain a broader context of some of the inequalities that exist in our society will make them more thoughtful and better at whatever path they choose in their work and in their daily lives, understanding that their decisions have consequences for whether these inequalities increase or decrease across time."