Across, Down and Forward
Jayaker Kolli finds ways to connect people, ideas and creative pursuits.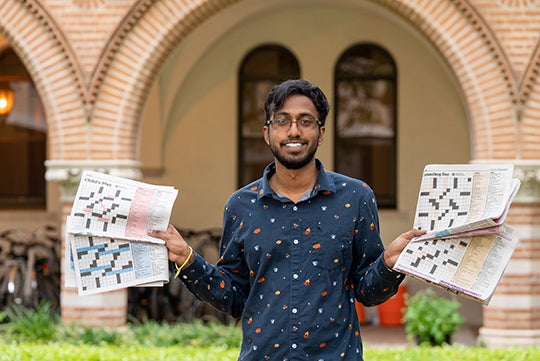 Summer 2023
By Lynn Gosnell
Scientist, college president, environmental advocate and crossword enthusiast. At Rice, Jayaker Kolli '23 found a home that was big enough for all these interests and yet small enough for his interests to interconnect.
Kolli's academic story started when his high school chemistry teacher recommended him for a summer research program in the lab of chemical engineer Keith Keitz at the University of Texas at Austin. There, Kolli researched the electrogenic properties of the bacteria Shewanella oneidensis. The findings from these experiments were published in the journal Nature Chemistry when Kolli was only in his first year at Rice. "I really lucked into that one," he says.
In college, Kolli continued to study electrogenic bacteria by working in the Rice chapter of the International Genetically Engineered Machine Foundation, a nonprofit that aims to advance synthetic biology. Bringing in his passion for environmentalism, he led a team of students on a "very ambitious" remote project to create "biologic photovoltaics" using cyanobacteria — bacteria capable of photosynthesis — and an extracellular electron transfer pathway modeled on Shewanella, making "a biological solar panel."
Keeping his focus on the micro level, Kolli worked in the lab of molecular biologist Janet Braam on isolating plant-derived vesicles from Arabidopsis thaliana and their potential as carriers for therapeutics for diseases like cancer. That work inspired him to take a course in plant genetics with bioscientist Bonnie Bartel, and he brought the scholarship from both of these experiences into his summer project with the nonprofit Cántaro Azul in Chiapas, Mexico, whose mission is to bring safe drinking water solutions to the community.
Kolli's affinity for finding connections is mirrored in a favorite creative pursuit — constructing crossword puzzles.
With the support of the Center for Civic Leadership and a Loewenstern Fellowship, Kolli experimented with finding promising ways to filter water using plant-based methods. As it so happens, one of these methods used the seeds of the moringa tree, a tree that's native to Southern India, where his parents are from. "I grew up eating the seeds, like for dinner. I was telling my parents that we are using them for [water] treatment. They're like, 'Really?'"
Kolli's affinity for finding connections is mirrored in a favorite creative pursuit — constructing crossword puzzles. He and roommate Nikhaz Omar '23 used to race each other to solve the Rice Thresher's crossword every Wednesday night in the Will Rice Commons. When the Thresher advertised for new crossword writers, they got the job. And they made the crosswords their own, hiding "Easter eggs" in their puzzles and working in cultural references that resonated with students. "We were writing for the community that we were part of rather than just writing crosswords as they are typically written," he says.
Building community is a big reason that Kolli also relished his role as two-time Will Rice College president. "The best part about any leadership role is that you get to talk to people and be a confidant for them," he says. "And especially during the last few years. Just connecting with people and being there for them." — Lynn Gosnell
Jayaker Kolli started medical school at the University of Texas this summer.
Janet Braam is professor of biosciences and associate dean for strategic initiatives.
Bonnie Bartel is the Ralph and Dorothy Looney Professor of BioSciences.