OEDK Team Prototypes Safer Intubation Device
Rice engineering team's wireless video laryngoscope may aid airway managers.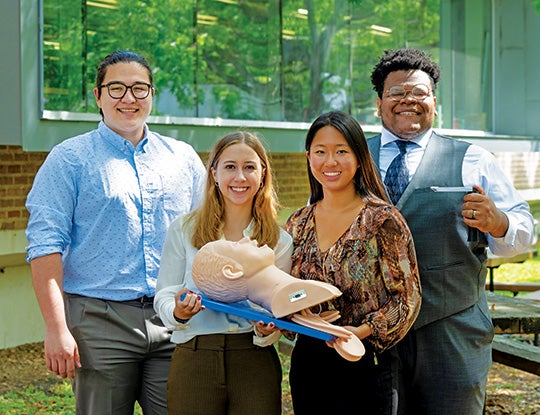 At Rice's Oshman Engineering Design Kitchen (OEDK), a team of bioengineering students are making a critical procedure easier for airway managers and safer for patients with a simplified, high-tech intubation device. 
Calling their team "Gateway to Airway," the students — Reed Corum, Rebecca Franklin, David Ikejiani and Victoria Kong, all members of the Class of 2022 — worked with an anesthesiologist to develop a design for a sleek laryngoscope that simplifies intubating patients for scheduled or emergency procedures. The handheld, 3D-printed device contains a miniature wireless camera. Clinicians can use a switch on the comfortable handle to adjust light from an LED near the camera, which feeds high-resolution video to one or multiple monitors.
Dr. Kenneth Hiller, an anesthesiologist in private practice, approached the OEDK about collaborating on a laryngoscope that would allow easier access to image the throat and larynx to help place a breathing tube into the trachea. Hiller, who has a patent on the design, recognized early on that engineering it into a true product would require specialized knowledge. 
"Placing an endotracheal tube can be challenging in a significant number of patients' airways," Hiller said. "For years, I've mulled over what I'd like in a device that can simplify the process and improve patient safety."
The initial design was pretty basic, said Franklin. "He came to us with something built out of popsicle sticks and a metal tube and said, 'This is what I'm working toward, but I don't know how to build it myself,'" she recalled.
"He wanted a video laryngoscope that not only had wireless video but also had a better blade profile," Kong said. "There are two main types of laryngoscopes: with straight blades and with curved blades, and all of the video laryngoscopes on the market are in the curved blade format. … The straight blade gives you a more direct line of sight. We wanted to combine the stabilization afforded by curved blades and a straight-blade profile, and we did that by tapering our blade," she added.
Hiller's request was for a device that would cost under $500. "That's within the constraints of our project and overall design, but it's looking like we can easily get it below $200," Corum said. "The vacuum-formed, disposable sleeves that cover the blade can be made quickly for pennies," he said. The students said they anticipate future refinements to include stainless steel construction for durability. 
"This has been a distinct privilege for me to collaborate with such a prestigious institution and such talented, motivated students," said Hiller. — Mike Williams