Good Work in the World
Erica Ollmann Saphire studies viruses and immune molecules to develop life-saving therapies.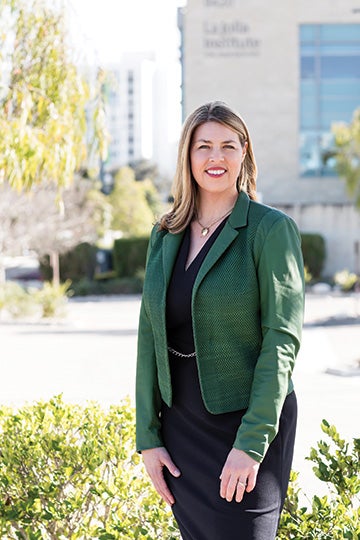 Erica Ollmann Saphire '93 still remembers the exact moment she realized what she was going to do with the rest of her life. It was the second semester of her senior year, and she was sitting in a lecture in George R. Brown Hall listening to George Phillips, a professor of biochemistry and cell biology at the time, describe how to calculate an electron density map — the physical locations of all the atoms — in a protein.
"You could see how the information was knit together and the 3D shape unfolds, and it was like the clouds parted and the light came down [on me]. It was the most satisfying thing I'd ever seen," she said, "because I realized this is how genetic information becomes biological activity."
A dual biochemistry and biology major, Saphire had postponed the reputedly brutal molecular biophysics course for as long as possible to avoid a potentially bad grade that might derail her graduate school plans. Instead, the course cemented a new scholarly direction for the senior and put her on the path of a lifetime: using high-tech microscopes to image (solve) molecular structures — from antibodies to viruses — that help or harm our health.
Today, Saphire is president and CEO of La Jolla Institute for Immunology (LJI) near San Diego. She is also a professor in LJI's Center for Infectious Disease and Vaccine Research, where her lab of over 20 graduate students, postdoctoral researchers and technicians employs an extremely low-temperature (nearly –300 °F) microscopy technique called cryo-EM to study how viruses cause disease. Prior to switching her lab to cryo-EM, Saphire made groundbreaking discoveries with a demanding method called X-ray crystallography, perhaps best known for solving the double helix structure of DNA.
Saphire is considered a leading structural biologist for her work, solving such structures as the first human antibody in its entirety as well as proteins that enable the deadly Ebola, Sudan and Marburg viruses to infect cells. Her work has paved the way for vaccines and new antibody therapies and contributed to scientists' understanding of how a single protein can fold into distinct structures with different functions — something scientists did not think happened.
Her fearlessness in tackling difficult scientific problems led Saphire, in 2014, to bring together 44 often-competing labs across five continents to collaborate on developing life-saving antibody therapies for some of the world's deadliest viruses. The Viral Hemorrhagic Fever Immunotherapeutic Consortium, or VIC, informed six candidate therapies for Ebola, among other milestones. The VIC collaborative model was so successful that Saphire is now leading a Bill and Melinda Gates Foundation-supported consortium called CoVIC to assess antibody therapies for SARS-CoV-2, the virus that causes COVID-19.
Saphire credits her professional success to a combination of innate doggedness, great role models, and an inclusive and collaborative approach.
"Rice set me on my current career path and introduced me to people who are still my best friends," said Saphire of her days at Sid Rich and her biochemistry classes. "It's a 'do good work in the world' kind of place, and I loved it." — Allie Akmal