A Force Multiplier
Bryan Hassin combines technology, dedication and passion in his fight against climate change.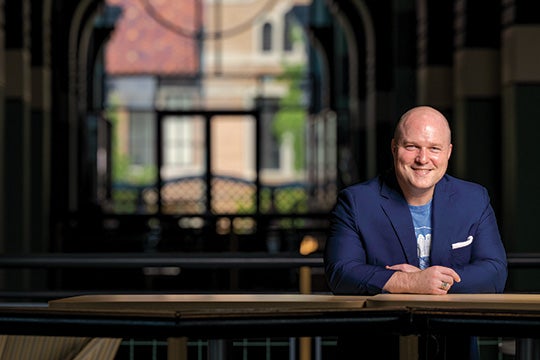 Bryan Hassin '01 had just completed his junior year when the computer science and electrical and computer engineering major
co-launched his first tech startup. He made what is known as an app store for the recently released Palm Pilot — basically the first handheld computer. When that was acquired the year he graduated, Hassin knew he was hooked on entrepreneurship.
His next project — an app for people responding to oil spills — was an early hint at the entrepreneur's career path, which meshes his tech know-how with a passion for helping to halt climate change. 
First and foremost is the sheer amount of work and urgency, he says. "Climate change is not some dystopian science fiction future," says Hassin, who also has a master's degree in computer science from Rice. "It's here." New innovations are needed to ultimately run all electrified goods and services on green energy, while global supply chains, air travel, shipping and industry all have to be decarbonized. Carbon removal needs to vastly accelerate.
"Technological innovation is not a panacea," he says, "but, not only can it help ward off climate change, it can improve the lives of many at the same time. I've always been inspired by missions and fights against long odds."
Hassin's mother was a curator at the Smithsonian's National Air and Space Museum, and he grew up fascinated by the quest to land on the moon. "It's amazing what humans can do when we band together united and when people have resources," he says. He also drew inspiration to surmount challenges from his scientist father, who died of cancer when Hassin was 11, but had survived for 10 years beyond his six-month prognosis.
Hassin, who also has his MBA from the International Institute for Management Development in Lausanne, has founded or co-founded several software startups in the energy sector, including Smart OES — which uses wireless hardware and cloud artificial intelligence to optimize how buildings use energy — and R7 Solutions, a company started by seven Rice alumni that helps traditional energy companies use location-based data to become more efficient with environmental compliance and safety management.
The best way to maximize his personal impact, he now believes, is to be a "force multiplier," helping others along their journey and breaking down barriers to success. Most recently, he launched and led climate tech accelerator Third Derivative, which finds, funds and funnels resources to startups with the potential to impact climate change at scale. The nearly 80 startups he's helped include Digital Harvest, which uses machine learning to increase agricultural yields, and Project Vesta, which is developing technology to speed up Earth's natural process of removing carbon dioxide from its oceans.
Since leaving Third Derivative, Hassin is considering his next move. He and his partner, Katie Barrett '04, "believe in living a life of service and adventure, not of comfort and complacency," he says. He's currently focused on helping with the difficult, more ambiguous challenge of decarbonizing industries and carbon removal.
Over the next 30 years, some $4 trillion in technology investment a year will be needed to create a sustainable future, Hassin estimates. "When climate change news is dark, I try to be a beacon of light to remind myself and others that we will overcome. I choose optimism. I choose hope. I choose faith. And I invite others to join me."
  — Deborah Lynn Blumberg