Every 40 Seconds
A model for predicting recurrent strokes wins Rice's 2022 Data to Knowledge (D2K) research showcase.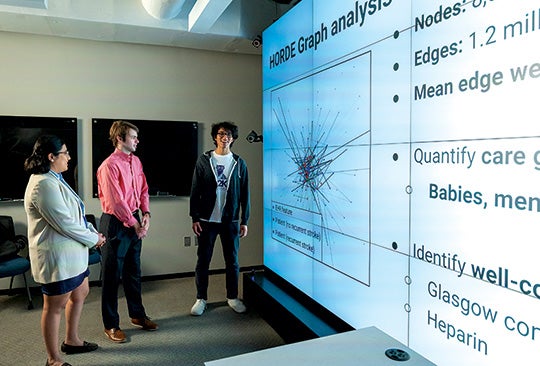 Deep learning can be a tool to help those who suffer strokes determine their risk of having another. That premise and the data models used in the process won the top prize in Rice's 2022 Data to Knowledge (D2K) Showcase in April.  
The winning project was developed over two semesters by six electrical and computer engineering majors calling themselves Team Stroke Risk. The team leveraged medical data provided by sponsors at the Univ-ersity of Texas Health Science Center at Houston (UTHealth) and machine learning to develop a predictive model that will help better allocate care for stroke patients. Team members Artun Bayer, Josue Casco-Rodriguez, Justin Cheung, Samantha Fuentes, Nick Glaze and Michael Sprintson graduated this spring — this was their capstone project.
"Every 40 seconds, someone in the U.S. has a stroke," said Fuentes, who narrated a brief video explaining the research. "Most stroke victims survive and rehabilitate, but if a patient has an additional or recurrent strokes, they are more likely to die. Early detection and mitigation of recurrent strokes is critical to reducing the overall stroke mortality rate."
The team looked for clues to forecasting a stroke in the medical data of about 5,000 stroke patients. "What was unique about this project," said Glaze, "is that there were multiple different modalities of data — imaging, clinician notes and electronic health records. We thought it would be so interesting to work on all these different data sets."
The model created by the team ultimately produced extremely promising results — meaning the accuracy of predicting recurrent strokes by the algorithm was high.
"The outcomes of this project include an algorithm and a software application, which has been trained on retrospective data," said the team's faculty mentor, Arko Barman, an assistant teaching professor in the Department of Electrical and Computer Engineering and the D2K Lab. The next step is to publish the research, said Barman, who is excited about the power of AI in improving health care treatment and outcomes.
Established at Rice in 2018, the D2K Lab provides students with immersive, experiential learning opportunities in data science while enhancing data-intensive research possibilities and building partnerships with companies, institutions and community organizations. Recent collaborations have helped nonprofits, government, public health, fintech, energy and environmental organizations find data-driven solutions to their challenges.
— Mike Williams