In An Entrepreneurial Class
Rice's new Innovation Fellows program supports the promising ideas of young scientists and entrepreneurs.
Super-charging immune systems, reducing food waste and safeguarding buildings are just three of the research breakthroughs under development by members of Rice's inaugural class of Innovation Fellows.
In February, the Office of the Provost and the Liu Idea Lab for Innovation and Entrepreneurship (Lilie) announced that nine Rice Ph.D. and postdoctoral students had been chosen to launch a new program to translate research into business ventures. Each fellow receives equity-free funding, a coworking space, entrepreneurship education and personalized mentorship through Lilie for one year.
"For a university to have a well-functioning technology transfer and commercialization operation, many different parts must work together to reduce barriers to getting started, shorten the time to license and commercialize work, and support emerging entrepreneurs," said Rice President Reginald DesRoches.
"This program is a key step in providing a culture shift to a more entrepreneurial ecosystem at Rice that will, in turn, elevate recruitment of top graduate students and postdocs attracted to this unique training opportunity," said Yael Hochberg, director of entrepreneurship initiatives and the Ralph S. O'Connor Professor in Entrepreneurship.
The inaugural class of nine Lilie Innovation Fellows and their projects are as follows:
Rosa Selenia Guerra Resendez, Systems, Synthetic and Physical Biology Ph.D. '24
Resendez's research uses epigenomic editing to re-energize exhausted immune cells, supercharging the body's immune system and removing a bottleneck in cancer and other CAR-T therapeutics.
Wei Meng, Civil & Environmental Engineering Ph.D. '22
Meng's research utilizes carbon nanotubes to create a "second skin" for buildings, airplanes and other infrastructure that easily allows engineers to measure and track structural health and integrity, preventing failure before it turns deadly.
Alfredo Costilla-Reyes, Computer Science postdoctoral research associate '23
Costilla-Reyes' cutting-edge artificial intelligence research, AutoML, is already one of the most popular open-source machine learning codebases in the world. Now he's bringing AI to manufacturing to improve defect detection on production lines in factories of the future.
Neethu Pottackal, Materials and NanoEngineering Ph.D. '24
Pottackal's research creates novel coatings for fruits and vegetables that slow decay, cutting into the massive problem of food waste. Inspired by her own allergies, Pottackal has created coatings that are organic and edible for some of the largest produce categories.
James Lee, Systems, Synthetic & Physical Biology Ph.D. '22
Lee's research can help revolutionize the early research and development process for life science and pharma companies, using computer vision-enabled microscopes to analyze thousands of cells and other biological products at once, cutting off years of development time and speeding them to market.
Nicolas Marquez Peraca, Physics Ph.D. '23
Marquez Peraca is exploring the power of carbon nanotubes to transform how batteries for electric vehicles and consumer electronics can manage heat, vastly improving their performance in cold environments.
Bo Wang, Chemical Engineering Ph.D. '23
Wang has discovered novel chemical compounds that can destroy PFAS, the toxic chemicals found in all our bodies, brains and babies due to plastics in our water supply.
Mei-Li Laracuente, Bioengineering Ph.D. '23
Laracuente brings together her background as a medical doctor and Ph.D. to develop a novel drug-delivery platform that can precisely control the dosage release, removing one of the major patient pain points — daily medication adherence — in treating diseases from cancer to HIV and mental health disorders.
Rawand Rasheed, Mechanical Engineering, Ph.D. '23
Rasheed's filtration and water capture technology can help buildings reduce energy consumption and cooling towers operate in a more cost-effective way.
"These fellows are just the beginning in Rice's investment to train our science and engineering faculty and students to take their innovations beyond publication and into the real world," DesRoches said.
The fellows were chosen by the program committee comprised of leaders from the Institute for Biosciences & Bioengineering, the Ken Kennedy Institute, the Smalley Curl Institute and Lilie.
— Avery Ruxer Franklin
Pictured, clockwise from left: Rosa Selenia Guerra Resendez, James Lee, Bo Wang, Wei Meng, Neethu Pottackal, Nicolas Marquez Peraca
---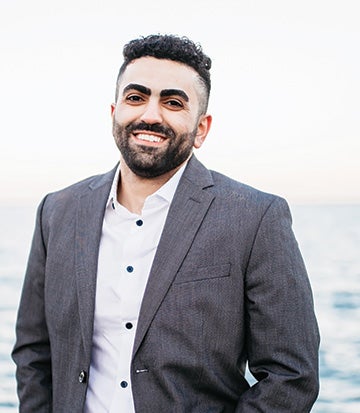 Filter, Capture, Save
For doctoral student Rawand Rasheed, the robust coaching and support he's received via the Innovation Fellows program helped him garner the top prize at the 2022 H. Albert Napier Rice Launch Challenge in April. Rasheed's company, Helix Earth Technologies, uses novel filters to reduce water waste in power plants. The business name reflects the filter's design: "It's made out of a bunch of helixes," Rasheed explains. The project had its genesis at NASA, where he worked on water filtration systems used in firefighting. At Rice, he's working in the lab of mechanical engineer Daniel Preston to refine the filter's applications. "We're running out of fresh water," said Rasheed. "Scarcity is becoming a larger issue globally, as well as in the U.S." — Lynn Gosnell