Physics for America
In Memphis, Tenn., a teacher helps students develop a love of science, one problem set at a time.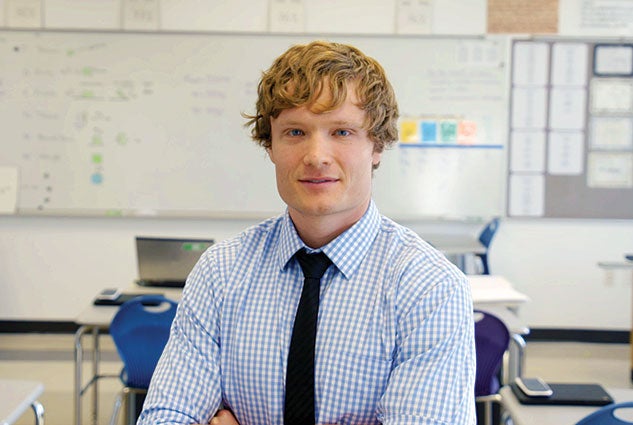 "Astrophysics was really cool, but I realized working in a lab wasn't going to be for me," said Jack Replinger '07, who found a home in the classroom instead. Replinger recalls the path that took him from stargazing at Rice to teaching physics in Memphis as a member of the Teach For America (TFA) corps. 
After a rough start as a novice TFA teacher, Replinger persevered to become one of the longest-serving teachers in the corps. He's won numerous teaching awards and expanded the scope of his teaching methods far beyond his own classroom with an interactive platform designed "for physics learners of any background and their teachers." Today, the physics problems Replinger — Mr. Rep to his students — creates for his website, Positive Physics, are being used to teach students the "how of everything" in all 50 states and in 70 countries. 
We met at an artsy coffee shop in Memphis' revitalized Cooper-Young district, an area of hip bars, boutiques and restaurants more reminiscent of Replinger's native Seattle than the Memphis of Graceland tours and Beale Street blues. To those with more than a passing familiarity with the city, deprivation, sadly, comes to mind as well. Almost 50% of Memphis' children live in poverty and only 6% of young men and women leave high school college-ready.  Cities and rural regions like the nearby Mississippi Delta that generate such depressing statistics are TFA's stock-in-trade. The nonprofit's mission is to pair recent graduates of elite universities with classrooms in 51 low-income rural and urban school districts in order to, in their words, "grow and strengthen the movement for educational equity and excellence."  
Replinger started out at Memphis' Kingsbury High School, where his classroom experiences ranged from high to low. "My first years were a roller coaster, but the kids just brought so much energy! Let's put it like this: I'm from Seattle and I don't need coffee." Looking back, he regrets his classroom methods of those early years. One day, one of his favorite students sullenly handed in a blank exam. "At first, I was really mad. But then I realized he didn't know how to start the [physics] problems." Replinger's reaction was the first step to launching Positive Physics.
Replinger began breaking down the problems into building blocks and made sure students mastered each building block before asking them to complete the full, traditional problems. Once he came up with that method, all his priorities changed. For the first time in its history, Kingsbury students passed AP physics exams.  
Since he's been teaching at Soulsville, a charter public school located behind the Stax Museum of American Soul Music, Replinger has seen 100% of his students accepted to two- or four-year colleges. 
His teaching methods have spread to every corner of the planet via his website. Each morning, he logs on to the Positive Physics website to see who among his 12,000 internet students has logged in, and from where. His plans include moving from a donation-only, self-financed model to a sort of Robin Hood-style arrangement. He also wants to crowdsource problems in order to expand to other subjects. "I think we could change the way teachers create material similar to the way ride-sharing has changed personal transportation." So even if Replinger doesn't partake in Seattle's preferred beverage, he thinks on a Bill Gates scale. 
— David Ruth