A World of Wine Brands
As an executive at one of the world's largest wine companies, Robert Foye is intent on delivering great wines — with great stories — to a global audience.
Summer 2018
By Lynn Gosnell
After earning an undergraduate degree in political science, Robert Foye '88 headed straight back to school, ultimately leaving Rice with an MBA — plus a handful of financial certifications that would launch him on a global career. Foye spent more than two decades with beverage giant Coca-Cola, where he became an expert in international brand development, marketing and sales before joining the Australia-based Treasury Wine Estates in 2014. Foye's career has included stops in Hong Kong, London, Indonesia and Shanghai. He is married to Kristianna Schmitt '91, and they are the parents of Robert, William, Meredith and Annabel. The Foyes recently moved back to the United States for Robert's new role as global chief operation officer and president Americas at Treasury Wine Estates.
Rice Magazine: It sounds like a huge leap to go from a business that sells juice and soda to one that sells wine. From a business standpoint, what's different and what's the same?      
Foye: Before I came to Treasury, I had about a 25-year career, most of it at Coca-Cola, in the fast moving consumer goods (FMCG) business. That taught me everything about building a brand, investing in the consumer, engaging with customers, having a commercial strategy for brands, etc. I liked wines, but didn't know anything about them. I was probably an 80 percent beer, 20 percent wine guy — and now that's switched.
When I joined Treasury, I almost expected the wine industry to be a little bit snobbish and standoffish about wine information. It was the exact opposite. People in the wine industry — and in our company in particular — really want to teach you about wine. They want you to learn about it and understand it, because every single consumer is in a different place. It's kind of like golf, you never get perfect and you can always get better.
I was amazed at how much my FMCG skills could be applied to wine. I felt like the wine industry, in terms of marketing and sales, was a little bit sleepy and more focused on how to make the wine than driving it to what the consumer wanted.
Treasury Wine Estates has an incredible variety of brands — almost 50 — from the venerable Penfolds to the TV show-inspired Walking Dead. If branding is about stories, how do you tell so many different ones? 
I started visiting some of our wineries. One of the wineries I visited in South Australia was Penfolds. That winery started in 1844. I remembered that Coca-Cola started in 1886, and I always thought Coke had a long heritage. I learned about Penfolds' history, heritage and approach to making the absolute best wine possible. The goal of Penfolds is to over deliver on quality and experience at almost every price point.
I learned things that sometimes we forget to tell the consumer. For instance, Penfolds has the oldest cabernet vines in the world — dating from the 1880s. A lot of people don't know it, and we don't tell the consumer. The French cabernet vines died off due to phylloxera in the mid-1800s — a time called the Great French Wine Blight. It's interesting that Australian wines are known as New World wines, but we have the oldest cabernet vines in the world. We're just getting better at letting consumers know about the history and heritage of or brands.
I also found that there are different kinds of wine consumers. There's the consumer who's extremely educated about wines. They cellar wines and know the history of different brands and vineyards. They want personal attention, or they want something that's quite familiar that they know the history and heritage of.
There's another consumer who really likes wine, and while not an expert, they know good quality. They want wine that delivers above the price point. They want you to tell them, in a simple way, why that wine is of good quality and why it fits with what they're looking for. There's a third kind of consumer: millennials who are 25–35, even up to 40 years old. They're looking for a really interesting story and a high-quality wine. As we plan for marketing and product development and making our wines, we really think about making the right ones for all the different segments of the consumer.
Tell us more about the millennial wine category. There's an app for that, right? 
The Living Wine Labels app — it is the hottest digital marketing campaign in alcohol industry in the U.S. It works with five of our brands: 19 Crimes, Beringer Brothers, Lindeman's Gentlemen Collection, Chateau St. Jean and Walking Dead.
You download the app and point your phone at the bottle, and the label tells you a story in real time using augmented reality. On 19 Crimes labels, the guy pictured starts talking. On Chateau St. Jean, you listen to an animated story from the winemaker. On Walking Dead, the zombie will break your iPhone screen — well, it looks like it does. While it's mainly aimed at millennials, a lot of people over 50 have downloaded the app because it's so much fun. We recently won the Reggie Award, the biggest award in marketing in the U.S., for the 19 Crimes marketing campaign. We're going to continue to make this approach better and better.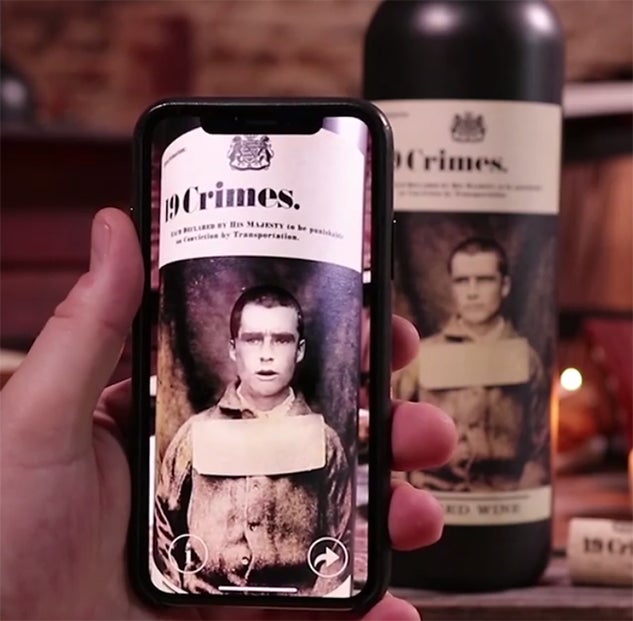 From the very wide view of this global market, what trends are you seeing?
Some trends are longer lasting, and some come and go. There is one trend in wine that's very important globally — China's consumption. There are about 30 million new people in the middle class per year. The middle class that's already there is getting wealthier every year. There's an incredible interest in travel, quality and luxury goods. You can tack wine onto that, because wine is about travel experiences with food, history and heritage, and that's creating a whole new demand for great, quality wines. The No. 1 category of wine that Chinese consumers buy is French, but the percentage is decreasing. Because of some of the marketing and distribution work we've done, Australian wine has increased its share from 15 percent to 26 percent.
Now that you've moved to the wine capital of the U.S., how has your taste in wine changed?
When I was in Asia, I got quite attached to the Australian portfolio — especially Penfolds, Wolf Blass and Coldstream Hills. My palate leaned more toward the Australian wines. When I moved here, I started really appreciating all the different wines we produce in our Northern California wineries. So, I love Napa cabernets and pinot noir, especially the Etude pinot noir from Carneros.
What's your advice to recent graduates who are just embarking on business careers?
As an undergrad, I majored in political science. That was just about getting a broad education and having the greatest variety of options in the classes I could take. So I took Russian literature, Chinese history and courses in religion. After graduating with a B.A., I was one of the few in my class to go straight through to the MBA program. I wanted to work in finance, and when I branched out from finance into business development and marketing, that's when I started international travel — Hong Kong, Paris, Argentina and Mexico. That really gave me the itch to move overseas. It's all about taking risks for your development. Whenever I've stepped out of my comfort zone and taken on broader responsibility, that's when I got the most growth.
What would be an example of taking that risk?
I was working in international business development for Minute Maid and traveling around the world when I got relocated to Hong Kong. While I was trying to start a juice business through the Coca-Cola system in China, Hong Kong and Taiwan, an opportunity came up to lead all the new products and innovation in Asia — it was a  marketing role. I'd never been in marketing full time before that. I took the step and became director of new beverages for Asia, and that's what really kicked off my career — I got marketing experience, commercial experience and Asia experience all at once. It was a big jump, because I wasn't a marketing guru. But I brought something different to the marketing team, which was commercial expertise on finance and operations.
Also, when I was working for Coca-Cola, we went from Hong Kong to London, London to Indonesia and then Indonesia to China. Every time we switched countries, we kept our friends and kept in mind all the good things as we were stepping into a new situation in a new country. What we would always say to ourselves was that every single move was a new adventure and chance for new learning. Let's not worry about what we left behind. Let's look at the new things that we're going to be able to learn from this experience. As an international executive, that's important.
This interview has been edited for clarity and format.