From Wine to Wine Grapes
After the devastating wildfires in Northern California last October, the owner of one heavily damaged vineyard is sustaining his business.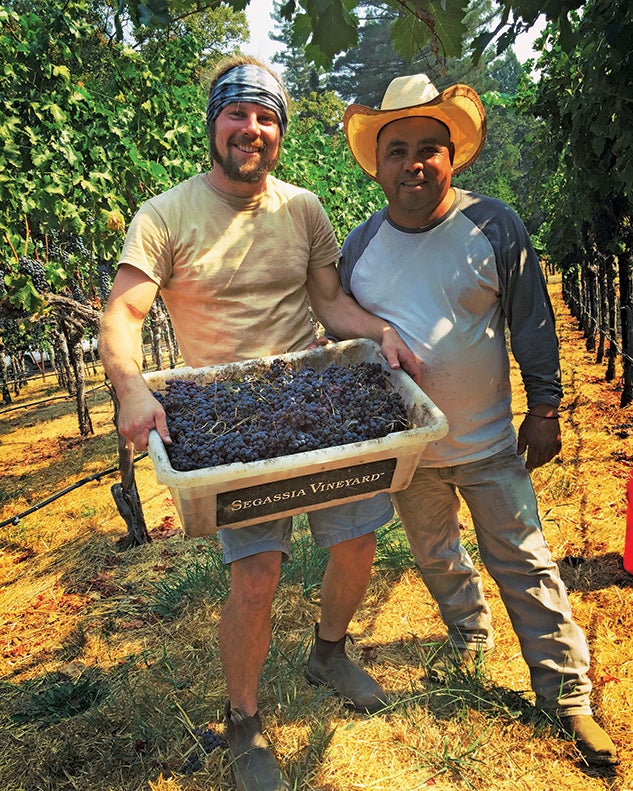 On storied Mount Veeder in Napa Valley, Segassia Vineyard's cabernets have routinely scored a minimum of 93 points on Wine Spectator's scale, meaning they're in the "outstanding" or even higher "classic" class. While the vineyard's roots go back to 1886, it was in 2012 that Andrew Cates '06 purchased the 15-acre property and began stewarding its organic grape-growing program.
That was before forest fires ripped through Napa Valley last October, causing loss of life and destroying homes, offices and vineyards. In 75 mph winds, sparks tore down power lines as well as 400-foot redwoods. Close to 40 percent of the grapevines at Segassia were scorched from the inside out and the entire 2017 vintage was lost, Cates noted.
The remaining grapes were unusable for winemaking, choked with smoke that will affect them for years. "Of course we're going to replant," said Cates. "It's just going to take years to get back to where we were." And Segassia's not alone.  According to the Orange County Register, more than two dozen wineries were destroyed or damaged by the fires.
Luckily, fine wine isn't the only way Cates had been using the fruit. Cates doesn't like to waste anything and was hoping for a way to use grapes left on the vine after harvest. His father, Chris, a retired cardiologist, was a fan of eating the sweet dried fruit straight from the vine and pointed out the health benefits of their high fiber (they amount to mostly skin and seed) and polyphenols, known to combat cell damage. So, in 2014, Cates and his dad started The Wine RayZyn Company, selling dried merlot, cabernet and chardonnay grapes as healthy snacks.
After the fire, which also destroyed his home, Cates began the long process of clearing downed trees and debris — steps that would prepare the vineyard to renew itself. Next, he came up with a plan to "rescue" the area's unharvested grapes and turn them into a special dried wine grape product to help support local disaster relief efforts. Partnering with the nonprofit Food Recovery Network, whose mission is to eliminate food waste, Cates was able recover approximately 100 tons of wine grapes and process them like regular Wine RayZyn products — but with the addition of chocolate. The sales of these "Rescue RayZyns" support ongoing Napa, Sonoma and Santa Rosa fire recovery efforts.
Cates also found a new home for himself — though a temporary one. He purchased a large RV, wrapped it with a colorful ad for the company and set out on a tour of college campuses and grocery stores that sell the company's sweet dried grapes. His travels bring attention to the Rescue RayZyn project — and in turn help support disaster relief efforts. Follow Cates' journey on social media @winerayzyn.
— Alice Levitt