Whiskey Business
How Rice's MBA program helped create Houston's first whiskey maker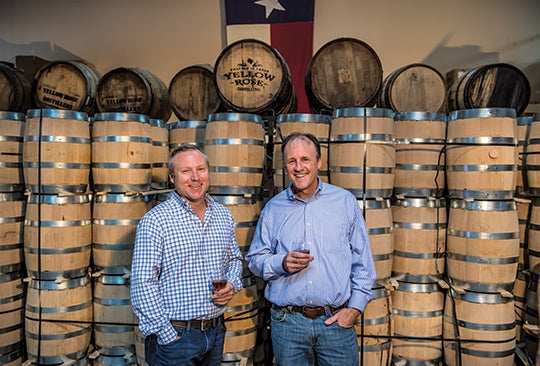 It takes a village to raise a child, but it takes an MBA class to fund a distillery. That's what Ryan Baird '12 and Randy Whitaker '12 learned when they began collaborating on a company called Yellow Rose Distilling while completing their MBAs at Rice.
"Rice brought Randy and I together for better or worse," jokes Baird. Whitaker and Baird, previously a CPA and an engineer, respectively, were looking into an area that no one else had before in Houston: whiskey. Though Yellow Rose was the first local company to make distilled beverages, others quickly followed suit "behind the curve of craft beer," as Whitaker puts it. "I don't think we would want to get into it now," he adds. "The field is very crowded."
Choosing whiskey was natural, the pair says. Houston is the fourth-largest city in the United States, and according to Baird, there's more whiskey sold in Texas than in the rest of the country combined. No other city in the U.S. drinks as much Crown Royal as Houston does, he adds. "Being such a large city, we consume a significant portion of the United States' whiskey," Whitaker explains. Why not be the first homegrown option for whiskey lovers?
And when it came time to pass the hat to help make Yellow Rose a reality, classmates rose to the occasion, contributing much of the necessary funding. "They did very well, and when we paid them back, they were excited about the interest rates," recalls Baird. "There's no other way we could have done it so easily."
Baird and Whitaker also credit the program itself with their success. Professors visited the distillery and provided guidance in raising funds and running the business. "They weren't so much invested in the idea as they were invested in us," Baird says. And that investment paid off, not just for Baird and Whitaker, but for a whole class of business students and a city of whiskey lovers.
---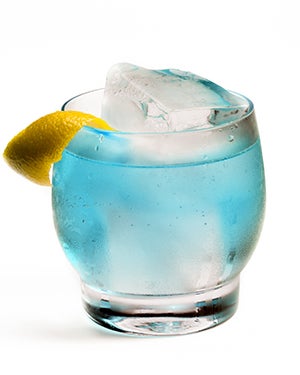 Recipe: The Rice Rose
Though Chelsea Hylton, Yellow Rose's bar manager, admits that blue drinks aren't easy to create since there are no naturally occurring mix-ins to color it, Rice alumni are worthy of something a bit out of the ordinary. Sip your school colors with this simple but idiosyncratic tipple.
1 1/2 ounces Yellow Rose Distilling blended whiskey
1/2 ounce Blue Curaçao
Squeeze of lemon
Sprite, to taste
Combine the first three ingredients, then top with Sprite. Serve in a glass of your choosing — a highball glass would be perfect — over ice.
— Alice Levitt