Valhalla, Annotated
For nearly 50 years, Rice's legendary graduate student pub has been the bar of choice for the smart crowd.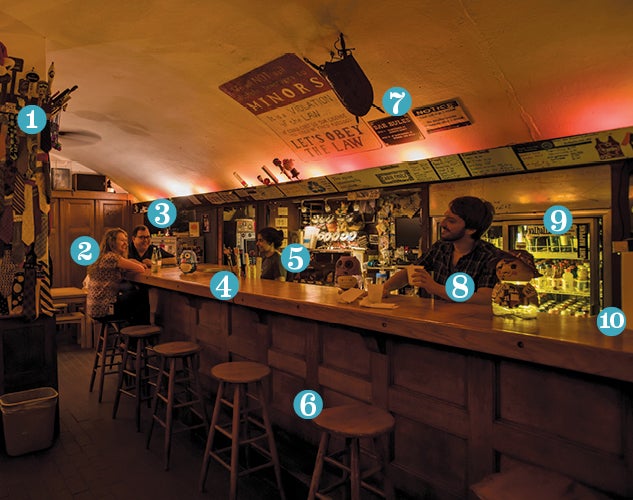 1. Where ties come to die.
2. The wood paneling on either end of the bar was originally from Lovett College.
3. Doctoral student Hannah Pearce manages social events for the Graduate Student Association.
4. Spotted! Seiichi Matsuda, dean of graduate and postdoctoral studies.
5. Starting at 95 cents, these are some of the cheapest craft beers in town.
6. Nikki Thadani, bioengineering doctoral student, manages more than 100 volunteer bartenders.
7. Usually occupied by thirsty graduate students and other lovers of Valhalla.
8. Rule No. 1: Bartender is always right. Rule No. 2: If bartender is wrong, see rule No. 1.
9. John Gawedzinski orders the brews and beverages when he's not researching biomedical devices.
10. Feeling fancy? Pricier brews range from $2 to $10.
11. Hungry? Check out the bánh mì, spring rolls or Jersey Mike's Subs at lunch.
---

Did You Know?
The basement in Keck Hall, now known as Valhalla, was originally built as a smoking room in the 1920s. It was converted to a bar in 1971.
The no tie rule dates back to before the space was a bar. In the days when the basement was a smoking room, males were required to wear a tie on campus at all times, and that was the only space where they could remove their ties. It became an unofficial rule that ties were to be removed, and that rule has certainly stood the test of time!
Why is Valhalla not open on Saturdays? Because it's reserved for private parties. Want to reserve? Go to valhalla.rice.edu and check the calendar.
Is the red light on outside? That's your sign that Valhalla is open.
While most bartenders are graduate students, other members of the Rice community can volunteer for one-hour shifts.
Valhalla bartenders are notorious for writing negative Yelp reviews to preserve the cozy dive bar feel for the Rice community. They've even bribed patrons with a free drink in exchange for a poor review.
The dragon on the west side of the bar was created in memory of Sarah Tooth, a graduate student who passed away in 2014.
Cash only — no exceptions!
For Its Bartenders, Valhalla = Community
"Valhalla drives and lifts the spirits of graduate students at Rice. It's a place where we can relax, argue, and commiserate about successes and failures in grad school. What is especially unique about Valhalla, unlike any other graduate community, is that it brings folks together across all departments that would never intersect otherwise." — Gisele Calderon
"The Rice graduate community is a vibrant place full of students who care about their community. [I volunteer at Valhalla because] I want to help grad students find entertaining things to do on campus and help them feel part of a greater community that supports their well-being at Rice." — John Gawedzinski (pictured)
"Valhalla is a place where grad students, faculty and staff come together as one community. It is something unique to Rice. I volunteer as a bartender because I want to be part of that community — more than just a patron. I saw how much this community had been of value to me during my first two years in graduate school, and bartending is a way to serve that community and help it flourish and grow." — Catherine Majors
By Kyndall Krist