Kombucha
Whether sourced from Rice Farmers Market vendors or created in your own kitchen — this fermented tea is full of flavor.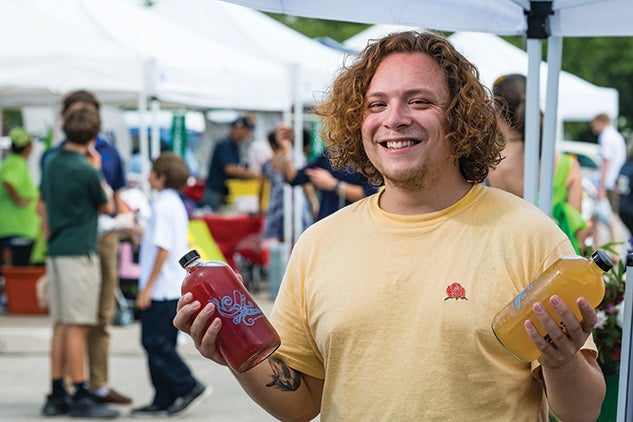 Kombucha, a fermented tea, is made by introducing a culture to sweet tea and allowing it to ferment. For the Rice community and nearby Houston neighbors, fresh-made kombucha is available every Tuesday at the Rice Farmers Market from vendor 3rd Coast Kombucha. The Galveston-based company sources ingredients from local farmers to create unique flavors like blueberry ginger (a best-seller), Asian pear and cayenne lemon ginger honey. Regular customers line up with refillable glass containers for sales director Tony Provenzano to pour their favorite blend. Pro tip: Ask for Tony's favorite flavor mix.
---
DIY: Want to try brewing your own kombucha?
Fermented foods and drinks are trending now, and one way to get in on this healthful craze is to make your own kombucha, says Camella Clements '02, who shares her recipe and technique for making a tasteful brew.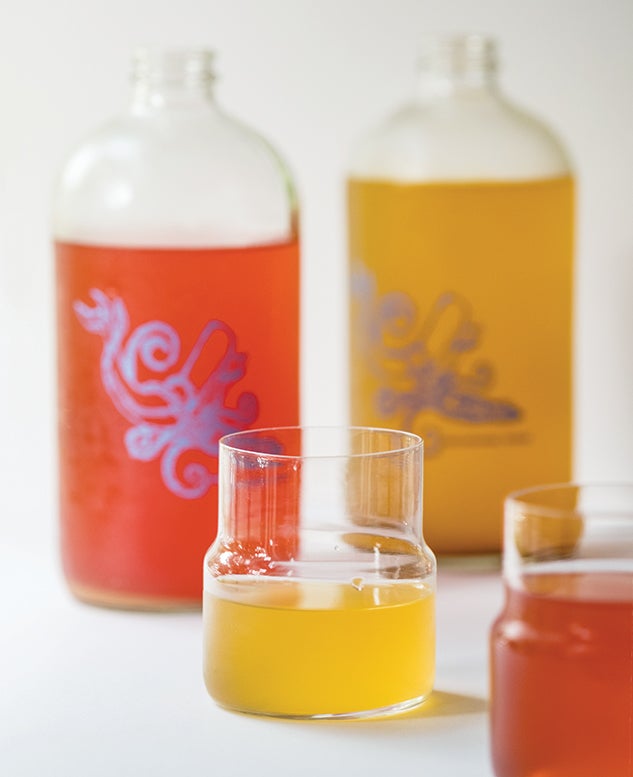 INGREDIENTS
Start with a SCOBY (starter culture), which you can obtain from local kombucha producers or purchase online. To grow your own SCOBY, purchase a bottle of kombucha, transfer to a widemouthed jar, cover with cheesecloth and leave it in a stationary space for 1–3 weeks until a white cellulose disc forms around the top of the jar. You'll also need:
Unbleached organic cane sugar
Black tea, green tea (loose or bagged), white tea or mate tea
Tea brewing vessel
Widemouthed glass crock (capable of holding 1–3 gallons of liquid) and the kombucha culture
Muslin, cheesecloth, tea towel, or clean T-shirt and rubber band to cover your fermentation vessel
Filtered spring water (free of chlorine and fluoride)
Funnel and sealable bottles, if you plan to add fruit or herbs and bottle your kombucha
DIRECTIONS
Boil 4 cups of water.
Add hot water and tea (4 teaspoons/bags green and 4 teaspoons/bags black) to pot or brewing vessel.
Steep 5–15 minutes, then remove tea bags.
Add 1 cup sugar and stir to dissolve.
Add cooled tea mixture to SCOBY and starter liquid. (Hot liquid will damage the culture!)
Fill vessel most of the way with purified water, leaving just 1–2 inches from the top for breathing room.
Cover with cloth and secure with the rubber band.
Set in a warm location out of direct sunlight (unless vessel is opaque).
Do not disturb for approximately 7 days. After 7 days, or when you are ready to taste, gently insert a straw beneath the SCOBY and take a sip. If too tart, reduce your brewing cycle next time. If too sweet, allow to brew for a few more days. Continue to taste every day or so until you reach your optimum flavor preference. Your own kombucha tea recipe may vary.
Bottle and drink as is, or bottle kombucha and add fruit or juice of your choosing. Some of Clements' favorite flavors to add at the bottling stage are ginger or grapefruit, blueberry, mango or a combination. Herbs or spices can also be added. Allow bottles to sit for 3–7 days. The longer they sit unrefrigerated, the more the culture will eat the sugar — so the less sweet and fizzier it will become over time. To learn more, Clements recommends the website kombuchakamp.com.
Clements is the owner of two Houston-area bars, Lil' Danny Speedo's Go Fly a Kite Lounge and Might as Well Lounge and Booznasium.
— Lynn Gosnell