Cold Brew is Red Hot
Nine years after earning his MBA at Rice's Jones Graduate School of Business, Chris Campbell '01 and co-founder Steve Williams teamed up to create Chameleon Cold-Brew in Austin.
Summer 2018
By Lynn Gosnell
Nine years after earning his MBA at Rice's Jones Graduate School of Business, Chris Campbell '01 and co-founder Steve Williams teamed up to create Chameleon Cold-Brew in Austin. Cold-brew coffee's popularity is overflowing, and Chameleon was a pioneer that helped bring the beverage to the masses. The highly successful company was sold to Nestlé last year, but Campbell remains as CEO and preserves Chameleon's commitment to direct trade and sustainable sourcing.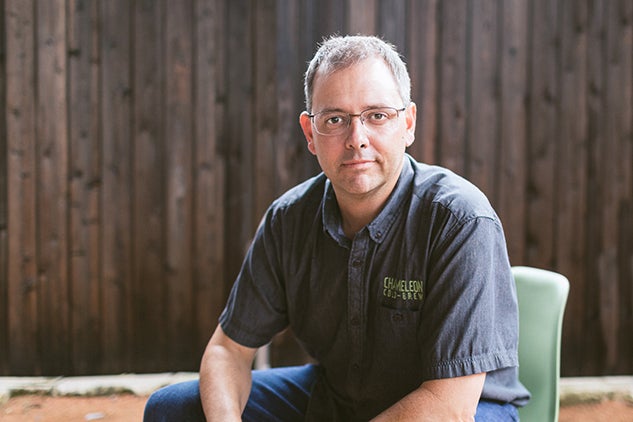 How did Chameleon Cold-Brew start?
I left a consulting job and took two years off to travel around the world. In that time, I looked at a lot of different ideas and got to know my original partner, Steve Williams, who owned a coffee shop. He was looking for money to open another coffee shop and I was looking for a business to invest in. The coffee shop wasn't a good fit for us; he didn't want a partner, and I didn't want to be a lender.
A year after we met, somebody came into his shop trying to sell him coffee. That person brought us some cold brews and said that they have this product at Whole Foods. It sells out all the time, but it's really not very good. Steve made great cold brew in his shop and sold a lot of it. I looked at them and said, "I like coffee, educate me."
We decided to buy home beer brewing equipment, adapt it to our needs and go for it. Steve had a recipe, I had some capital, so we just put it together and started making [cold brew] in a commercial kitchen and selling it store to store. There wasn't some sort of master plan about how cold brew's going to be the next hot thing. It was just a matter of this being a delicious product, it seemed to have commercial traction and people seemed to be willing to pay a premium price for it. Let's go do that and see what happens. So that's what we did.
What's the story behind the name?
Back when we started, we obviously needed a name and a graphic identity, but had no idea what we were doing. [We worked with designer Craig Steckbeck and Mixtape Marketing] and went through a whole series of conversations. For each element, you kind of define who you are and who you're not — who you're speaking to and who you're not speaking to.
Somebody asked, "How do you color your coffee?" which I think inspired the idea of the chameleon and the notion that what we were making was adaptable to different taste preferences. We were making black concentrated coffee that could be prepared hot or cold, light or black, sweet or not. Everyone thought we were stupid because, at the time, [Starbucks' bottled] Frappuccinos with lots of milk and sugar were doing $1.2 billion in sales and they had 90 percent market share in bottled coffee. The idea of coffee that could be customized to your individual preferences led to the idea of our product being adaptable, and the chameleon seemed like a great mascot for the concept.
Steckbeck created the graphic design and all the imagery out of that one comment, which led to everything else. We were really happy with how it turned out. Developing the graphic identity and the name for the company was probably the single best investment that we made over the years.
How has your Rice education helped you as a founder and entrepreneur?
All the skills I learned in business school allowed me to go into consulting. In consulting, I was constantly thrown into projects where I had no idea what I was doing and had never solved that kind of problem before. But I knew how to break a problem down into its component parts, start tackling those one at a time and eventually get to a solution. It's that way of methodically tackling the unknown in small chunks with some structure and process that would allow us to solve big problems in little bits.
In business school, I learned how to communicate and build a presentation on a framework. One reason that we successfully raised more than $1 million in our first private equity round was because I was totally prepared to tell our story. I knew what my strategy was, I understood my numbers and I walked the investors through all those bits and pieces to get them to believe in me. So there was a lot learned at the Jones School that helped prepare me to do what I did.
Are there any new products?
We just launched our first coffee line with milk, which is starting out at Target. It's a 46-ounce multiserve bottle. Very innovative. But at the end of the day, what we've put out is much more coffee forward and very low in sugar. There are three flavors: just the regular coffee and milk, then a flavor we call Mexican — it's vanilla and cinnamon and almond — and a pecan-flavored one.
What we do is very aggressive coffee flavors. Your coffee that's super sweet and heavy on the milk — that's not what we do. If you're looking for something that tastes like a fourth-wave coffee shop beverage with a good, hearty coffee note to it, that is what we do. In that case, we're a good product for you.
And it is worth noting that the dairy is something we couldn't have done without Nestlé. Dealing with milk is much more complicated than dealing with coffee. You can make people genuinely sick if you don't know what you're doing with milk. Having Nestlé's help allowed us to go to market pretty quickly. They have a large dairy manufacturing network, so we had lots of options and opportunities.
How has your role changed since the sale to Nestlé?
Today, not a whole lot has changed in my role. I have a boss for the first time since founding the company, so I have to go to him with updates and reports. If I need investments or access to a resource they have, I have to go ask for it. But beyond that, I'm still running the day to day, we're still in Austin, still on our own payroll and benefits, and we make our own hiring and firing decisions.
I think they're trying to let us do what we do, just do it faster, louder and at a more optimized rate. We look at it like they're here to accelerate, optimize and amplify what we do. They're good at that. They've got resources that we would never have on our own.
Now that we're part of Nestlé, we're part of the world's largest coffee buyer. They buy more coffee than any company on the planet. We're the biggest organic coffee brand within their portfolio — I believe we're also one of the two or three largest organic coffee buyers in the U.S.
What kind of coffee do you drink?
I drink a lot of our hot coffee. We make a whole bean coffee that you can buy at H-E-B and other places — that's what I've been drinking recently. I'll occasionally have one of our sparkling cold brews in the afternoon. We make a line of sparkling cold brews in ginger, spiced vanilla and citrus flavors. I'm a big fan of our ginger — it's probably my favorite. At night I do a "cold-fashioned," an Old-Fashioned made with cold brew and some orange bitters.
Were there times when you tried a new product that didn't work out like you thought it would?
Sure. When you buy coffee off the shelf, you can buy Colombian, Peruvian, Guatemalan, Indonesian and so on. When we launched, we had our original blend, and then we came out with [regional cold brews] with the idea that what works on the whole bean shelf would translate. What we found is that it does not. The Indonesian is still my favorite cold brew that we've ever made, it just didn't translate with people.
Also, it turns out that Indonesia is a tough place to get coffee from. Because it's a bit politically unstable, we found ourselves in a position where all of the sudden we couldn't get [more supply]. That was a good lesson learned. So now we always use blends of beans in all of our cold brew coffees because, if something isn't available, we can substitute something else. In the early days, we bought maybe 500–1,000 pounds of coffee a month. Today, we probably buy 200,000 pounds of coffee a month. So the bottom line is that we need to have supply.
Has it become easier to source organic since you started?
Yes and no. There's plenty of organic coffee, but we buy all our stuff at a really high-quality level. We're buying in the top 3–5 percent of quality anyway, and adding organic to that makes it a very narrow bandwidth of coffee that we buy. If we removed either of those limitations, it would be a lot easier to buy coffee, but it's just not what we do and it's not what we're interested in doing. We are constantly developing supply.
Are there any other big plans in the works?
In June, we went to Peru to do the ribbon cutting on our first in-country technical center. In collaboration with our partners in country, we put together a technical facility that has laboratory space with all the right equipment. There is a team of trained coffee tasters who work with farmers to increase quality and promote sustainable agriculture and organic farming.
For us, this will be the first time we've made that kind of investment. It's been a year in the making, and we're working on five other projects like that. One of them is in Myanmar (formerly Burma). Myanmar has been closed as a coffee exporter for a long time. They're just starting to export coffee, which is practically all organic because they've been wildly grown, which is just how they grew it. But there aren't any organic certifiers in Myanmar, so we're working to set up organic certification processes.
We have a very high-end coffee that will have a limited run in June and July. We'll sell it at a high price and put all of that money back in the Myanmar supply chain. We'll be building what we believe to be the first end-to-end organic supply chain to ever come out of Myanmar. We're going to build that from the farm all the way to our plants where we turn green coffee into consumer-ready products. Those are all things we're proud of — that make what we do unique.
We're committed to this idea of doing everything with compassion. It's easy to say that you source sustainably or that you're eco-friendly; it's easy to say that you do everything compassionately. But for us, that means we do everything organic, we pay a fair price for everything we do, we get to know our farmers and suppliers, we invest in their communities and we put our cash to work directly at the source. And I think that matters — it's a key part of our DNA.
This interview has been condensed and edited for clarity and format.
---
Matcha + Chameleon Cold-Brew = One Mighty Fine Drink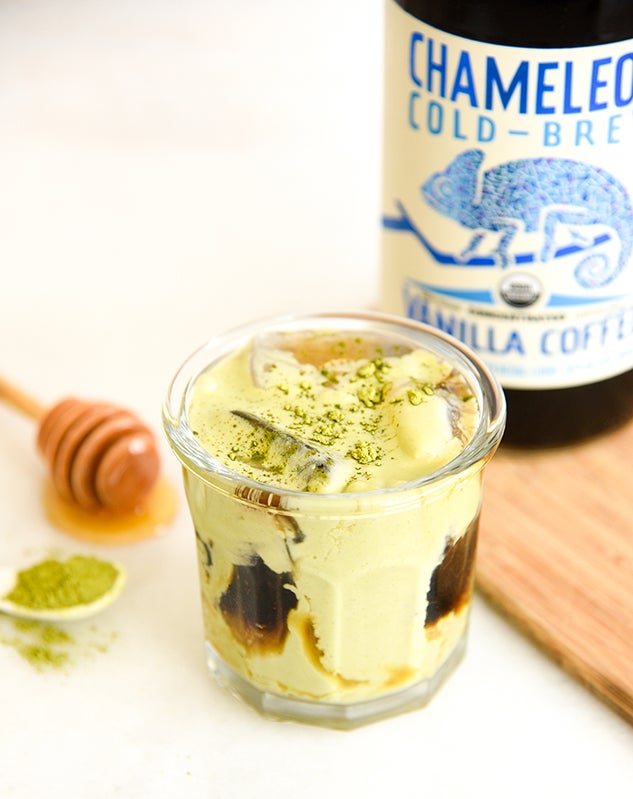 You've probably seen those glass bottles of cold brew with the distinctive chameleon logo. But did you know an Owl is one of the pioneers in this coffee industry? Austin-based Chameleon Cold-Brew was co-founded by Chris Campbell '01 and Steve Williams in 2010. Since then, the company has scaled up in scope and success and last fall was sold to Nestlé.
Recipe: Dirty Cold-Brew Matcha Latte
1/4 cup Chameleon Cold-Brew Vanilla Coffee Concentrate
2 tablespoons honey
3/4 cup chilled coconut milk
1/8 cup hot water
1 teaspoon ceremonial-grade matcha powder
Whisk together hot water and matcha until smooth.
Stir in honey and chilled coconut milk.
Fill a glass with ice and cold brew, then top with matcha mixture.
Optional: Dust with matcha powder.