Capital Brew
David Cooper and Joanna Weedlun brew up a boba business.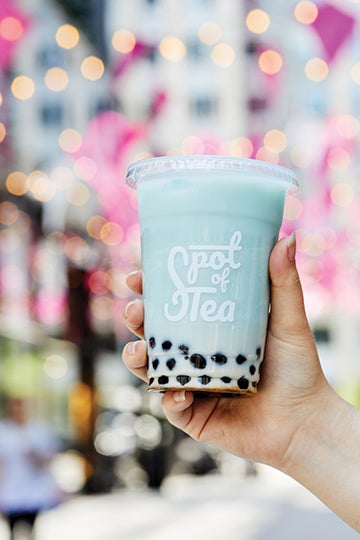 As a senior, David Cooper '16 would rush to the Jones College Commons kitchen in between classes carrying servery to-go cups, black tea bags, sugar and creamer. There, he would experiment with making bubble (or boba) tea by testing steeping times and tastes. It wasn't too long before Cooper and fellow students Drew Sutherland '16 and Glenn Baginski '16 perfected their recipe and launched East-West Tea, a student-owned and operated business.
Its first week in business, East-West delivered dozens of its drinks to The Thresher's Student Association presidential debate. "When we dropped them off, it was like a mob scene; people were climbing over each other to get them," Cooper said. Joanna Weedlun '16, who met Cooper when they were freshmen at Hanszen College, was another boba tea enthusiast at Rice. The friends often got together off campus to enjoy boba tea. At The Hoot, where Weedlun worked as general manager, students lined up for East-West tea.
Two years later, the friends — both from Maryland — have taken the business lessons learned at Rice and teamed up to run Spot of Tea (formerly Cassava Boba) in Washington, D.C. They're riding the wave of the growing popularity of boba — Taiwanese slang for the drink's distinctive tapioca balls — tea. Boba is essentially tea fused with milk or fruit juice, and tapioca balls.
Cooper and Weedlun have set themselves apart from competitors by using fresh, locally sourced ingredients. Right now, they prepare their teas in a shared commercial kitchen and sell their core and seasonal flavors at five D.C.-area farmers markets. "Our larger vision is to make tea more approachable," said Weedlun. "Bubble tea has done that really well; people who aren't normally tea drinkers can get into it." Milk tea is their most popular flavor, with coconut chai tea (made with coconut milk) a close second. Other flavors include grapefruit mint, peach ginger, strawberry matcha and watermelon oolong. They use fresh produce and milk sourced from a Pennsylvania farm. "Local just tastes better," said Cooper.
Boba tea was born in Taiwan in the 1980s, so the story goes, when a teahouse manager decided to pour tapioca pearls into a glass of sweet iced tea. Asian communities in the U.S. have been drinking the concoction for years. More recently, boba tea has reached a wider audience, with shops popping up in communities across the country. Experiencing growing demand, the U.S. tea market in general has more than quadrupled in the past 20-plus years, to over $10 billion, according to the U.S. Tea Association. Four in 5 consumers — and 87 percent of millennials — drink tea.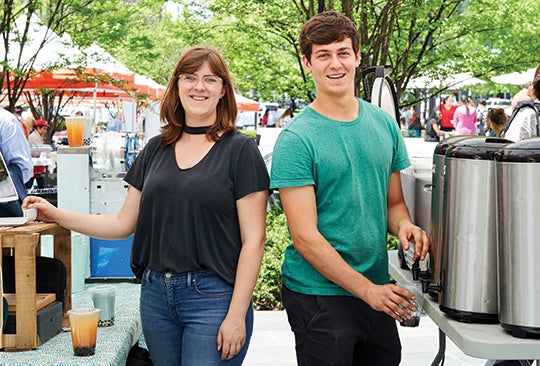 "I see it as a social activity and a dessert food," said Weedlun. "At Rice, there was a strong culture of people wanting bubble tea. It became a fad." And it's still going strong — students continue to flock to Sammy's for bubble tea.
Soon after Weedlun and Cooper returned home to Maryland after graduation, they wanted to catch up over their favorite drink, but couldn't find any shops they liked. They were underwhelmed by processed ingredients like flavored powder and fructose syrups. Most tea shops were also located in the suburbs and difficult for city dwellers to reach.
"Our idea was to make it ourselves and sell it on the weekends," Cooper said. It started as a hobby, but rapidly became much more. Cooper left his job as a business analyst in fall 2016 to work full time on the new venture; Weedlun quit her job as a communications writer the following spring. They launched the business in January 2017, and by May they were both working on the business full time, working 12-hour days.
They've since hired part-time staff and are focused on their long-term goals. They've tapped the Rice alumni network for business advice and bounced ideas off fellow entrepreneurs they've met in the commercial kitchen and at farmers markets. "Retail is challenging," Weedlun said, "but we're going into this market season much better prepared." They've also catered events, including weddings, bar and bat mitzvahs, and corporate events.
Weedlun and Cooper are working on a natural way to make Thai tea, traditionally a powder made with yellow food dye. Ultimately, their dream is to open a shop with a small, specialized tea menu and local snacks — a spot that feels like a community. "Tea is on the rise," said Cooper, "and we want to help people learn how to enjoy it."
— Deborah Lynn Blumberg