The Cheesemonger of Texas
From a farmers market stand to a thriving wholesale business supplying cheeses to restaurants — and a European-style cheese shop — Houston Dairymaids has changed the way Texans taste cheese.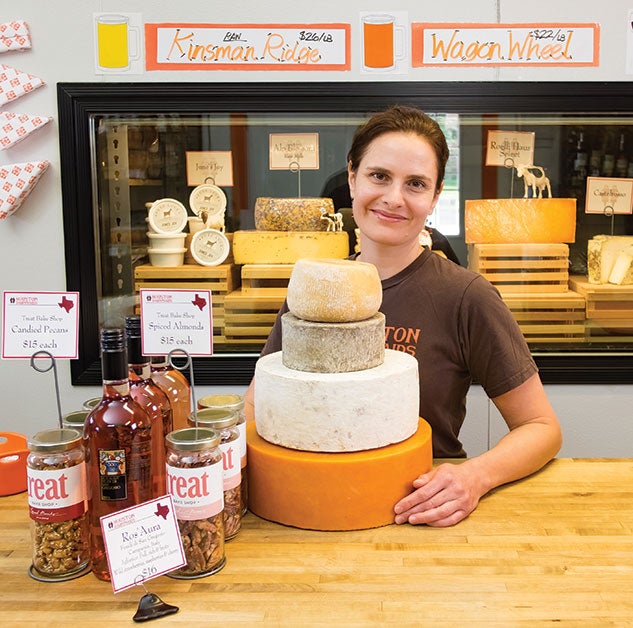 Summer 2017
More than a decade ago, Lindsey Schechter '99, who was an owner and chef at a restaurant on the coast of Maine, had an idea. Today, she has been credited with introducing Texans to the world of cheese mongering.
"In Maine, I came in contact with a lot of cheese producers from whom I would source cheese for my restaurant. I learned that it was hard for them to get their products directly to customers," Schechter said, during an interview at Houston Dairymaids, the Heights-area shop she runs. "They didn't have the resources or the time for distribution and marketing. That's when I decided I needed to fill that void."
Once she made the decision, it wasn't too hard to settle on a place: Houston. It was a city she was familiar with from her undergrad days at Rice. As a student, Schechter had worked part-time at the Daily Review Café, owned by alumna Claire Smith '87. Houston, known for its diverse cuisines, whetted her culinary appetite and left her craving more.
With a commitment to sustainable and local farming, Schechter became the liaison between cheese makers and chefs. She also emerged as the sought-after "cheese lady" at local farmers markets.
After graduating from Rice with a degree in English and art history, she moved to New York to work as a chef. On the side, she freelanced for an industry publication called Food Arts Magazine, which sent her on an international press junket to learn about cheese and prosciutto in Italy. The foods that won her heart were local and small-batch cheeses. 
When she moved back to Houston in 2006, there were only a handful of established cheese producers in Texas. Dairy farmers were struggling to keep their farms small and producing milk was no longer financially sustainable, so they were beginning to turn to cheese. For the first few months, Schechter crisscrossed rural Texas, meeting with goat farmers in the Texas Hill Country and visiting cow dairies in the Dallas/Fort Worth area. One contact led to another, and slowly she began to bring cheese from their far-flung counties into Houston.
With a commitment to sustainable and local farming, Schechter became the liaison between cheese makers and chefs. She also emerged as the sought-after "cheese lady" at local farmers markets, where she got the first taste of her venture's popularity. "I started out by renting a stall at a farmers market in midtown every weekend," Schechter said. "The stall became popular among chefs from the get-go."
Her initial Houston Dairymaids business was wholesale, but in 2012 she entered the retail market. The shop now has a steady stream of clients who visit to taste and buy the latest offerings. The shop's tasting table features six different types of cheese weekly. "Mild to pungent. That's the key," Schechter said, as she handed over a piece of young cheese to a customer.
She supplies around 150 types of handmade cheese to more than 300 restaurants and hotels in Texas. While about a third of her cheeses come from Texan artisans — like Pure Luck Farm and Dairy in Dripping Springs and Latte Da Dairy in Flower Mound — another third come from other states and the rest are imports.
What is Schechter's favorite cheese? "I feel most passionate about cheese that comes from Texan farmsteads, mainly because I have been on those farms and seen the producers work. So every time I talk about those cheeses, I can visualize in an instant all that goes into making them," she said. "That's how cheeses come alive to me."
---
Want to create a cheese plate worthy of a dairymaid?
A perfect cheese plate, says Schechter, contains three to five cheeses served at room temperature (about 72 degrees) and composed of a variety of milk types. Most cheeses are made from cow's milk, of course, so she recommends adding at least one other cheese made from goat, sheep or buffalo milk. "The more variety the better."
"You want to make sure that you have something for every palate, so a mild cheese and then a blue or washed-rind cheese," she said. The most popular cheeses are cheddars, so keeping a cheddar on the plate is a good idea.
To round out the plate, she recommends adding fruits that are not too acidic, like grapes and apples, along with preserves and jams. "It takes quite a bit of salt to make cheese, so something sweet to balance it out works really well." As far as crackers go, the more plain the better — unless the cheese is something like a fresh chevre, where a flavored cracker would work well. Here's an example, below.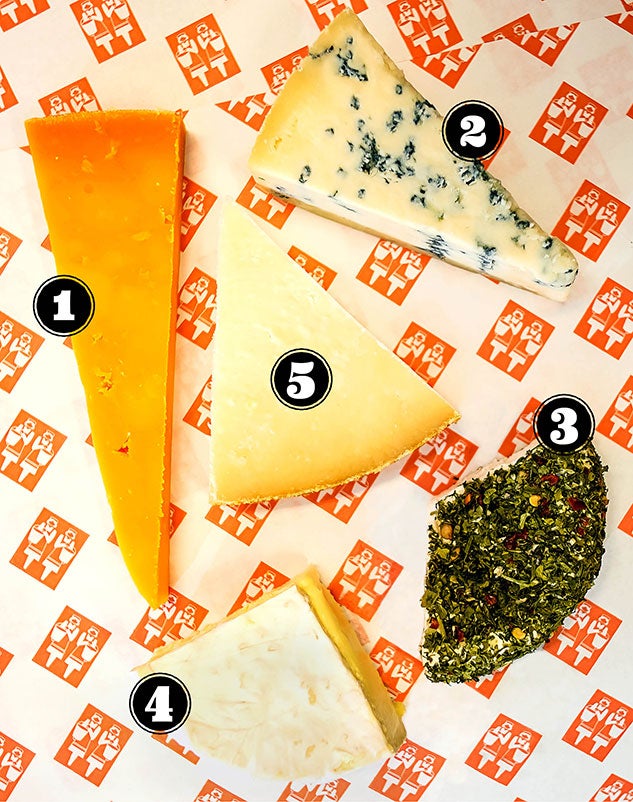 1. Roelli Haus Select  is a savory, sharp cheddar, aged for one year. The orange color comes from the addition of annato, a flavorless colorant favored by Wisconsin cheddar makers.
Dairy: Roelli Cheese, Wisconsin
2. Bay Blue is a rustic style farmstead blue cheese, similar to Stilton, with a natural rind and fudgy texture. Dairy: Pt. Reyes Cheese, California
3. This basket-molded fresh chevre is covered with fresh herbs. Creamy and piquant, this is from Dripping Springs-based Pure Luck Farm & Dairy.
4. Green Hill is a creamy and rich brie-style cheese with a thin white rind. "America's best Camenbert." Dairy: Sweet Grass Dairy, Thomasville, Georgia
5. Latte Da Gouda is a semi-firm, aged goat cheese is another product of Texas. The gouda is with delicate herb flavors. Dairy: Latte Da Dairy, Flower Mound, Texas