Faculty Books
Faculty Books
Spring 2023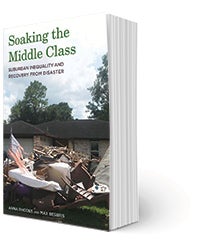 Soaking the Middle Class
Suburban Inequality and Recovery from Disaster
Anna Rhodes and Max Besbris
Russell Sage Foundation, 2022
A book by Rice sociologist Anna Rhodes and University of Wisconsin sociologist Max Besbris explores how families in the Houston suburb of Friendswood recovered from Hurricane Harvey and how that process exacerbated economic inequality within the community. After Harvey, many residents found it difficult to assess their future flood risk, partially because federal agencies and local governments offered them little or no guidance. Without a clear sense of risk, most of them decided to return to their potentially vulnerable neighborhoods and rebuild. Ultimately, the inequalities amplified by the recovery process make middle-class suburbs less resilient at a time when climate change makes them more vulnerable. "Extreme weather is only growing in scale and severity as global warming worsens," Rhodes said. "We hope this book will shed light on how even well-resourced neighborhoods are increasingly at risk as climate-related storms intensify." — Amy McCaig
---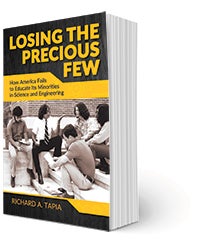 Losing the Precious Few
How America Fails to Educate Its Minorities in Science and Engineering
Richard A. Tapia
Arte Público Press, 2022
Richard Tapia's parents emigrated from Mexico to Los Angeles as children in search of a better life. Forced to work in order to survive, they weren't able to achieve their educational goals — but their children ultimately did. A longtime mathematics professor at Rice, Tapia is the first Latino to have won all three of the United States' most prestigious science and engineering awards: the National Medal of Science, the National Science Board's Vannevar Bush Award and the American Association for the Advancement of Science's Public Engagement with Science Award. "In a nutshell, I have succeeded," he writes. "Against all odds, and well beyond what anyone, including me … ever would have dreamed."
Tapia's success is, however, the exception that proves the rule. In "Losing the Precious Few," he scrutinizes the factors that have excluded other minorities from STEM programs — particularly Native Americans, African Americans, Latinos and Pacific Islanders, who are so underrepresented in science and engineering that Tapia calls them the "Precious Few." Their scarcity in STEM education and careers is harmful not only to racial justice but also to the economic and scientific health of the country, he argues — but the trend can be reversed. "Our goal should be to produce so many 'precious few' that eventually they will become 'the precious many,' and as a result contribute to the well-being of our country and our world." — Jennifer Latson
---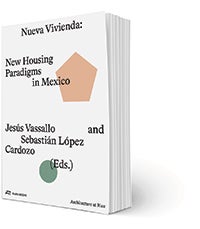 Nueva Vivienda
New Housing Paradigms in Mexico
Edited by Jesús Vassallo and Sebastián López Cardozo
Park Books, 2022
For more than 60 years, since its publication of William W. Caudill's "On People and Things" in 1961, the "Architecture at Rice" book series has produced titles that illuminate the current cultural moment and tackle some of the most pressing issues facing architects, designers, developers, housing advocates and urban planners. In "Nueva Vivienda," Jesús Vassallo, an associate professor at the Rice School of Architecture, and Sebastián López Cardozo '22, a recent graduate, follow in that scholarly tradition, exploring the ways in which Mexican architects are addressing economic, cultural and environmental concerns through innovative housing design.
The book features 22 Mexican housing projects from the past 10 years, along with essays examining how these projects are breaking new architectural ground — and how architects in the U.S. and other nations could adapt them to resolve housing issues in their own communities. As the editors write, "In the context of a global housing crisis, the energy devoted by these architects to imagining denser, more vibrant urban centers for the middle classes deserves serious consideration and serves as an inspiration for those of us who regard the design of housing as a form of public service." — J.L.
---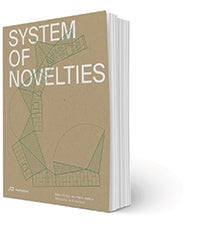 System of Novelties
Dawn Finley and Mark Wamble
Park Books, 2022
Another new release in the "Architecture at Rice" series, "System of Novelties" chronicles two decades of work by the Houston-based Interloop—Architecture, founded in 2001 by Rice School of Architecture professors Dawn Finley '99 and Mark Wamble. The book features 11 of the firm's projects, ranging from single-family homes and cultural institutions to a light rail platform and a reimagining of the humble but monumentally important exit sign. One project was an open-air building to house "Tending (Blue)," an artwork in James Turrell's "Skyspace" series, which also includes his "Twilight Epiphany" Skyspace on the Rice campus. Another was a campground complex in Lake Texoma, Texas, built on a peninsula that periodically floods so severely that more than two-thirds of the site disappears underwater. Each of the firm's commissions brought its own distinct challenges, and each design represented an array of innovative solutions. "At the macro level, our design work is a collection of idiosyncratic projects that range in scale, type and complexity," the architects write. "Examined at the micro level, each project reveals a unique set of circumstances, constraints and constituents." — J.L.