Positively, Professor Parsons
Sandra Parsons in her own words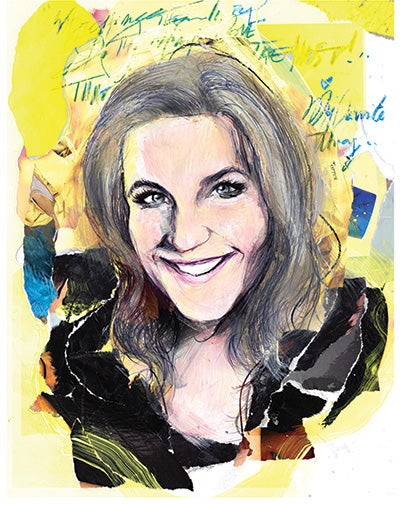 Sandra Parsons, an associate teaching professor in the Department of Psychological Sciences, has received many honors for her classroom teaching  and is widely engaged across campus with improving faculty teaching and student learning experiences. Since 2015, she's thrice been recognized with one of Rice's top teaching awards, the George R. Brown Award for Superior Teaching. One key to her effectiveness is a deep love and respect for students — many of whom she knows quite well. Since 2019, Parsons and husband Will, a pediatric oncologist, have lived on campus as resident associates at Will Rice College. Her teaching philosophy sounds simple — "Great classes are classes that students want to attend" — but there's so much more to the story.
It's All About Flourishing
I teach Introduction to Social Psychology, which is as large as it sounds — about 80 students; research methods for declared psychology majors; and, currently, Positive Psychology. That's a relatively new branch of psychology that focuses on how to improve our subjective well-being and quality of life. It is all about practicing evidence-based interventions to enhance everyday life.
Making an Academic Career Flexible
I started off as a traditional research graduate student heading toward a tenure-track job. My research focused on group decision-making and identity formation — what happens in groups of people when different identities are made salient. I realized that I really didn't want to be a part of that traditional track and made a purposeful turn in the name of being flexible and being home with my family. My research evolved into pedagogical research — how can I improve the teaching that I do at Rice? How does approaching the learning environment as more of a collaborative space increase connectedness and inclusivity? How can I facilitate other Rice faculty's improvements in teaching?
The Social Psychology of Teaching Online
I think there was an assumption that instructors would just move seamlessly from their face-to-face teaching practices into a virtual space. The learning curve was expected to only be about the technology. Even those of us who have been teaching for years had to redesign what we do and how we do it to fit the online tools — the ways those tools changed our relationships with each other and with the material. It's fundamentally a question of how situations and changes in situations affect behavior — which is a social psychological question.
A Shift in Thinking
In summer 2020, my teaching colleagues noticed the questions students were asking were different. Students were thinking about things differently — approaching their learning with more agency than they had previously. One way to look at this change is the students' questions became much bolder. It felt like students wanted to go deeper than the normal questions I would typically get in class. A postdoc in our department, Angie LaRoy, noticed that students were actively thinking about anti-racism in our readings. She developed this fantastic way of talking to students about recognizing racism in the assigned readings and how to take an anti-racist stance on those readings — an approach I've adopted subsequently
in all of my classes.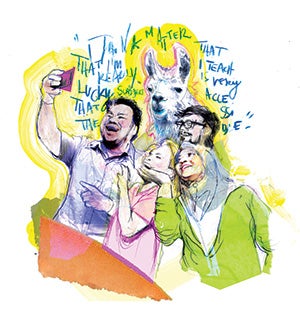 Last semester, we had a petting zoo and a fall festival — and the glee that those students had petting those animals was just priceless. I loved watching them hold the bunny rabbit and pet the llama.
An RA and a Teacher
I was involved in the college before I became a resident associate. But seeing what it's like to be in the dorms with them and hear their day-to-day concerns — I am sure that it has improved my teaching — and my teaching has been a huge asset for being an RA. Previous to the pandemic, the job description was to model good adulting and be a trusted, wiser soul whom you could talk to without worrying about impressing your professor. And to be there to catch people if they're falling. The challenges used to be, "How do I throw a study break?" With the pandemic, the challenges became, "How can I support you all as everything crumbles?" and "How can I help you find the resources you need?" It's been challenging, heartbreaking and beautiful and an ongoing evolution of what is needed of me.
Best Thing About Being an RA
My favorite thing is watching students do the thing that they love the most. For example, we have a talent show and some students are beautiful musicians, comedians, magicians and just a wild variety of talents. We go to Powderpuff games and cheer on the sidelines. Last semester, we had a petting zoo and a fall festival — and the glee that those students had petting those animals was just priceless. I loved watching them hold the bunny rabbit and pet the llama. And it was just a day of being outside and enjoying each other. It felt like "before times" in a really positive way.
Are We Having Fun Yet?
I think that students know how much fun I'm having in the classroom. I think I convey to them how absolutely fascinating it is to study the ways subtle changes in situations — and the people in them — can lead to different outcomes. I think that I'm really lucky that the subject matter that I teach is accessible. Every topic we discuss has a story that I can tell from my own experiences.
A Lesson Featuring Tiny Nutellas
For example, I love tiny containers of Nutella and tiny Vaseline containers — anything that is sold large and also tiny. What an odd thing to share with people — except it points to marketing strategies and why putting these tiny things at eye level at the grocery store checkout is so effective. My style is about recognizing that I'm quirky and weird in ways that are similar to the ways that they're quirky and weird, but that research can help us understand those quirks. So I tell a story about myself. I introduce an idea. I ask for their stories. We laugh together, and I try to make it really relevant.
A Beer Bike Prediction
I have the letters WRWS in my window to remind everybody that "Will Rice Will Sweep." I have no interest in riding or chugging or doing any of that, but I will absolutely be first in line to cheer them on.
— Interview by Jenny West Rozelle '00