A Musical Time Capsule
Mezzo-soprano Sasha Cooke collaborates with gifted composers in a lyrical experiment inspired by a singular historical moment.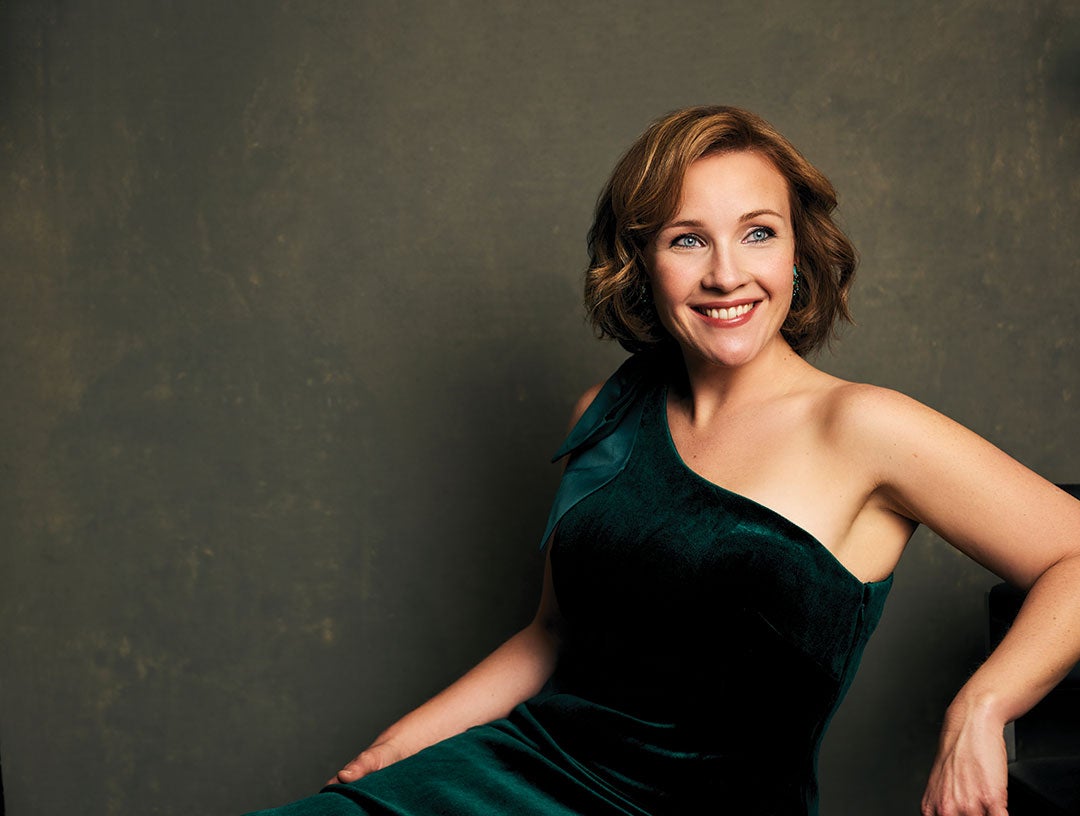 When two-time Grammy Award-winning mezzo-soprano Sasha Cooke '04 first arrived at Rice as an undergraduate, she remembers being a "very shy, insecure kid" who felt destined to fail. But Cooke says that Rice nurtured her and gave her confidence. Today, she's a singing sensation who is preparing for two upcoming roles with the Metropolitan Opera this spring: Handel's "Rodelinda" and Mozart's "Le Nozze di Figaro."
In January, she released "how do I find you," her second solo album, but the first she has produced and created herself. The album comprises original songs from 17 composers, including Lembit Beecher '05, Hilary Purrington '13 and Caroline Shaw '04.
The title comes from the first song on the album, with text and music by Shaw, who was inspired by Cooke's performances over social media during the pandemic and wanted to compose a song Cooke could sing and play herself. From there the album blossoms, capturing the multilayered human experiences during the pandemic — from losing jobs and home-schooling to finding hope in darkness.
What was the original spark for this collaboration?
The initial spark came from lyricist Mark Campbell's response to the murder of George Floyd. Mark said, "I have this lyric I wrote. Can I share it with you?" I said, "Absolutely," and we found a composer to set it to music. After that experience, I wanted to do more of exactly this — reaching out to composers and lyricists and saying, "What are you thinking about right now? What is on your heart and on your mind?"
That breadth of emotional experience and style really comes across. How did you think about creating a listening journey?
Yes, [that breadth] was a nice surprise. The song "(A Bad Case of) Kids" was autobiographical, because I was talking to lyricist Todd Boss, and he said, "Tell me what you're doing." At that point, I was losing so many jobs that every day I would pour a glass of wine, and it was sort of my little mourning of losing jobs in addition to home-schooling kids. And he said, "Oh, I want to write a lyric about that!"
Have you thought about how future generations will experience this album?
It's essentially like a time capsule. That's what art is so great at. … Missy Mazzoli and Royce Vavrek — who, taking inspiration from Rembrandt, together composed "Self-Portrait with Dishevelled Hair" — said, "You're doing a self-portrait, Sasha, [of] where we are right now in time."
What's it like being on the frontier of new music while also keeping the old guard alive?
They really balance each other very well — it would be a bad idea to only do new music. Sometimes when I need to vocally reset myself, I go back to traditional [music]. … I first fell in love with [traversing vocal techniques] back at Rice when I was premiering works of fellow colleagues. I love it all. — Sydney Boyd '18
Watch this video about Cooke's inspiration and process.