Belinda Chang's livelihood was upended by the pandemic ...
so she poured herself a new career.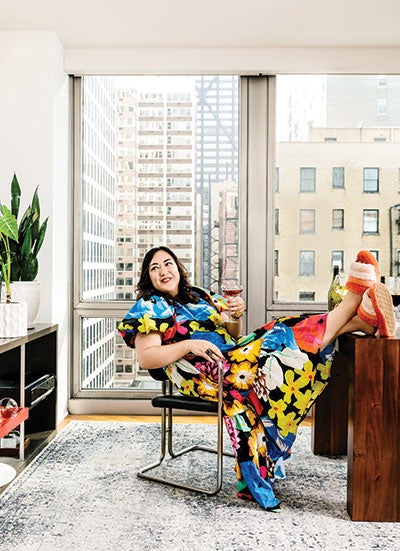 By Heather Lalley | Photos by Lucy Hewett

It was March 2020 and award-winning sommelier Belinda Chang '95 was in Toronto, meeting with a potential agent over tapas and discussing ways to grow her thriving experiential marketing agency.
Since leaving the full-time restaurant world in 2017, Chang had been working with caviar and champagne companies to plan and execute lavish marketing events. During that dinner, her phone began ringing and would not stop. "That's when I found out that the events and experience world was ending," she said.
One by one, her clients called and asked for their money back. "I emptied my bank account," Chang said. "All the operating cash I had, I had to refund to clients." She quickly returned to Chicago, sat on her red velvet couch and tried to figure out her next move.
"I heaved a sigh," she said. "And I decided I wasn't going to cry about it."
A Rice Legacy
Chang's parents, Ardys Chang and Chin Hsiung Chang '67, grew up in Taiwan and came to the United States in the 1960s for her father to earn his Ph.D. in chemistry at Rice. Even as her family traveled around the country for her father's job as a research chemist, the dining table seemed to always be the gathering spot for international students and lost souls who would find community and warmth over her mother's traditional Chinese and Taiwanese nine-course tasting menus. Young Belinda delighted in setting the table and getting to pour the kiddie cocktails with the just-right proportions of Sprite and pineapple juice. "I just really loved what it felt like to take care of people with food and drink and experience," she said.
At her father's urging, Chang enrolled at Rice and studied biochemistry and economics. But she found her calling once she became head waiter at Cohen House, overseeing a staff of 80 fellow students. That's where she learned about high-end service and hospitality and, importantly, about wine.
Joshua Chaffin '94, now a New York-based correspondent for the Financial Times, got to know Chang when they were at Rice. "Belinda was unusual because she would host dinner parties as an undergrad," Chaffin said. "She would have us over to her apartment, maybe weekly, and she would throw these great dinners and it was so much fun." He remembers inventive meals like quail stuffed with jalapenos served with garlic mashed potatoes — far above the usual undergrad fare.
"More than just the food, she was also just a great host," he recalled. "She just has a gift for that and makes everybody not just at ease but a center of fun."
Re-Inventing the Party Wheel
Back in Chicago, during the pandemic's earliest days, Chang was scrolling through Instagram when she came upon a Zoom happy hour. The happy hour hosts taught participants how to mix drinks, but also allowed viewers to tip their virtual bartenders who were out of work due to the pandemic.
Chang tracked down the organizer and called her the next day. "Nobody ever does this kind of stuff for wine people," she said. "I think they assume sommeliers are all landed gentry." So, she decided to host her own virtual gathering, purchasing cocktail kits from The Violet Hour, an upscale Chicago hotspot, and gave her 12 attendees a quick Zoom tutorial.
"We had so much fun. That Sunday, Virtual Boozy Brunch was born," she said. "I started producing a livestream show for the next year."
Week after week, Chang would enlist her friends and other well-known people in the food and 
beverage industry, along with musicians and artists, to create an engaging quarantine community for what grew into an audience of hundreds. She coached her presenters on how to generate tips or create items to sell during the Zoom sessions.
Julia Momosé, a mixologist, writer and owner of the Chicago Japanese dining bar Kumiko, appeared on one of the first brunches to discuss sake and how to make cocktails with it. That episode also featured an opera singer and a dumpling-cooking demonstration, Momosé recalled.
"I was in my living room," she said. "I had a low table on a bamboo mat. It's not just us doing a long segment. It's multiple people doing extraordinary things. I was able to sit and enjoy listening and absorbing the energy and expertise of people together. … Feeling so isolated, just having that chance to speak up was really nice." And it was a way to make some money during a difficult time. As businesses began to reopen, Chang would regularly visit Momosé's outdoor garden bar and would often purchase ingredients for her virtual events from Kumiko.
"I'm really grateful for her constant support through all that, that she chose to buy from little me," Momosé said. "It really speaks to her character as someone who is thinking about the bigger picture and about community."
Smarty Party Power
Showcasing her vibrant, inviting personality and those of her guests, Chang's livestreams caught on, drawing a large audience and generating more than $250,000 in tips and sales for her guests. "People started paying attention," Chang said.
Before the end of that first pandemic year, she'd received corporate sponsorships from big liquor labels, and companies were hiring her to teach them how to livestream. They were having her create, produce and host virtual experiences for them. Chang started crafting fabulous boxes filled with luxe ingredients and creative surprises for her Zoom happenings.
"You hear about Zoom fatigue," she said. "I think that's because the people organizing these experiences aren't making them fun or doing all the things to make them as cool as they can be."
The way Chang sees it, virtual events are the way to go, even as the pandemic eventually eases. Zoom, she said, is a much more powerful medium for sales and engagement than a big convention or meeting or gala. It allows people from all over the globe to connect at the same time and enjoy the same experience. And, with the technology, participants can break off into smaller rooms for more intimate chats.
"You just have to make everything a dialogue," she said. "Monologue is the death of conversation. You have to be a little fearless. People are very scared to do things that are unscripted or feel unproduced. But you want that. The whole point of this is to make it feel as real as possible. That's when this virtual experience feels so magical." 
---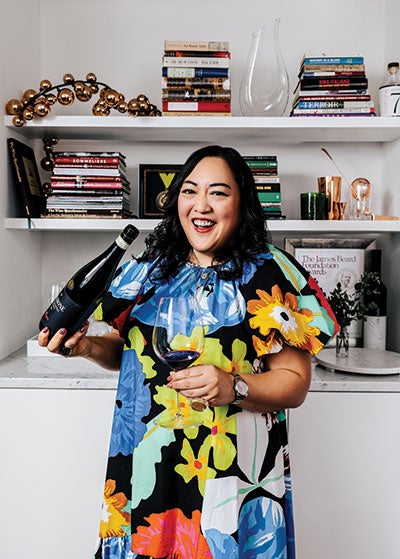 Tips for hosting your own fabulous virtual event
For Belinda Chang, the key to an over-the-top virtual event is to make everyone feel as if they're in the same space together.
"I always think about the movies with the futuristic villains," she said. "Where they're all holograms sitting at the boardroom table, sipping some fabulous scotch. How do we make it feel like we're with all these people in the same room in the same space?" And that means choreographing everything:
Provide a requested table setup, showing where to place glasses and other items.
Send guests customized Zoom backdrops (and provide them in the chat once the event starts).
Offer up dress guidelines. (It's OK to ask people to get glitzy and glamorous just to sit in their own living rooms. "That's part of the fun," Chang said.)
Provide instructions about where to set up the camera for the best views.
You can even go so far as to suggest what kind of candles to light and what kind of music to play.
Chang tells people, "Since we can't be at dinner together, this is how we're going to be together. We're doing a very futuristic, but-the-future-is-now sort of thing."