Planted in Place
From a seed of an idea, a major new addition to the Houston landscape has blossomed along Sims Bayou, turning an underutilized golf course into 132 acres of ecosystems, horticultural displays and walking trails.
By Deborah Lynn Blumberg
In mid-September, Houstonians craving time away from home set out for an island southeast of downtown adorned with hibiscus and firecracker plants, Brazilian grape trees and Mexican skutch maples (a rare but tough sugar maple). The Houston Botanic Garden had just opened its doors, and visitors arrived to stroll among plants that reflect Houston's wide array of cultures. They passed kumquat, plum and orange trees and then sat in quiet contemplation amidst bamboo and cacti.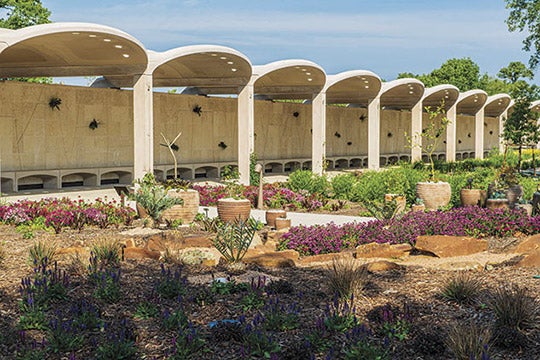 On Sims Bayou, an offshoot of Buffalo Bayou near Hobby Airport, the 132-acre oasis is the culmination of nearly two decades of planning by Houston garden advocates, conservationists and philanthropists. On the site of a former golf course, the botanic garden adds to Houston's expanding list of green spaces, celebrates the city's diverse cultures and was made possible in large part by Rice alumni. From early days when the newly formed nonprofit began looking for the perfect piece of land to its current leadership, Rice graduates have been a driving force behind efforts to bring a botanic garden to the country's fourth-largest city.
"Every major city has a botanic garden," says Claudia Gee Vassar '99, the garden's president and general counsel, who worked in corporate and commercial real estate law and then as a nonprofit consultant before joining the garden in 2016. Local conservationists, donors and garden enthusiasts were keen for Houston to join the ranks of top cities across the world — from Denver to New York to Singapore — that are home to such renowned, educational and beautiful spaces. Houston's garden came to fruition as the city in recent years has pushed to move beyond its reputation as a flood-prone concrete jungle by creating more green spaces.
Recently, both public and private money have funneled into projects including Bayou Greenways 2020, a $220 million public-private partnership to develop 3,000 acres of land into a network of city parks and trails. The opening of the botanic garden also coincided with the unveiling of 100 acres of open space at the new Clay Family Eastern Glades at Memorial Park, plus the construction kickoff for Memorial Park Conservancy's $70 million Land Bridge and Prairie project. One of the country's biggest park projects, the nearly 100-acre Land Bridge and Prairie project will connect parkland over Memorial Drive and create 40 acres of coastal prairie land for stormwater mitigation.
Looking for Land
The seed for a botanic garden in Houston was planted in 2002 when a group of garden advocates established the Houston Botanic Garden as a nonprofit. Five years later, longtime Houston planning commissioner Kay Crooker, a founding member of the nonprofit, recruited Jeff Ross '75 to join the board. The two knew each other from roles on the city planning commission. As a municipal civil engineer, Ross was well versed on how to evaluate land. He knew the project wouldn't gain momentum without a location. "The board decided it was a fish or cut bait situation," he says. "We had to make a push to find a piece of land."
Over the years, Ross scrutinized two dozen properties, studying maps and spending hours visiting sites. A priority was land along a bayou. In 2011, he became the nonprofit's CEO, a role that allowed him to focus on the project full time. It was around the same time that Ross ran into garden enthusiasts and longtime Rice supporters Mel Glasscock '61 and his wife, Susie Glasscock '62, during an event on the Rice campus. Ross mentioned the garden project to the Glasscocks, and Mel agreed to help.
Ross also visited botanic gardens across the U.S. and attended four American Public Gardens Association conferences, from Philadelphia to Phoenix. In Philly, he met the president of the Atlanta Botanical Garden, who became a key mentor, visiting potential sites with Ross and later reviewing the garden's master plan before Ross and the board submitted it to the city.
In 2012, Mel suggested the Gus Wortham Golf Course as a potential site. It was a municipal golf course in the East End, where he grew up. However, the golf course — known as the original Houston Country Club founded in 1908 — had been mired in controversy in 2006 when residents fought back against efforts to convert it into a soccer complex. "I knew it was a beehive waiting to be hit," Ross says. Still, he went door to door in the surrounding neighborhood asking people to sign a petition saying they preferred a botanic garden over the golf course. Residents used to walking their dogs on the property were wary of change, and his efforts to convince naysayers were unsuccessful.
"Then the city asked us if we'd consider the nearby Glenbrook Golf Course," says Mel, who's now on the garden's board. Glenbrook was also an underutilized city golf course. When the city sided with residents on Wortham, Ross and the board pivoted, channeling all of their energy into Glenbrook.
"It has some interesting topography," says Gee Vassar, "these roly-poly hills that you really don't see around Houston." In January 2015, the Houston Botanic Garden signed a contract with the city for Glenbrook — with conditions. To ease the land, the garden had to raise $5 million for the project by year end, and the city had to approve a master plan. "The board knew that Mayor Annise Parker '78 was nearing the end of her term, and her enthusiastic support for the project had been key," says Ross. "I said, 'We have to get our master plan approved under Annise.'"
Moorish Influences
With the deadline looming, Ross and the board moved quickly to hire a design firm to create the master plan, a road map of sorts for the garden over the next 30 years. Of all the contenders, Adriaan Geuze from the Netherlands and his team at West 8 stood out. The firm is perhaps best known for its redesign of Governors Island in New York City. Geuze, who lives part time in Spain, painted a picture of a garden that would include aspects of the palace and gardens of La Alhambra in southern Spain — where the climate is similar to Houston's — with covered walkways, fountains and carefully framed vistas.
"There are a lot of Moorish influences in the design," says Donna Bridgeman, lead designer on the project at West 8. "We wanted to create a space that isn't like anywhere else in Houston." When plants mature, she adds, visitors will get an immersive experience as the greenery creates tunnels they can lose themselves in.
Once hired, the design team flew to Houston, where they spent time at Rice drawing inspiration from its live oaks. Team members spoke with local plant vendors and residents with private plant collections. They distributed self-addressed postcards to the public asking for ideas and input.
"Ultimately, we landed on the idea of focusing on Houston's diversity," says Gee Vassar. With portions of the site in a flood plain, West 8 kept flooding in mind throughout the planning process. The garden's Global Collection Garden, for example, is elevated, and the coastal prairie area is planted with vegetation to help mitigate flooding. The West 8 team pitched the idea of a Culinary Garden with medicinal plants and a Global Collection Garden as a place where people could see plants that remind them of their own culture and traditions.
"The design and garden tap into the need for human connection with nature in our everyday lives," Bridgeman says. "The new norm is that there's this connecting with nature and realization that it's necessary to be one with your environment, to learn from plants. I think people are really paying attention to that."
Breaking Ground
The year before the nonprofit secured Glenbrook, Parker took it upon herself to visit the golf course on Christmas Eve with the city's chief development officer, Andy Icken.
"I looked at Andy, and I said, this is going to be the botanic garden," says Parker, who's now on the nonprofit's board. During the mayor's last week in office, Ross and the board hit the $5 million fundraising target, and the city accepted the master plan. "I'm glad I was in the right place and I had the energy and the interest," says Parker. "It took a lot of politicking."
The city then tasked the garden with raising an additional $15 million to prove interest in the project. Ultimately, with help from locals like the Glasscocks, the garden was able to raise a total of nearly $39 million. Susie handwrote letters to potential donors and spent countless hours on the phone. "Frankly, it was just exciting," she says. "The garden is world-class." The Glasscocks also contributed money to the garden.
Ground broke in 2019, and work forged ahead on phase one, which created eight garden themes and collections. Most of the golf course's paths were kept intact, even as the soil was restructured to give it the right balance. Sand traps were harvested to use in the garden for years to come, and plant signs in Spanish and English were created.
Bridgeman and her team kicked into high gear, designing the garden's signature alcove shade structures and benches, which have a spacecraft feel. "It's a blend of Spanish design with that intergalactic history of Houston," she says. Plans for a Family Discovery Garden with play structures and a boardwalk maze around a lagoon got underway.
During the process, Ross and Gee Vassar got guidance from botanic gardens across the world. A task force of botanic garden leaders advised them on the master plan. Garden leaders participated in a design charrette to determine the key garden themes and collections that would situate the Houston Botanic Garden in the global ecosystem of botanic gardens. They shared their experiences on everything from business models to marketing materials to member benefits, Gee Vassar recalls. Among botanic gardens, "there's this collaborative sharing of plants and information," she says.
Gee Vassar also worked with Emily Emmett '05, a partner at Bain, who helped the garden, pro bono, with a five-year strategic plan. "We became pretty deep experts of botanic gardens," says Emmett, who, with her five-person team, helped the nonprofit settle on membership tiers, admission prices and its fundraising trajectory.
New View of Nature
When COVID-19 arrived in March, Gee Vassar was faced with a major decision — to keep construction on track or to delay the garden's opening. "Some of our peers said, 'Don't open, it's such a hard time right now. Why don't you wait?'" she says. "But our mission is for this to be a place for the community. We felt people were exhausted by the pandemic, and they wanted a safe outdoor space."
So Gee Vassar and her team forged ahead with the lofty goal of reaching 500,000 annual visitors in five years, and ultimately 1 million. The garden opened Sept. 18, 2020. It met and exceeded its first-quarter operating goals for both admissions and memberships, with earned revenue of over $480,000 through the end of 2020. As of January, it had more than 2,000 members, half of whom joined after visiting.
"Some of the naysayers from the past even brought their whole families and were really excited," Gee Vassar says. "Our goal is for the demographics of our visitorship to closely match the demographics of the city in race, religion and social status. It's really becoming a place where people are making memories with their families." For 2021, the focus is on safely offering the educational programming at the core of the garden's mission and deepening engagement with visitors.
Gee Vassar's role with the botanic garden has altered how she sees nature. Now, she notices the wide diversity of trees around town and knows more intimately when different plants will bloom. "The garden has helped me connect with nature, which has so many healing benefit
It's her hope that visitors will find a similar connection, and that Houstonians, especially, will venture out even more into their greening city, inspired to support and protect the environment in their own ways. "Our goal is for people to grow in their affinity for the garden, but also for the natural environment," she says. "We all play a role in caring for our natural resources, and we all can have an impact."
Recovering From the Big Freeze
When a polar vortex caused the devastating Texas freeze this past February, the Houston Botanic Garden took precautions to protect the landscapes and gardens that had been open to the public for less than a year.
For example, cycads, seed plants with a mane of long evergreen leaves, had to have all of their foliage cut off and trash cans put over them to guard from the freezing temperatures. Citrus and other sensitive plants were likewise protected with mulch mounded around their trunks as insulation. Other ground plants were "tented" to keep the cool air out and the ground heat in.
Over two months later, the garden has seen the much of the flora bounce back. Overall, the native plants fared best, while non-native palms and cacti saw more damage. Many of these plants — such as the Roxburgh fig and the calliandra — survived and have begun to return in full.
Garden managers say they learned many valuable lessons, including the need for keeping a plethora of protective materials at the ready and the importance of staying patient during recovery.
"We're used to doing that in Houston for hurricane season, but we sometimes forget that winter can be just as unpredictable and have a similarly disruptive impact," said Brent Moon, the garden's horticulture manager. "You can't wait until freezing temperatures are forecast and expect easy access to the materials you will need to adequately cover and protect your plants."
— Savannah Kuchar '22