Welcome to the American
Rice Owls jump into a new level of conference play.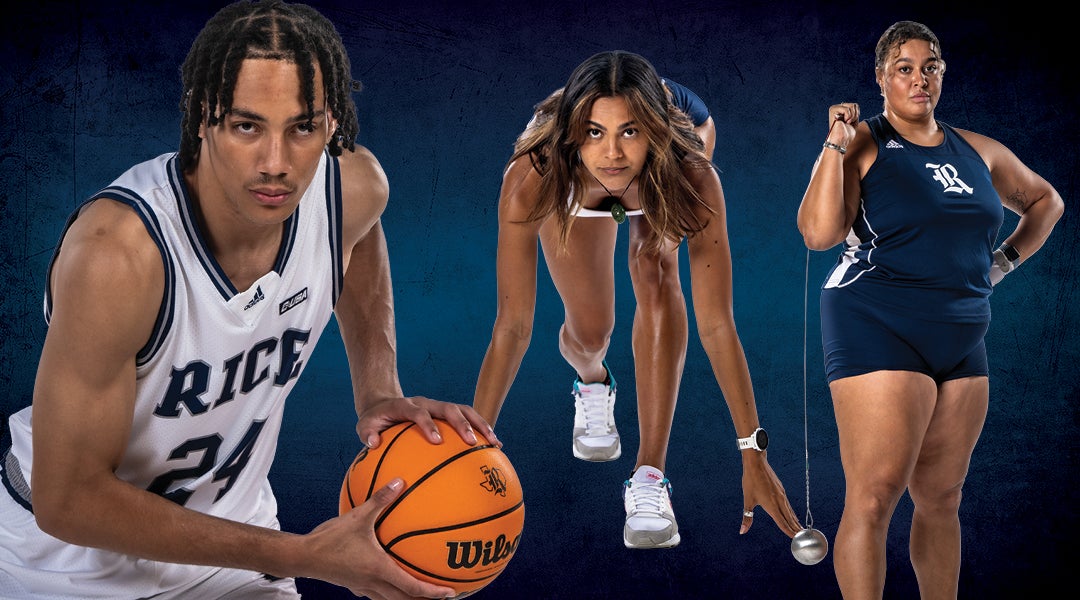 Fall 2023
By Andrew Bell | Photos by Jeff Fitlow
July 1, 2023, marked the official beginning of Rice's move into the American Athletic Conference. While this date marks a significant milestone in the history of Rice Athletics, the effects of the transition had already been in play for months.
One of the best examples comes in the shape of versatile 6-foot-9 forward Keanu Dawes '27, a four-star national recruit who committed to Rice hoops last year. Dawes is just as comfortable catching an alley-oop for a dunk as he is swishing a 3-pointer or rising to block an opponent's shot into the stands.
At Stratford High School, located about 20 minutes from Rice's campus, Dawes averaged 15.0 points, 7.0 rebounds and 6.0 assists per game and led his team to a 27-6 record and district championship last season. He was named District Offensive Player of the Year and took home all-state and all-region honors, in addition to twice being named a finalist for the Guy V. Lewis Award for the boys' high school player of the year in the Greater Houston area.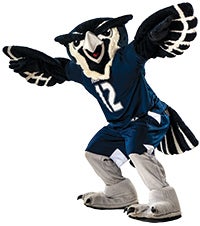 A talent at this level, says Rice basketball head coach Scott Pera, may not have had Rice on his radar if not for the allure of the AAC. "I don't know if we get Keanu Dawes here if we're not in the American. I mean, you're talking about a national top 100 recruit. Being a part of the American, he knew the exposure, the competition — all of it — would just be better. So, it's already had a huge effect for us."
The pull of the AAC was enough to get Dawes on campus for a visit, and once he arrived, the family atmosphere and camaraderie he felt with his future coaches and teammates sealed the deal, he says.
"When I came on my visit, it felt like I knew everyone already," Dawes says. "I just felt comfortable with them, compared to some of the other visits I took. The second I stepped on campus, they treated me like family."
Whether it be eye-popping, talented recruits like Dawes — or game-changing transfers like J.T. Daniels, a quarterback with a five-star pedigree, or Emilia Weske, a former USC Trojan and four-year member of the German national team who will play for Rice volleyball this season — Rice coaches and administration believe the AAC is positioning Rice Athletics to attract new talent from previously untapped avenues around the country and the world.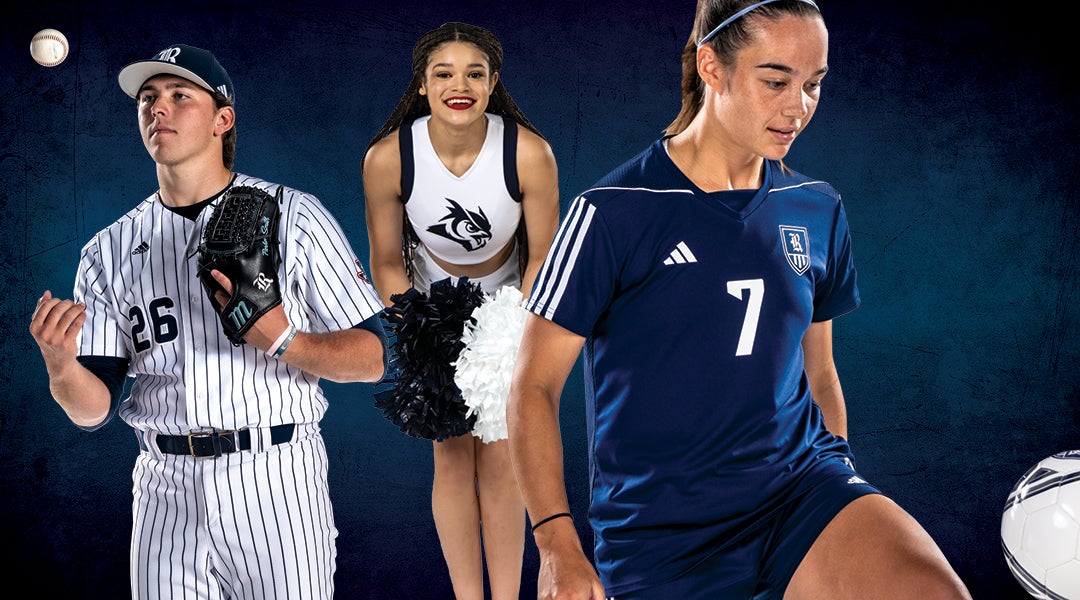 National relevance
After 18 seasons in Conference USA, Rice's switch to the American Athletic Conference brings opportunities for increased recognition and exposure, many of which stem from the AAC's 12-year, $1 billion TV contract with ESPN.
As a member of the American, Rice will see not only higher TV revenues but also an exponential jump in linear TV exposure, as a minimum of 40 AAC football games and 60 basketball games will be broadcast annually on ESPN's primary networks. And nearly every AAC game or meet in all sports will appear either on an ESPN network or on ESPN+, allowing family members and friends of Rice student athletes to tune in no matter where they are.
I am grateful to Joe Karlgaard for his efforts in positioning Rice for entry to the AAC. We are now poised to take the next step, and I am excited to join forces with President DesRoches as we continue to elevate our athletic programs and position them for success.
Former Director of Athletics Joe Karlgaard, who recently left Rice after leading the athletics program for a decade, was a driving factor in making the AAC a reality for the Owls. He says the accomplishment carries multiple benefits for student athletes and fans.    
"'National relevance' is probably the first phrase that comes to mind, and it's for a number of reasons," Karlgaard says. "You've got some really good, well-known institutions within the league who've had pretty high levels of success in different sports. The TV contract is robust, and it's not just about TV revenue. We think ticket revenues will be better, and we think sponsorship opportunities will be better, in part because we're going to be on television more. It's a win on a lot of different fronts."
"I am grateful to Joe Karlgaard for his efforts in positioning Rice for entry to the AAC," says Tommy McClelland, who joined Rice as vice president and director of athletics Aug. 14. "We are now poised to take the next step, and I am excited to join forces with President DesRoches as we continue to elevate our athletic programs and position them for success."
Of all the ways this national relevance benefits the university, the one factor coaches and staff bring up most often is recruiting. Marco Regalado, executive director of player personnel and recruiting innovation for Rice football, says that while the athletics staff has always been confident in promoting the Rice brand, the move adds an extra layer of benefits to pitch to recruits in an extremely competitive recruiting landscape.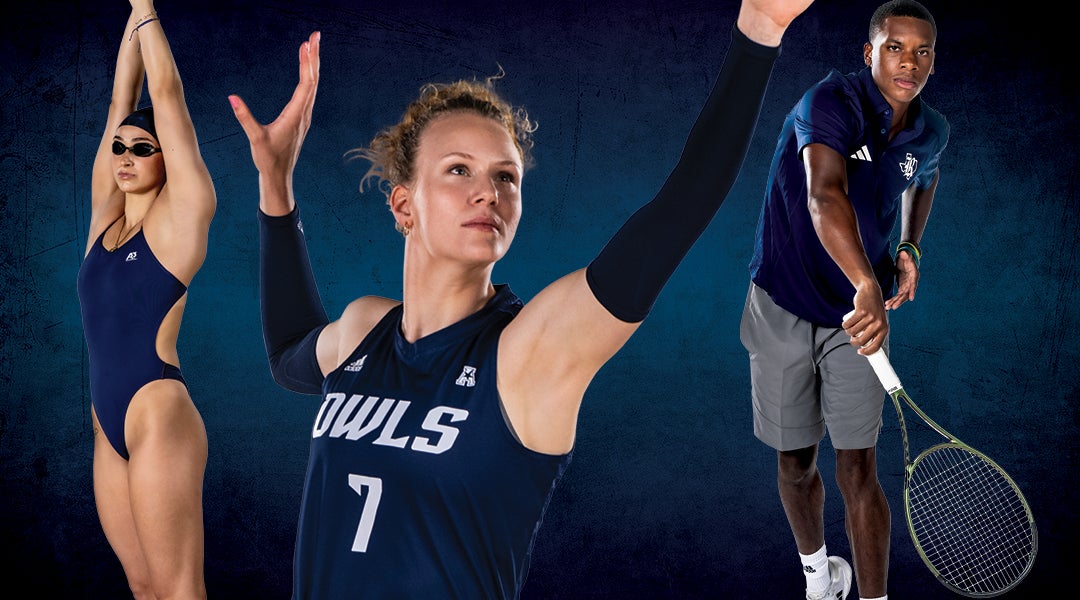 "When we get guys on campus or when our coaches are on the road, it gives us a little bit more to sell and market our university. It's definitely a plus," he says.
The AAC will feature teams that have recently competed in the New Year's Six bowl games, like Tulane University in last year's Cotton Bowl victory over the University of Southern California, as well as the NCAA Final Four, where Florida Atlantic University's men's basketball team was a buzzer beater away from making it to the national championship game in Houston just this April.
Being associated with teams like this on a weekly basis will only boost the national recognition of Rice Athletics, says Rice women's cross-country and track and field coach Jim Bevan.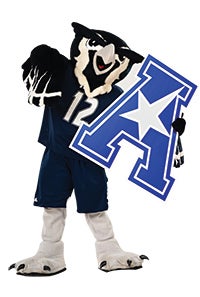 "I think, nationwide, when people look at the American, they're seeing a different dynamic than we had in Conference USA," says Bevan, who is entering his 38th season at Rice. Under Bevan's tutelage while in the C-USA, the Owls were one of the league's annual contenders for the team trophy and captured 13 team titles between cross-country, indoor and outdoor.
"[The American] is considered the best Group of Five conference historically, going back really to when it was founded," Bevan says. "So, it's a step in the right direction for us, in regard to who we are associated with and how we're perceived nationally."

Visibility for women's sports
With the majority of Rice Athletics games being featured on ESPN or ESPN+ in some capacity, the AAC is likely to bring an increased level of visibility to Rice's highly successful women's programs.
Featuring a nationally ranked volleyball team coming off of an NCAA Tournament appearance, a soccer team that boasted a 9-0-1 conference record last season, and a basketball team that has won more than 20 games in six out of its last seven seasons, Rice's women's teams are eager to show the world their talents on a bigger stage.
"I think exposure is everything," head volleyball coach Genny Volpe says. "Rice is a hidden gem that just not a lot of people outside of the local world understand. The more visibility we get through ESPN and our games being covered — I'm hoping that gets our story out more about the type of student athletes that we have on our team, because there are some special stories within each program."
The volleyball program likely enters the AAC as a serious contender from the jump, which could go a long way toward demonstrating the strength of Rice's women's sports nationally.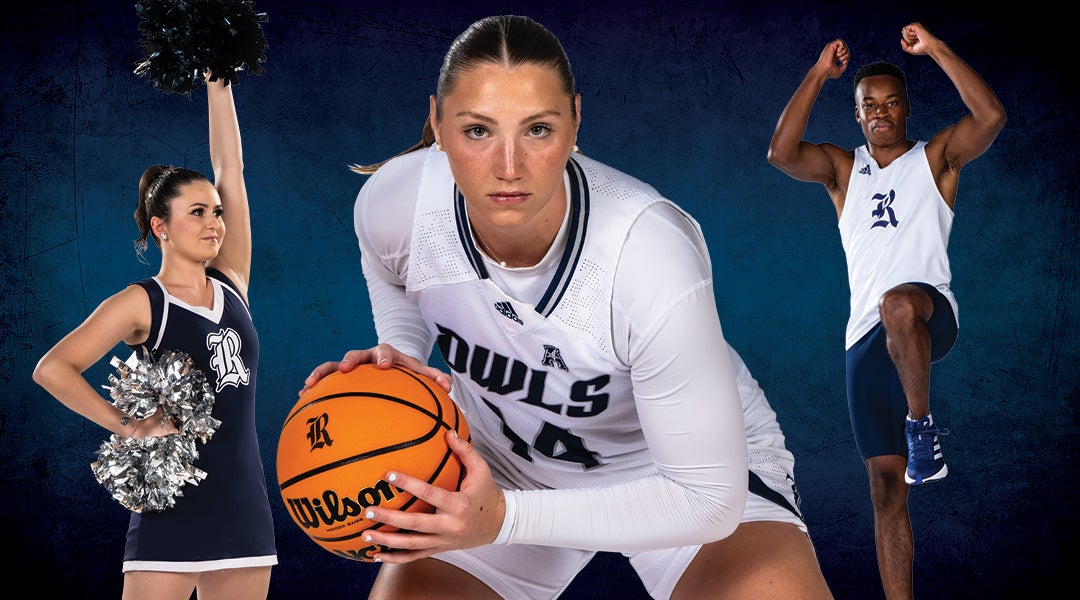 "Coach Volpe has built that program into a consistent and sustainable winner," Karlgaard says. "We feel like we can come in and make our mark right away, and I think the platform that the American affords us will help us showcase just how great a program we have."
For some players, the lack of national attention toward women's sports at Rice in past years has been a motivating factor, senior volleyball player Nia McCardell explains. Through the American, she hopes her and her teammates' motivation will come to fruition.
"We're super excited to get some more exposure and get more people noticing Rice, because I think a lot of times we don't get the recognition we deserve," says McCardell, who was Conference USA Libero of the Year and First Team All-Conference USA in 2022. "We are breaking down barriers, and we're beating high-level teams. We all know what we're capable of. Especially here at Rice, women's sports are always at the top of their league."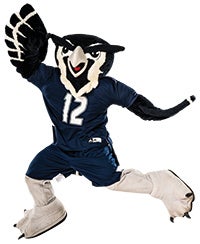 Whether it's volleyball, soccer, swimming or basketball, Rice's women's teams share a special bond that contributes to their continued success, says women's basketball coach Lindsay Edmonds. "Our players just really love Rice," she says. "They're here for two reasons: to compete at a high level and get a fantastic degree. They really just love to see how well the women's sports are doing and thriving and continuing to make the world know about Rice women's sports. I think they truly care about that."
Stepped-up competition
As revenues and the number of eyeballs increase, so does the level of competition. And in the AAC, there will be no shortage of formidable opponents to face on a weekly basis, says Rice head football coach Mike Bloomgren.
"The league is absolutely outstanding," he says. "It's going to be dogfights week in and week out, so I think that part is going to be a lot of fun. I'm sure glad that our program has been built to a place where I think we're ready to step in."
While the transition from Conference USA provides a step up in level of play, it also brings more opportunities in the form of postseason action, as the AAC has notably produced multiple teams in NCAA Tournaments on an annual basis.
"That, as much as anything, is really important, because if the American can stay a three-bid league — or maybe a four-bid on a really good year — you don't have to win all those games in March just to make the tournament," Pera says. "Everybody wants to do that, of course, and that's always the goal. But now it gives you the position where if you do well in the preseason, you win some big games in your league and you have a 21-win type of year and a shot to get in that thing."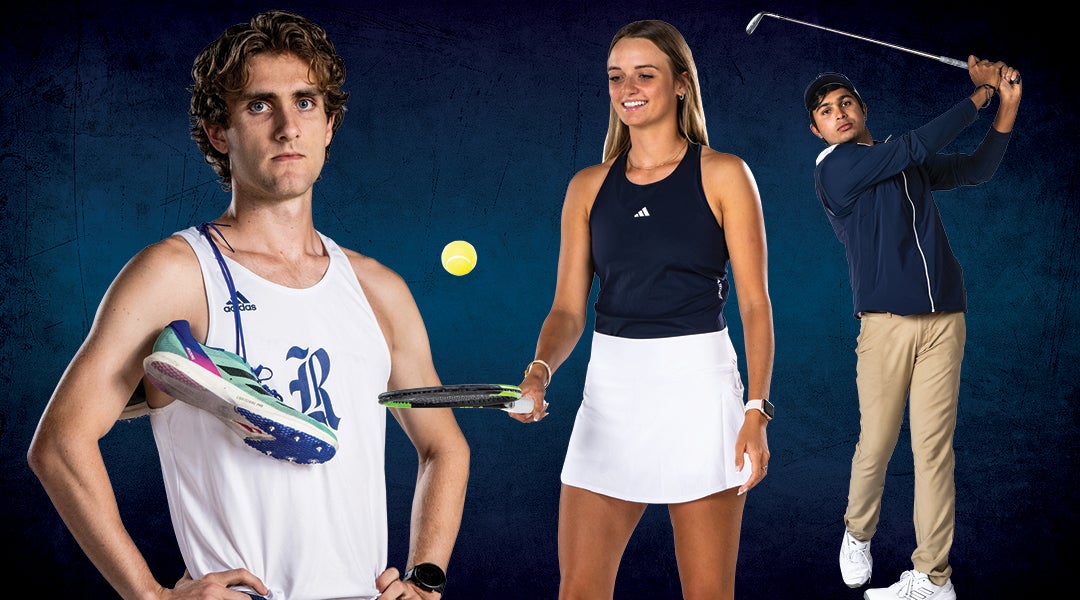 Back to the students
From the players' perspective, the challenge of being a high-level student at Rice while competing with some of the most talented teams in the country is a tall task, but one they're built for, says Rice linebacker Josh Pearcy '23.
"It's not often you're asked to compete with some of the smartest students in the world and still compete with some of the best athletes in the world," says Pearcy, a fifth-year team captain and 2023 C-USA Commissioner's Honor Roll member who began an MBA program this fall. "Having that expectation is definitely a challenge, but we go to Rice because we're up for that challenge, and we go to Rice because we embrace that challenge."
The move to the American solidifies Rice as a university that no one can say doesn't take athletics seriously enough, Bloomgren says.
"The thing that I ran into here that I probably wasn't prepared for is the people who would say, 'You know what, I want elite academics, but I want to play better ball than y'all are playing,'" he says. "And now nobody can say that. We really are playing on a big stage, and we still have academics that speak for themselves."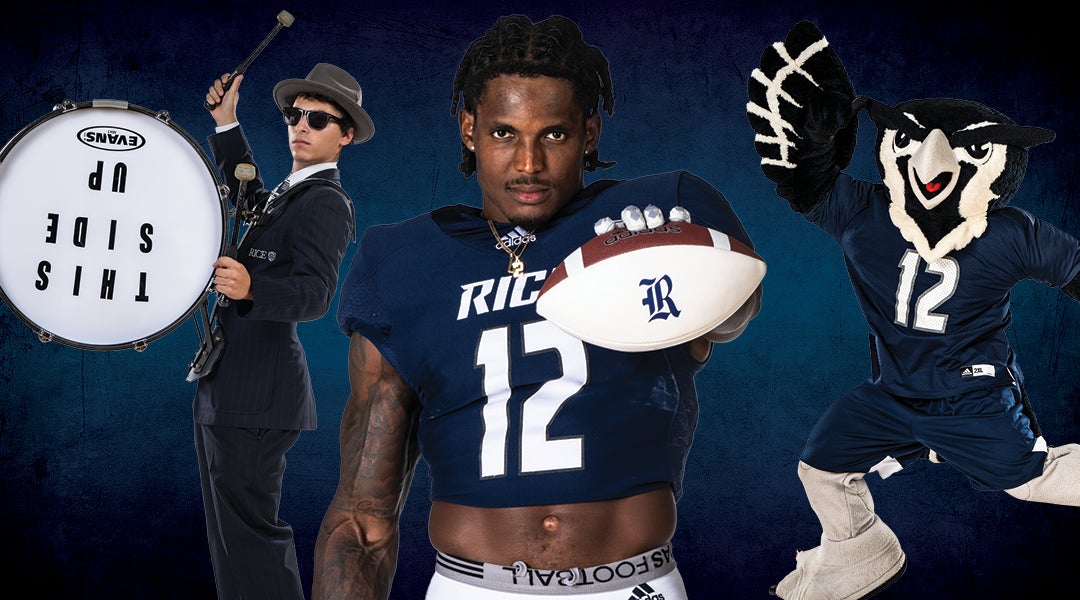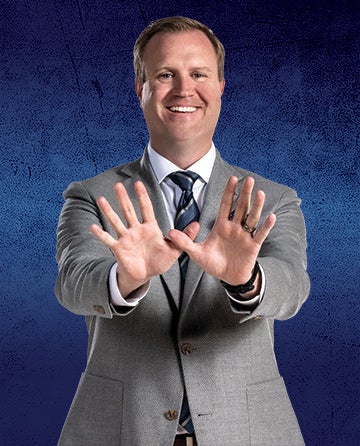 Rice Owls' New Leader
At a press conference Aug. 15, Rice welcomed Tommy McClelland as the school's new vice president and director of athletics. "I've spent nearly two decades preparing for this moment, and I'm excited to get started," McClelland said at the event. "My family and I have received such a warm welcome, and we're so excited to come to Houston and to join the Rice family."
McClelland spoke about what the Rice community can expect from its athletics programs moving forward. "Our student athletes will be the center of decision making," he said. "They deserve a world-class experience and the opportunity to compete for championships. We will build them into champions that learn how to compete in their sport, compete in the classroom and compete in life. We will win with honesty and integrity, and we will not compromise our values. We will do our part to advance the mission and the integrity of Rice University."
Rice's sports programs provide the widest lens through which people get to view the global impact that is happening at Rice, McClelland said. "When one area of the university wins, we all win." He added, referencing Rice's admission to the AAC, "Rice Athletics is well positioned for the future and has an amazing opportunity standing right in front of it."