To Serve Is To Live
On her honor, Noorain Khan will try to help people at all times and to live by the Girl Scout Law.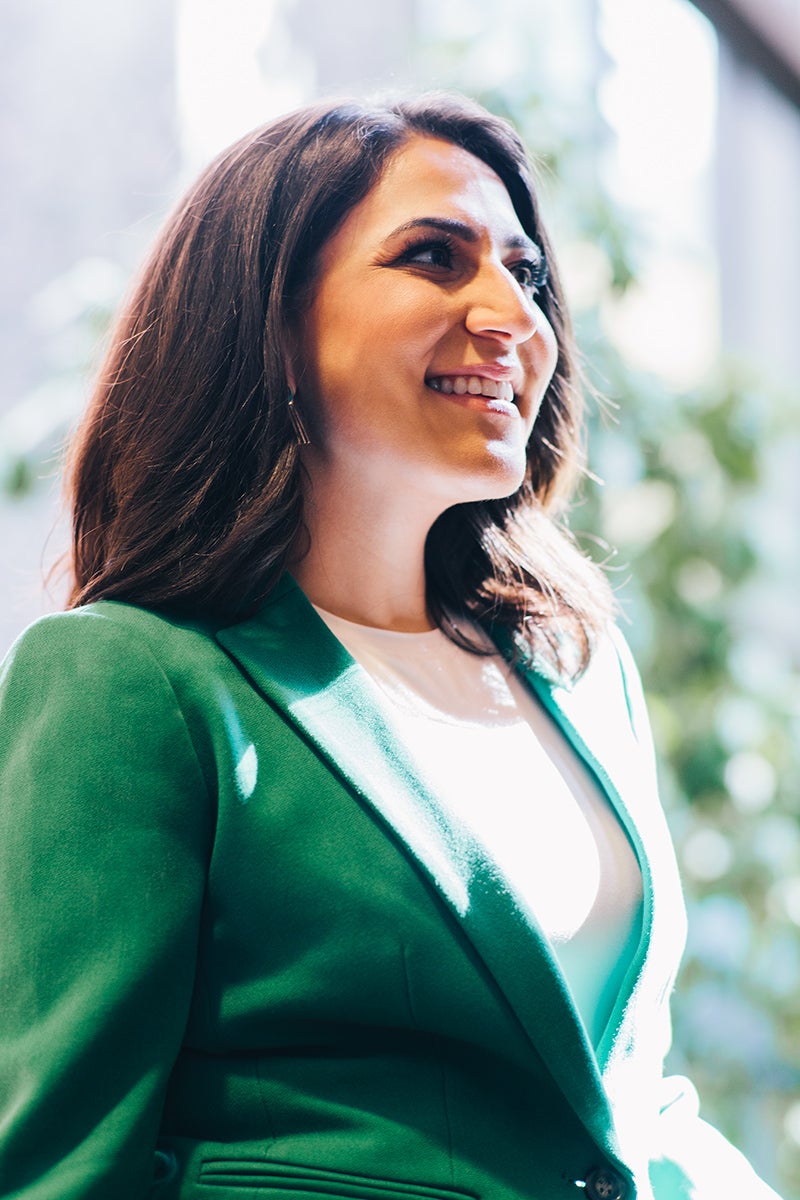 Fall 2023
By Adrienne Frank | Photos by Michael Nagin
Three decades after she first raised three fingers on her right hand and recited the Girl Scout Promise, Noorain Khan '06
is now the highest-ranking volunteer in the organization that counts more than 50 million American women among its alumnae. In July, Khan was elected national board president for a three-year term, becoming the first millennial and the first Muslim American to hold the post since Juliette Gordon Low founded Girl Scouts in 1912.
The native Michigander's professional accolades are as impressive as a sash full of badges. The first-generation American is a Rhodes scholar, a graduate of Yale Law School and a White House veteran, serving on the National Economic Council under President Joe Biden. A National Gold Award Girl Scout — the organization's highest honor — she has worked since 2015 at the Ford Foundation, where she oversees discretionary grantmaking and helped launch a historic $1 billion social bond offering that supported organizations fighting COVID-19 and systemic racism amid a time of unprecedented uncertainty. The common thread running through Khan's life and career is the courage, confidence and character she developed as a Brownie in Troop 369 in Grand Rapids.
"Girl Scouts built my confidence, connected me to my community and gave me opportunity after opportunity to develop my leadership skills," she says. "As much as those experiences meant to me then, I would never have imagined they were starting me on a path that would lead to this moment."
Khan spoke with Rice Magazine about her change-making work at the Ford Foundation, her lifelong involvement with Girl Scouts — the largest woman-led organization in the world — and how others can begin to practice philanthropy in their own lives.
What does your new position with Girl Scouts entail, and what are your goals for your three-year term?
Girl Scouts shaped every part of my life growing up; other than my faith and my family, it was the single most profound influence in terms of introducing so many different caring adults into my life. From my troop leader to staff on my council to folks I interacted with later at the national level, there was a continuous throughline of people who were invested in me and told me I can do things, I should try things, I should go for it. So, the opportunity to serve our movement as the chief volunteer is the privilege of a lifetime.
To me, our values — civic-mindedness, character, courage — are what our world needs. I'm also looking at what girls need in this moment when [it comes to] mental health, the epidemic of loneliness and the lack of community. I think we marry those two things: what girls need and what the world needs. We have about 1.7 million Girl Scouts. Almost one in three American women were Girl Scouts at some point. We need to continue to grow as a movement and make sure that all girls feel like they belong.
Girl Scouts shaped every part of my life growing up; other than my faith and my family, it was the single most profound influence in terms of introducing so many different caring adults into my life.
And then we need to do all the business things to ensure we are a flourishing movement: investing in technology, continuing to root our program in the very best research, and thinking about new volunteer models and the ways in which we can support them.
Our 30-member Girl Scouts of the USA National Board oversees finance, legal and operations at the governance level. We have an incredible team at the table. Forty percent of the members that were elected this triennium are new to the board. They are the best in their field across the country, rooted in values and united to serve the movement. I want a high-performing board that is an example of the very best of what happens when women lead.
Your daughter is going to be a Daisy while you're national board president. How will that inform your work, and in what ways will her experience with Girl Scouts be similar to yours?
To this day, my nine years of board service are predicated on my interest in our mission and my own Girl Scout experience. To have this coincide with being a parent and an adult volunteer in the movement — it's a different level of responsibility that I'm so excited about.
[Scouting helps you discover] who you are, how you present to the world, how you care for others, how you care for yourself. That's a new narrative, actually. I think society has always told girls to care for others and think about everyone else — but what does it mean to care for oneself? We're giving girls the tools to care for themselves.
We have to ask: What's your favorite Girl Scout cookie?
I'm a Trefoils/Shortbread girl.
You just marked your eighth anniversary at the Ford Foundation. What does your work as director of the Office of the President include?
It is the best job I've ever had, that marries so much of what I care about in the world — social justice values, the fight against inequality — with a workplace where I can flourish alongside a great community of colleagues, funder colleagues and grantees. And my boss, President Darren Walker, is such an example to me in every way as a leader, as someone who cares, who builds, who does hard things.
I run our discretionary fund — Ford's largest — for urgent, emergent needs and historic foundation relationships. It's also a searchlight and R&D function for new ideas and a really important way to respond to critical moments, whether it's the murder of George Floyd, the COVID pandemic or the Flint water crisis. There have been so many things that arise that you can't budget around, but if your mandate is [to fight] inequality and you're a social justice foundation, you need to find a way to support, elevate and respond to things.
I think we should all be champions for one another.
I also want to mention the bond offering we did against our endowment in 2020. We had an extra $1 billion to spend, knowing that there was so much uncertainty in the world at that point. Many of our grantees were thinking about shuttering their doors or doing layoffs; they were grappling with a new reality that none of us were prepared for.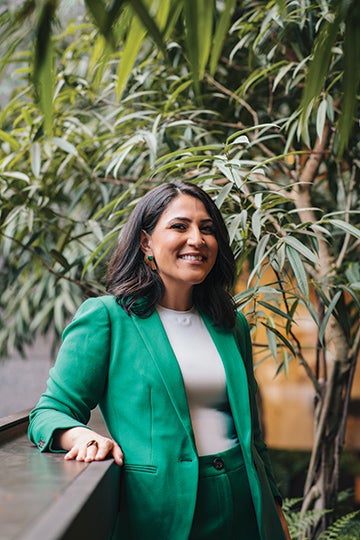 It sounds like you're in a fortunate position at Ford — to not only have the money to invest but to be able to respond quickly. Why is that so important to your work?
It's critical. In philanthropy, there are debates about being data driven, being strategic, being research based. On one hand, that slows things down, and you want to be intentional and thoughtful. But if you over-index on that or you don't plan for something more nimble or some set of resources that can be responsive, you can get caught [flat-footed]. It's really about calibration, walking the line, making the hard choices and being deliberate.
Part of your work at Ford focused on disability inclusion. Tell us more.
Early on, when we announced our fight against inequality as our main strategy, we heard from a lot of disability rights activists. [We had] identified drivers of inequality that include persistent prejudice and discrimination, but we didn't say anything about people with disabilities, visible and invisible, which represent a significant part of the global population.
[We decided] to make a couple of grants to learn about the space and see what we [could] do. And within two or three years, we became the largest private funder of disability [programs] in the world. My team incubated a pooled fund — now at Borealis Philanthropy — representing dozens of foundations that invest in disability in a collaborative way. The thing I am so proud of is that it has a participatory governance structure. The disability community's mantra is "Nothing about us without us." It's not a bunch of funders deciding where the money goes. It's funders and disability rights activists at the table sharing the power of determining where that money goes.
How can organizations foster a culture of disability inclusion?
We can and need to as a society hire more people with disabilities in all roles, not just roles that relate to disability. The stigma that the community experiences, the ways in which the workplace navigates disability, can be shameful and toxic. We also have to allocate resources to it. [Employers] want to take shortcuts; they want the quick fix that will appease people. They don't recognize that their workplace will be stronger by having [employees with disabilities] and that the investment on the front end will have so many benefits for their work later.
And I'm not just talking about working at a social justice foundation. I'm talking about a private company, an academic institution, a factory. I'm talking about all workplaces. The employment barriers are profound. If you have almost 20% of the population that identifies as disabled, what are you missing out on in terms of talent?
I'm still on my own journey, and I want to be the best ally and advocate. I have personally, as a Muslim woman and daughter of South Asian immigrants, benefited from other people who decided, "No ban, no wall." People have decided to take up as their personal causes things that impact me. And I thank them. I think we should all be champions for one another.
One of the common threads throughout your career and your life is service. Why is that so important to you?
Societally, we're at a point of inflection where people aren't choosing community — the greater good — over themselves. I think the "we" and the "I" are in deep misalignment today. And inequality is increasing. Being a parent, I think about all the things I'm able to provide my child. Every child should have caring adults in their life, nutritious food, and the opportunity to learn, read, flourish, have imagination and have fun. That's the baseline. I've always thought that, but it's made much more real as I weigh the wonderful suite of things that I can provide my child.
I think of the quote from iconic Girl Scout leader Frances Hesselbein: "To serve is to live." That's really it. [Service] means standing up for people who may not have as much of a voice. It means bringing in people from the periphery. It means respecting difference. It means loving people. To serve is to live.
I've cobbled together a life — between volunteer service, Girl Scouts, faith and community organizations — that mirrors a lot of Ford's values related to social justice, culture and impact. It's a full life, but it isn't solely defined by the job, even though the job has opened so many doors for me. A full life means friends, family. It means hard times. It means doing challenging things. I think I've landed on what feels right to me.
How can people begin to practice philanthropy in their own lives?
Small amounts of money are a great place to start. It's intimidating when you see the wealth disparities in our society today. It's easy to say, "It doesn't matter." But a small amount can be so meaningful. And it doesn't even have to be money. We all have different parts to play at different times in coming together in more and deeper ways.
The surgeon general this year came out with a devastating report on loneliness in our society. You can throw money at that, or you can call your neighbor. You can drop off food. It's human contact that allows us to flourish and be seen and laugh together.
Just build it into your daily life. It's fair to say that once you start practicing service, whether talking to your neighbor or donating books to the library, it becomes ingrained. It becomes who you are. You don't want to be the person who does it because it makes you feel good — but, gosh, it makes you feel good.