Spaces: The Broadcast Studio
From our campus to the world, Rice delivers expert insight.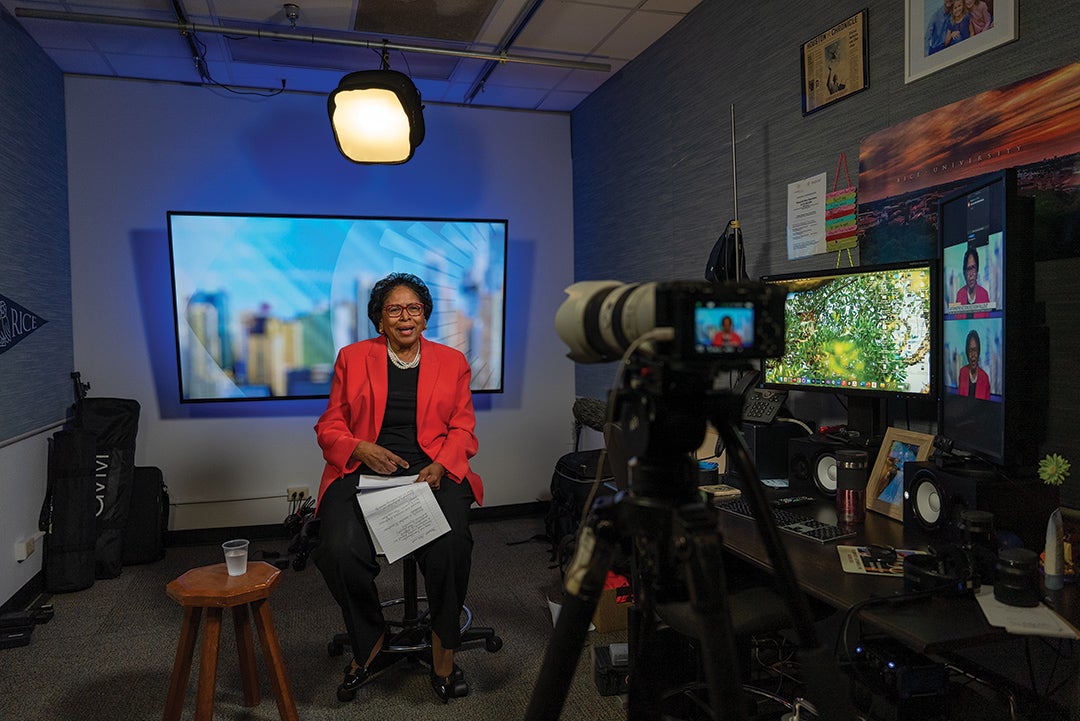 Fall 2023
By Tracey Rhoades
There's a space that tells Rice's stories, and it talks — a lot. Tucked away in the basement of Allen Center, the broadcast studio is incognito save for a small "On Air" sign above the door that flashes red when interviews are in progress. Since 2012, the 20-by-10 room has been the conduit between Rice and the outside world, a place where renowned faculty and alumni provide commentary about issues of the day and reveal breakthroughs and advances in research taking place in labs and centers across the university.
Equipped with VideoLink ReadyCam TV and standard- and high-definition video, the sequestered space has a big voice where live interviews are routinely broadcast to CNN, Fox News and NPR — often on short notice. Expert commentators include Katherine Tsanoff Brown Professor of Humanities Douglas Brinkley, who frequently provides insight about diverse political topics, the most recent to CBS News regarding former President Donald Trump's arraignment in April; and President's Distinguished Fellow Ruth Simmons, who was recently interviewed by "CBS Mornings" about the affirmative action ruling and how schools can work toward diversity.
"When people visit us, they say, 'I had no idea this was down here,'" Brandon Martin, manager of videography, says. "It's a unique area that provides campus insight for news sources, spanning local to international outlets. I also use the space to mentor undergraduate and graduate students about the art of storytelling." While the room serves as the space for external communication, it also doubles as home base for Martin and campus photographers Jeff Fitlow and Gustavo Raskosky.
"The broadcast studio and Brandon's keen understanding of networks' technological and visual needs have played a key role in the transformation of Rice's national media visibility," says Jeff Falk, director of news and media relations. "The work of consistently attracting national and international attention to Rice is just plain hard work and an art."