Maus in the House
When you give a graphic artist a pen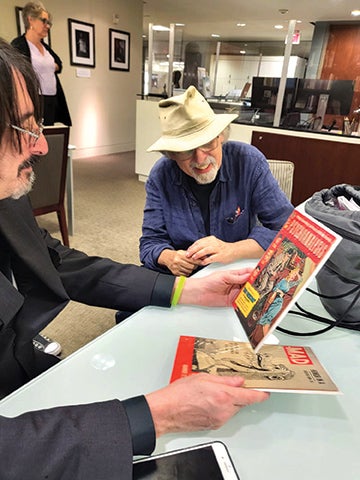 Fall 2023
Mike Williams
Pulitzer Prize recipient Art Spiegelman added a personal touch to his graphic novel "Maus" at Fondren Library in May, autographing a copy of the classic Holocaust narrative for the Woodson Research Center's collection of vintage comics, which is curated by Associate Professor Christopher Sperandio and his students in the Comic Art Teaching and Study workshop.
"There's a version of 'Maus' in the general collection, but his signature and the art he created is one of a kind," says Rebecca Russell, archivist and special collections librarian at Fondren.
"It would make sense to display it with pieces from the comic art collection," adds Amanda Focke, Fondren's head of special collections. "It's evidence of his support for the program."
"Maus," published in the '90s, grabbed renewed attention in 2022 when a Tennessee school board banned it from junior high classrooms. "Film, photography and the comics were born at the same time, and they all share this potential for linear storytelling," Sperandio says. "Somehow the comics were the runts. They were considered trash and used as propaganda and never recovered. I'm working to help that recovery.
"I think that Spiegelman has been fighting, like all of us, to claim territory for the comic book as a sophisticated medium of human expression. And the fight continues."
Sperandio, himself a comic book artist, brought Spiegelman to his comic workshop at Sewall Hall while the author was in town for a Menil Collection event. While there, he also asked Spiegelman to autograph the specialized printer students use for their own works.
"I think it's the only Pulitzer Prize-winner-autographed Risograph printer in the world," he says. "Every time I stand at that machine with a student printing their comics, I show them the drawing and tell them about Art Spiegelman and the impact he's had. It's a great teaching moment."