It Takes Two
Meet the Thresher's new editors in chief.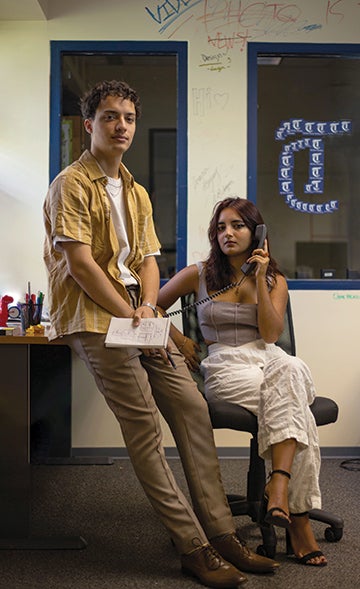 Fall 2023
By Schaefer Edwards '13
The storied Rice Thresher is now led by two intrepid student journalists: Riya Misra, a Wiess junior from outside Boston, and Prayag Gordy, a McMurtry senior hailing from the D.C. suburbs of Maryland. They were elected the Rice student newspaper's newest editors in chief by Thresher staff as the 2022–23 academic year came to a close.
The two Owls share a deep investment in the importance of student journalism and a heartfelt desire to lead a truly modern student news organization.
"Calling her a 'people person' is putting it simply," Gordy says of Misra. "She's very good at building close relationships with everyone she encounters, and that's something that's really important in a newsroom — especially in a small newsroom that we want to expand."
"He's very ambitious and goal-oriented but at the same time pays close attention to the details," Misra says of Gordy. "He has the mindset that can't just make a paper stay good through the years but improve."
These strengths are what allowed Misra (along with former Thresher Editor-in-Chief Morgan Gage '23) to thoughtfully share this past spring's stories of Rice students with suicidal ideation and to grapple with on-campus sexual violence in a fall 2022 feature. They also helped Gordy build and lead the Thresher's special projects team to produce data-heavy yet approachable packages on topics ranging from student abortion to Rice baseball.
When I read pieces that are created by my peers, you can see [it], whether it's a shared understanding of the type of language, or the syntax, or even just the shared cultural knowledge when someone references a meme … it makes us accessible for young adults our age.
The two each wrote for their respective school papers pre-Rice. Gordy felt called to reporting after being taken aback by the political discourse of 2016's presidential election. Misra had a deep appreciation for the written word instilled in her by supportive teachers as well as by her mother — a broadcast journalist in India before immigrating to the U.S. Both Gordy and Misra started out at Rice's paper as writers.
"We really want the Thresher to be a cornerstone of student life," Misra says. A big part of that means continuing to build "a much larger, fully fleshed-out social media team coming up with unique ways to take our stories and package them online."
"That involves data journalism with attractive charts and appealing yet accessible interactives," Gordy adds. "Making sure that we are meeting our readers where they are and giving them what they need to know in the form that they want — that's the goal."
"When I read pieces that are created by my peers," Misra says, "you can see [it], whether it's a shared understanding of the type of language, or the syntax, or even just the shared cultural knowledge when someone references a meme … it makes us accessible for young adults our age. Student journalists level that playing field."