Syllabus: Bienvenue à Maymester
Last May, Rice's new Global Paris Center presented EcoStudio: Arts, Environment, Media.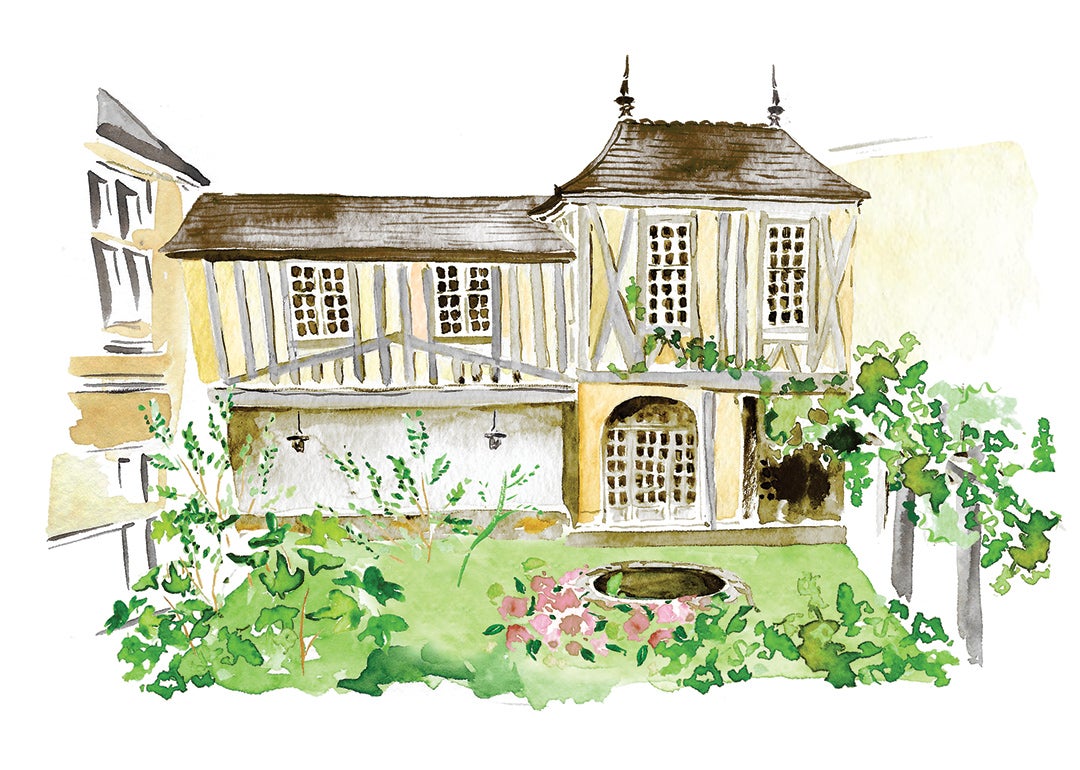 Fall 2023
By Sukhada Tatke
ENST 422: EcoStudio: Arts, Environment, Media
Department: Environmental Studies
Description: EcoStudio gathers creatives from across disciplines to study and create environmental arts projects. We'll focus on a range of topics and experiment with strategies and techniques useful across various media types. As we learn about the relationship between art and environment, we'll explore our own Parisian environment. Classes will involve fieldwork in Paris, museum and gallery visits, discussions in parks and creative studio time. Students will devise individual projects in their own medium and develop collaborative work in multimedia teams.
---
When Emelia Gauch set out to explore the Rue des Rosiers in Paris, she got lost — on purpose. This was the assignment from her professor, Lina Dib '13, at Rice's new Global Paris Center. As disoriented as Gauch initially felt, she soon discovered she could read the street signs in this Jewish neighborhood, not because they were in French — a language she does not know — but in Hebrew. Here, she saw men in kippahs who reminded her of her grandfather. She felt safe getting lost in an unfamiliar place.
A junior visual arts major, Gauch was enrolled in EcoStudio — a class in the first Maymester in Paris and part of the rollout of Rice's new Global Paris Center. Before sending the students off into the city to get lost, Dib, who is an artist, anthropologist and lecturer at Rice, had introduced them to the practice of  "dérive," or drift, advocated by the Situationists and particularly the philosopher Guy Debord.
Simply put, when you explore without a destination, you experience emotional and behavioral shifts. With this in mind, students were asked to record their responses as they wandered. Dib wanted them to indulge in the "automatic movement of walking" so that ideas could simmer before they turned into "beautiful creative explosions."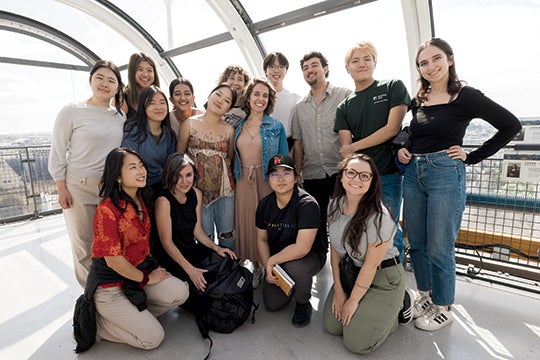 How humans interact with the space around them, particularly with nature, is at the heart of Dib's course. Through the lens of art, she raised questions of environment, ecology and sustainability. How can we carve out a sense of agency in the Anthropocene? What can we make of the personal narrative as it intersects with this larger historical backdrop? This was the path she wanted students to tread.
Fifteen students across disciplines, ranging from writing and visual arts to science and architecture, participated in the course. The multi-disciplinary nature of the cohort allowed the kind of cross-pollination that tackling climate change requires. The classes were held a few blocks from the Rice Global Paris Center in the heart of the city, in the old Marais quarter of the 4th arrondissement. Marais is studded with narrow cobblestone streets, galleries and cafes, hidden gardens, and old mansions. Nearby is Notre Dame. The Seine flows alongside. In short, it is an ideal place for exploration.
"This course could work anywhere because we touch on these larger conversations about how mankind has shaped the very concept of nature. But Paris was the perfect location for it, with all its history, urban design and art," says Dib. And of course, there are museums. One sunny afternoon, after a visit to the Musée d'Orsay, the students were deep in discussion about a painting by Claude Monet they had just seen. Was the fog or the bridge the protagonist of the painting? Could it be that the scene wasn't a particular moment frozen in time but a depiction of a trembling atmosphere?
The day before, the class had discussed John Thornes' idea of "environmental art," in which landscapes are not static backdrops to life as it unfolds but representative of an atmosphere that is dynamic and ever changing. Students created their own projects on the subject. One pair captured "atmosphere" in cups from 16 different locations in Paris. "Our task was to capture an atmosphere, which in and of itself is something of a paradox. How can we depict something that is never the same way twice?" they wrote. Another group created a video of a sunset, using a filter to create vivid pink and orange tones and depicting what the sky might look like as pollution increases.
Dib taught how different artists have tried to represent nature and the human relationship with it, whether through dominance over nature or by the discovery of it, or by recognizing the futility of trying to control it. For instance, Dib says, "You see William Turner's huge storms and clouds and shipwrecks and understand we're just tiny little specks."
After a visit to the Natural History Museum, the class reckoned with species extinction. Cindy Sheng, a senior cognitive sciences major, created a performance piece titled "Dégustation du Passé." She created a haunting scene in a distant future where people have gathered for a "tasting" of foods from the past. She chose foods she and her friends had been luxuriating in while visiting Paris — chocolate, coffee and wine — all of which are threatened by the climate crisis.
Musab Salah, a first-year architecture student, says he loved the course because it was unconventional. "One day we read and had discussions; the next day we went to a museum. Although the class was in Paris, I think Paris was the class," he says.
A Global Launch
The Rice Global Paris Center recently concluded its inaugural summer series of academic programs and events, which included a rich variety of conferences, workshops and undergraduate courses. Located in the heart of the historic Marais district, the center hosted over 500 Rice students, faculty and research collaborators from across France and Europe. "One of the things that makes this so special, not only for U.S. higher education, but for higher education around the world, is the way in which we are in the center of the city, partnering with local intellectual, cultural and arts institutions around path-breaking questions in research that impact the entire world — whether that's climate change, energy transitions, social justice, or health technologies and solutions," says Caroline Levander, vice president for Global at Rice.
To learn more about upcoming research events, conferences and student programs offered at the Rice Global Paris Center, visit global.rice.edu.