Alumni Books
Recent publications by Rice alumni authors
Fall 2023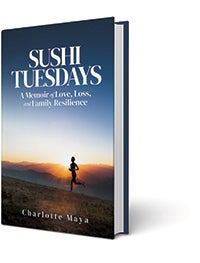 Sushi Tuesdays
A Memoir of Love, Loss, and Family Resilience
Charlotte Maya '90
Post Hill Press, 2023
"Sushi Tuesdays: A Memoir of Love, Loss, and Family Resilience" confides all that Charlotte Maya endured when she survived her beloved husband's suicide — the shock and inexplicable loss, the what-ifs, the complexity of mental illness, and the source of a mother's will to move forward. Maya's memoir, based on her blog of the same name, is a universal guide to finding light and joy in the darkest depths of grief.
What compelled you to share your experience?
In 2007, I returned home from hiking with my sons, then ages 6 and 8, to find a police car in my driveway, lights flashing silently. The officer and priest who told me of Sam's suicide said, "We will tell your children that their father died, but you will have to tell them how, and we recommend that you tell them the truth because you do not want them to find out from someone else." At a time when nothing made sense, that made sense to me. Honesty and transparency became my guideposts. Sam was a gentle and trusted stockbroker, father and friend. The story of our family demanded to be told.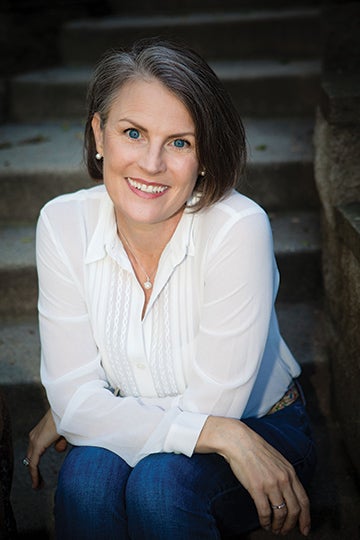 What do you hope readers will learn about suicide?
Like cancer, we may not be able to cure depression, but we can solve the problem of isolation by normalizing and developing a fluency in discussing mental health. Talking about suicide helps. We let others know that their life matters and that resources are available when we ask: "How are you? Have you thought about hurting yourself?" We use the terms "died by suicide" or "suicided," instead of "committed suicide," to acknowledge that suicide is an illness, not a crime nor a choice.
What do you understand now about surviving suicide and grief in general?
I don't believe that "time heals all wounds." Time ticks by and we get older, but unless you do the work, it's just time. Time gives you the opportunity to do the healing work, to face the things that are difficult and painful and that will trip you up unless you do the work.
How did the "Sushi Tuesdays" ritual begin?
Tuesdays — at least while my kids were at school — became a sacred part of my healing. Except for yoga and therapy, I didn't make appointments — not with friends for coffee and not with MDs, CPAs or JDs. I gave myself a few hours to cry or go running or out for a sushi lunch, party of one.
How did you turn such devastation into a life so hopeful and bright?
The challenge is developing the capacity to hold grief while embracing the life that is ours to live. This book is about the love that Sam had for us even though he was hurting.
I was struck by the beautiful and unique gifts of friends and strangers. Katherine Tasheff '90, my dear friend from Rice, emailed me morning and night for 365 days following Sam's death. One friend walked my kids to school, because we were often late. Another sewed my son's favorite blanket back together after he angrily shredded it.
Eventually, I did fall in love again (with a widower), and we married and blended our families. We joke that we don't keep the skeletons in the closets at our house; we put their pictures up on the piano and on the walls and on the fireplace mantel, because they are how we got here.
— Interview by Jodie Sadowsky
Read an excerpt of this touching book here.
---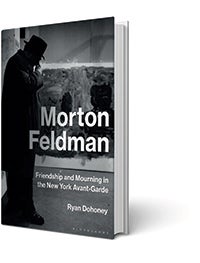 Morton Feldman    
Friendship and Mourning in the New York Avant-Garde
Ryan Dohoney '01
Bloomsbury Academic, 2022
Ryan Dohoney, who serves as director of graduate music studies and associate professor of musicology at Northwestern University, describes himself as "a scholar of U.S. and European modernism and experimentalism in the 20th and 21st centuries [who combines] interdisciplinary methods with rigorous archival research." Or, as he put it in an interview with Northwestern last year, "I write about weird music and the weird things it does to us."
Dohoney has now written two books about experimental composer Morton Feldman, who rose to prominence within the so-called New York School of the 1950s and 1960s. This second work focuses on Feldman's New York School friendships and how they not only informed but also enabled and even structured his work. To all accounts, Feldman was a large, brash man who dominated rooms and conversations, yet he preferred intimate collaborations and private performances in his friends' studios. He cherished his friendships for years and then mourned them for even longer. As Martin Iddon, professor of music and aesthetics at the University of Leeds, writes, "Feldman's music becomes increasingly concerned, in Dohoney's vivid account, with what survives, what endures, and what can still be heard, even as it ebbs."

— Hilary C. Ritz
---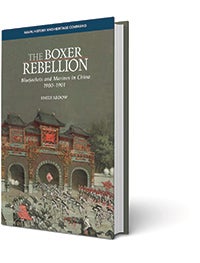 The Boxer Rebellion
Bluejackets and Marines in China, 1900–1901
Emily Abdow '19
U.S. Navy's Naval History and Heritage Command, 2023
In summer 1900, the U.S., Great Britain, France, Japan and Russia sent a coalition force of 20,000 sailors, soldiers and marines to fight their way across a hundred miles of hostile territory from the port of Dagu to Beijing. Their mission: to liberate the Legation Quarter, which was home to diplomats from 11 foreign powers and which had been under siege for 55 days by Chinese "Boxers" backed by Chinese imperial troops. The Boxers, so named for their public displays of martial arts, strove to purge all foreign influence from their lands.
This small war had big consequences: China's loss weakened their imperial dynasty tradition so much that it collapsed only a decade later, when the 1911 Revolution established the Republic of China. It was also the American military's first foray into coalition warfare, which wasn't easy, considering that not even the Joint Army and Navy Board existed yet. As author Emily Abdow writes, that they prevailed "without adequate education, intelligence, protocols, staffing, and higher-level coordination was a testament to the officers on the ground."
"The Boxer Rebellion" provides a richly detailed history accompanied by numerous maps of troop movements and dozens of fascinating black-and-white photos from the Navy's archives. It is Abdow's first book. — HR