Future Chefs May Apply
A culinary collaboration with HISD students provides a full-circle career path for one former intern.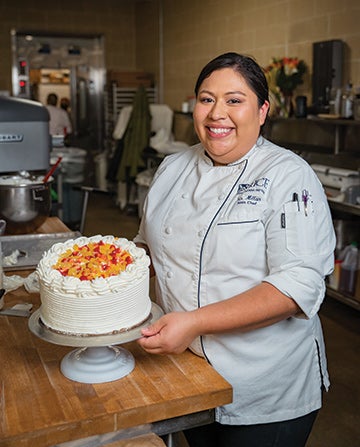 Basting, barding (to cover meat with slices of bacon) and broiling are all in a day's work for Rice's Housing and Dining (H&D) team of more than 90 chefs and cooks who provide meals to accommodate any palate and whip up innovative creations to tempt more adventurous eaters in five serveries across campus. But for Iris Millan, being a part of Rice's culinary world started off at a slow boil years ago.
In 2013, as a Lamar High School senior, Millan, who was an aspiring culinarian, started interning at Rice as part of an enrichment program between Houston Independent School District and H&D. Launched in 2012, the internship was created to provide hands-on training to high school students with an interest in pursuing a career in the culinary arts. In addition to Lamar, 85 students from Barbara Jordan Career Center and Northside High School have gone through the program since its inception, with six receiving scholarships to attend culinary schools.
Millan, one of the initial interns, remembers her first taste of Rice. "I was amazed by the size of the kitchens. I didn't really know what to expect, but the chef at that time encouraged me to learn every station," she said.
The staff in each kitchen quickly welcomes them [the interns] as part of the team. One of my proudest achievements is to help just one student have the chance to succeed.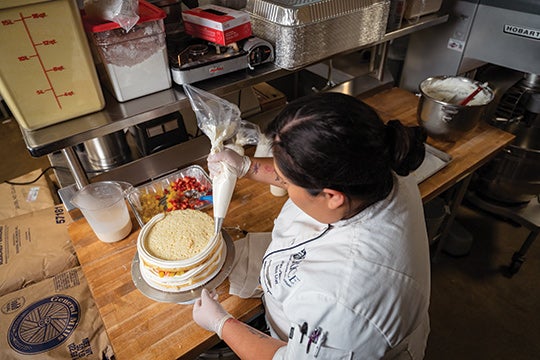 That advice paid off, and following high school graduation, Millan was hired as a full-time employee. A member of the West Servery team, Millan has been inspired by many mentors along the way, especially Johnny Curet, senior executive chef and director of campus dining. As part of their training, students are asked to prepare mystery baskets, in a similar format to the Food Network's "Chopped," to assess their skill level. "My team judges the results and identifies top candidates," Curet says. "A panel of chefs then interviews each student, giving them experience for future job searches."
The Rice chefs' mission is to share their knowledge and experience with the students. "The staff in each kitchen quickly welcomes them [the interns] as part of the team," Curet says. "One of my proudest achievements is to help just one student have the chance to succeed."
That encouragement gave Millan the motivation to continue learning and expanding her culinary skills. "I tell everyone in the program to learn anything and everything and be open to try new things, even if you fail, because it's all a learning process."
Now a chef de cuisine, Millan spends most of her time baking pizzas, desserts and breads, but confesses to having a favorite. "Cakes! I admire a good cake with lots of layers."
— Tracey Rhoades