Keeping Pace
Erica Ogwumike juggles basketball, medical school and the significance of an Olympic berth.
By Laura Furr Mericas
On March 12, 2020, the Owls' star point guard Erica Ogwumike '20 was set to play in the first game of her final Conference USA (C-USA) tournament before heading off to medical school. But COVID-19 changed those plans. A mere seven minutes before tipoff, C-USA officials canceled top seed Rice's match against No. 8 Marshall University, along with the rest of the tournament. And Ogwumike's collegiate basketball career was over.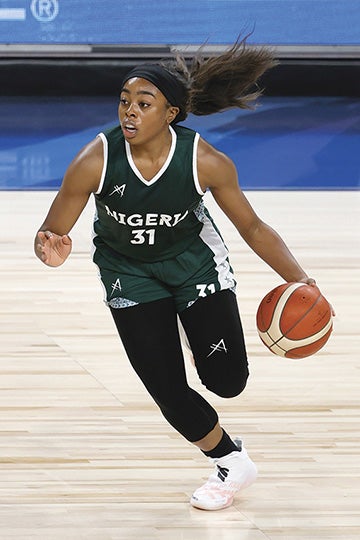 "College ended so abruptly; my basketball career ended so abruptly. I really sat down and was like, 'Is there a way I can still fulfill this one last basketball dream of mine [while still attending] med school?'" Ogwumike says. "And I found a way."
After being drafted as the 26th overall pick in the WNBA — though she ultimately forwent the league — Ogwumike, a first-generation American who holds dual citizenship, said in an interview with BBC News that she dreamed of one day playing for the Nigerian national team.
"It blew up," she recalls. "Everyone was like, 'She wants to play!'"
In a matter of weeks, her viral dream became reality. Ogwumike was drafted to the team, attended monthly training camps stateside and worked with a Texas-based basketball trainer, all while completing her first year of medical school at UT Southwestern in Dallas.
"I always knew I wanted to go to medical school. It was never a 'which one is it' [decision]. It was, how am I going to make it work?" she says. And though the pandemic is what originally disrupted her basketball career, in many ways it's what has allowed Ogwumike to pursue both of her life's passions. Since most of Ogwumike's coursework was moved to a virtual setting, the 23-year-old was able to juggle training camps in Las Vegas and Atlanta and tune in for lectures remotely, studying in her downtime.
"It's really possible to excel at multiple things if you find a way to organize it. If you try 100% to be the best you can at two things, you can," she says. A few months after Ogwumike's first year of medical school wrapped in May, she was awarded for her athletic efforts on an international stage by being named one of the 12 players to represent Nigerian women's basketball at the Tokyo Olympics. Nigeria didn't go on to medal. They were knocked out in the qualifying games, but the experience left a lasting impact.
"Before every game they play the national anthem for each country, and you realize, 'Wow, I am representing an entire nation. Us 12 women are representing an entire nation,'" Ogwumike says. "It's a lot that you're carrying on your shoulders, but something that you will proudly do."